Pretty much all of the US is having cold fronts at this point. Of course, chilly early mornings make everyone want to stay in bed just a liiiiiiiittle bit longer. So now is the perfect time to update your bedding, add a luxe blanket and make your bedroom a serene & calm oasis. Here are my ingredients to the perfect bed: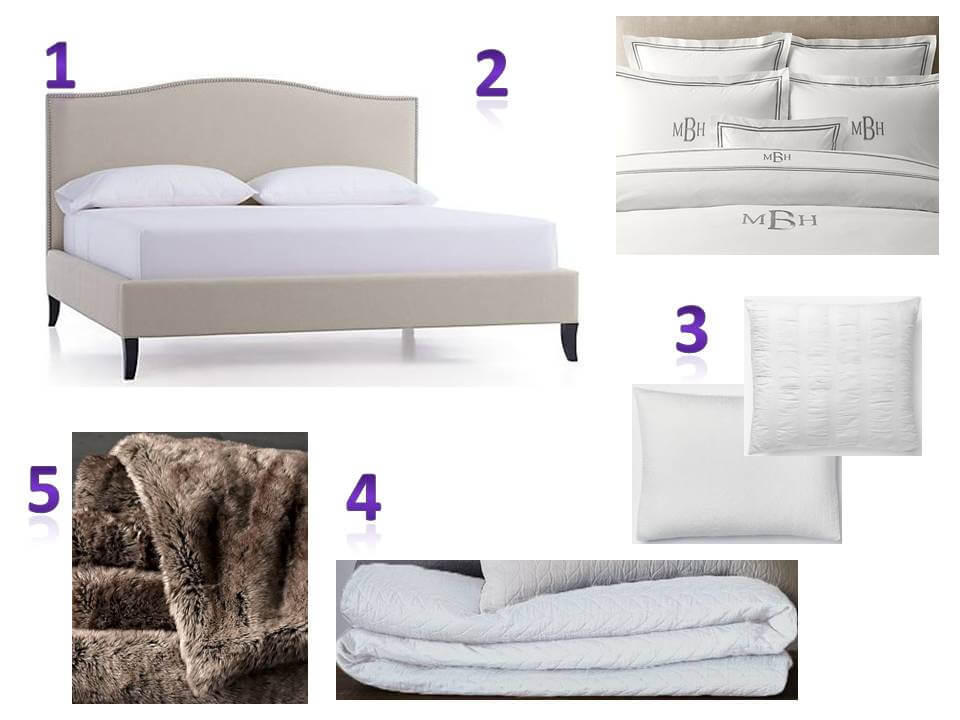 1. You've probably seen me mention this bed before, but the Crate & Barrel Colette bed is such a gorgeous bed. Its a reasonable price and has a very high end, classic look.
2. All white bedding is always– and I mean always– a good idea. If you think it will be too blah, try a piping or border in a different color. This white bedding with gray stitch breaks up the all white, while keeping a clean look. If you want a bit more color, here's another great option.
3. Keeping on the topic of all white, try mixing & matching textures of your shams & throw pillows. This keeps the look streamlined, while minimizing the boring!
4. I recommend a coverlet to put between your top sheet & duvet- in the warmer months, the coverlet is enough and then in the colder months, the coverlet + duvet is sure to keep you warm and cozy. I have this exact one and it's the perfect amount of thickness.
 4. Lastly, for those cold winter months, don't forget to add a heavy throw. This faux fur throw feels so luxurious and will be sure to keep you cozy all throughout the night.
So there you have it- my recipe for the perfect, beautiful, all-white bed. Get to shopping!