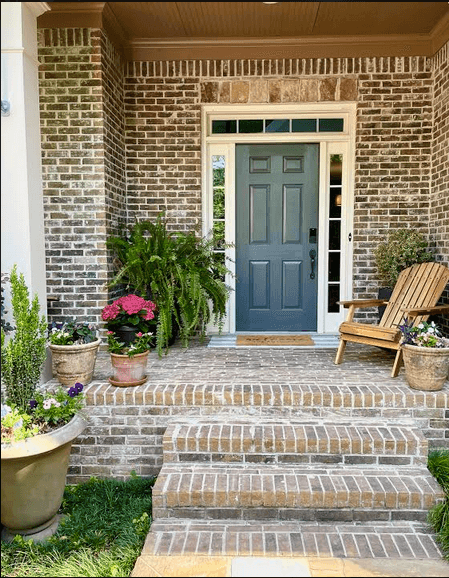 How great is our front porch looking?! My mom helped me with some planters a few weeks back and they're really taking bloom. I have made it my mission this year to improve my not-so-green thumb. Our yard has an insane amount of trees, plants and flowers and there is a lot to learn! This weekend I'll be spending as much time outside as possible, both in my yard and out on walks with Duke. I have a very small list of "must finish" house projects to complete as well and then I will feel in a good place for Summer and ending my maternity leave (cue the waterworks). Next weekend officially kicks off summer for us so I'm enjoying every little bit left of our beautiful Spring we've been having in Georgia!
+ I've been watching a few shows while I nurse everyday and two that I am loving are Cruel Summer & Mare of Easttown. Anyone seen them?
+ In preparation for my return to work, I snagged a few zoom friendly tops, including this lightweight sweater and this eyelet top.
+ Whipping up a batch of Monique's blueberry muffins and chocolate peanut butter protein bars this weekend to freeze for some easy, healthy snacks.
+ Picked up two adorable new shirts for Duke – a Hawaiian themed one and a festive summer one!
+ A roundup of swimsuits under $40.
+ These veja sneakers just arrived. Everyone says they're super comfy so fingers crossed they work for me as well.
This Week on South End Style