Get excited because today begins a week of Gift Guides! I've got 5 really good ones lined up, so be sure to check in daily for gift ideas for the man, woman, friend, coworker in your life!
Given that my birthday is less than a week away, I thought I'd kick off the gift guide with my favorite gifts for her! And let's be honest, by "her", I mean me. Mom..Dad…Santa…are you reading? (hint, hint…)
Realistic Birthday Wishlist: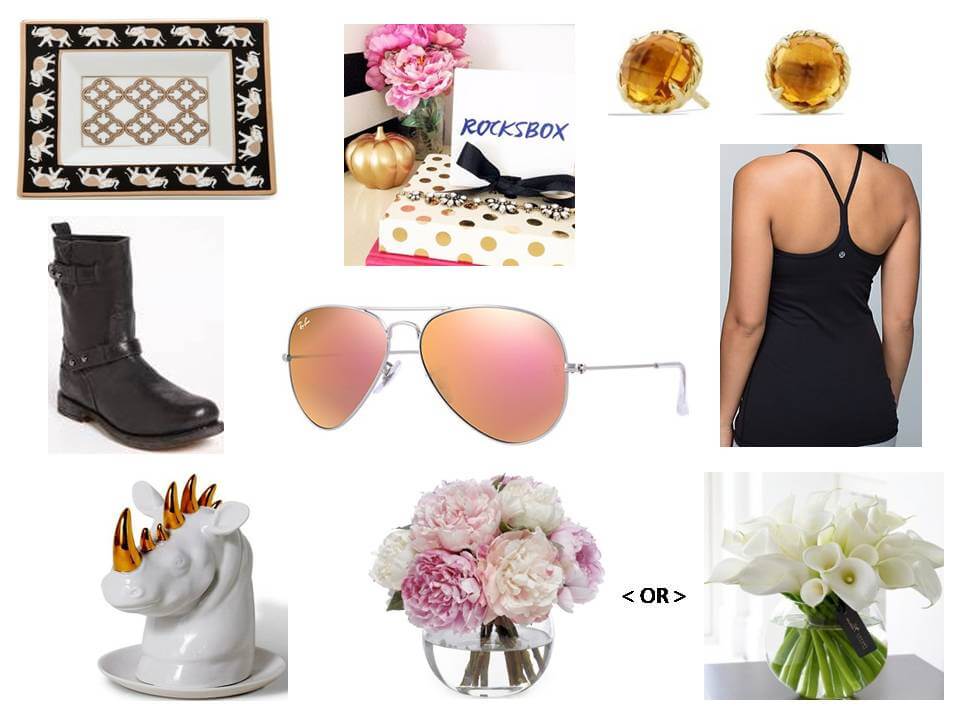 1. This adorable catch all would fit perfectly in my new apt.
2. Being a jewelry fanatic, a Rocksbox subscription would be amazing
4. Somehow I don't own a basic black Lululemon tank. Need one.
5. These pink ray bans are so fun & make me want to take a tropical vacation!
6. Dying for some killer moto boots for winter
7. Yall know I love weird animal decor. This gold studded rhino is no different- what a cutie!
8. Lastly, I believe ALL girls should receive flowers on their birthday. Nothing makes a girl feel more special…pink peonis & white calla lillies are my personal fave at the moment, if anyone's curious 😉
~~~~~~~~~~~~~~~~~~~~~~~~~~~~~~~~~~~~~~~~~~~~~~~~~~~~~~~~~~~~~~~~~~~~~~~~
Unrealistic Birthday Wishlist:
(Hey, a girl can dream, right?!)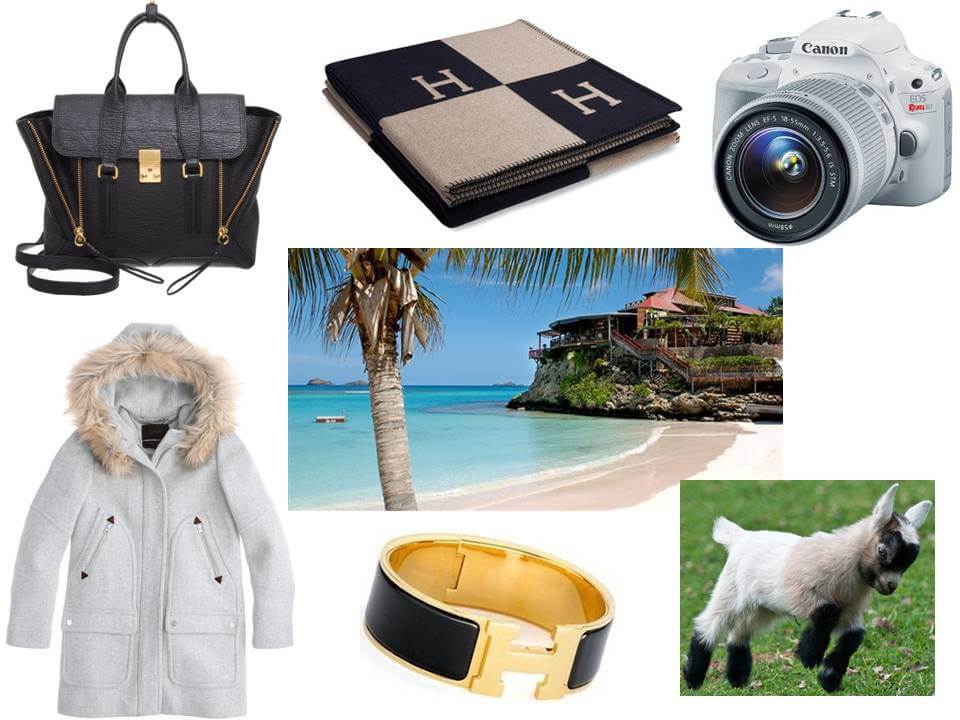 1. I neeeeeeeeed this 3.1 Phillip Lim satchel in my life. who wants to fund it?!
2. Also really need (yup, I need it) this Hermes blanket in my new apt
3. Wouldn't mind having a nice DSLR camera to capture all my travels. Anyone have this one?
4. Who doesn't need a trip to sunny, warm Eden Rock in St Barth's for their birthday…in December…in Boston…
5. Adorable new J Crew jacket to help keep me warm in Boston in case my tropical vacay doesn't pan out! 😉
6. This black Hermes cuff is a classic…an expensive classic…but a classic
7. Yes, I'm still on the baby goat kick. They are so damn cute. Anyone want to let me pet sit theirs so I can get my fix?!
Well, that was fun! Maybe I'll win the lottery & buy myself a fun new treat. Until then, time to get ready to put my party pants on and celebrate!