I came across this beautiful picture on Pinterest yesterday and I was immediately inspired to give my bathroom a mini-makeover: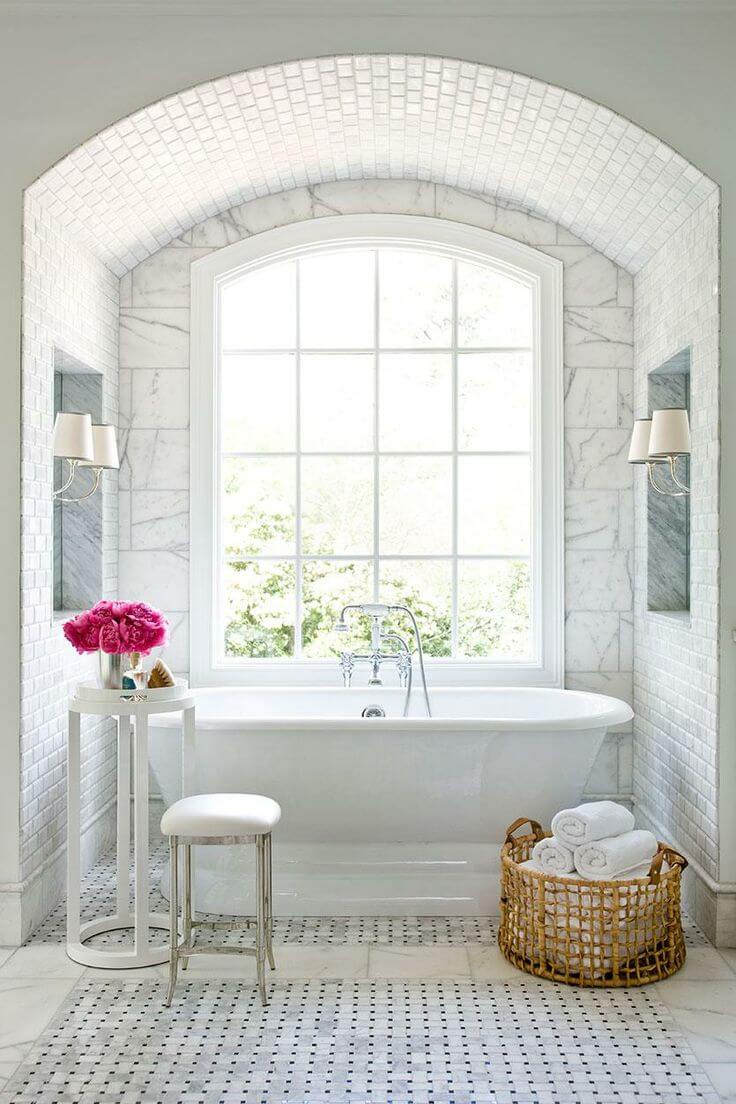 How gorgeous! From the beautiful tile floors to the huge window to that dreamy soaker tub to the perfect accessories- this bathroom is clean, classic & stunning! Who doesn't want to take a bath here?!
While not all of us can afford to gut & renovate our bathrooms (if you do, call me- I've got some amazing ideas!), now is the perfect time for a little spring update! I've got 5 easy ways for you to update that bathroom that's been lacking- you know the one, we've all got it!
1. Paint:
The easiest, cheapest, fastest way to update any room. A fresh coat of paint goes a long way. For 99% of bathrooms, I would recommend a white/off white/light gray/very light blue. The cleaner & crisper, the better. Unless, of course, you're a total badass and you are painting your walls black. Which is amazing.
2. New linens
It's time to ditch the old, mis-matched, leftover towels. Toss those in the Goodwill pile, go to the store and buy new towels. And while you're at it, opt for the not-so-cheap ones. There's nothing better than hopping out of the shower and wrapping yourself in a big, plush, soft white towel. Am I right? When it comes to towels, white is always…and I repeat ALWAYS…a good idea. You can bleach em, buy a new brand, they never fade- the list goes on. If you want some pattern/color, try a fun hand or face towel (ideas below). Just trust me here- when buying new towels, go white.
3. New curtain
If you have a shower that needs a curtain, time to update this also. Again, I love white here, but with some pattern/texture. Below is an example of my favorite, but some other options with more color are this, this and this.
4. Accessorize
Buy a new mirror…update your toothbrush holder & other visible accessories…throw in a woven basket for extra storage…add fresh flowers! These are all simple ideas that can make a huge difference. Hit up your local Homegoods for some great buys in this area. ** Side note on the flowers: a lot of people view them as too expensive, but give up one Starbucks per week and you can buy a bouquet from Trader Joe's! Fresh, fragrant flowers are SO worth the money- they look good, smell good, and make you feel good!
5. Wall Art
Lastly, every room- no matter how small- needs some wall art. A guest/hall/kids bath is a great space to try a little DIY. Pick up some Ikea frames and fill with whatever you please: prints off Etsy (I have this one), your kids artwork, a modern painting you did yourself- anything works!
Here are some recent finds to get you started: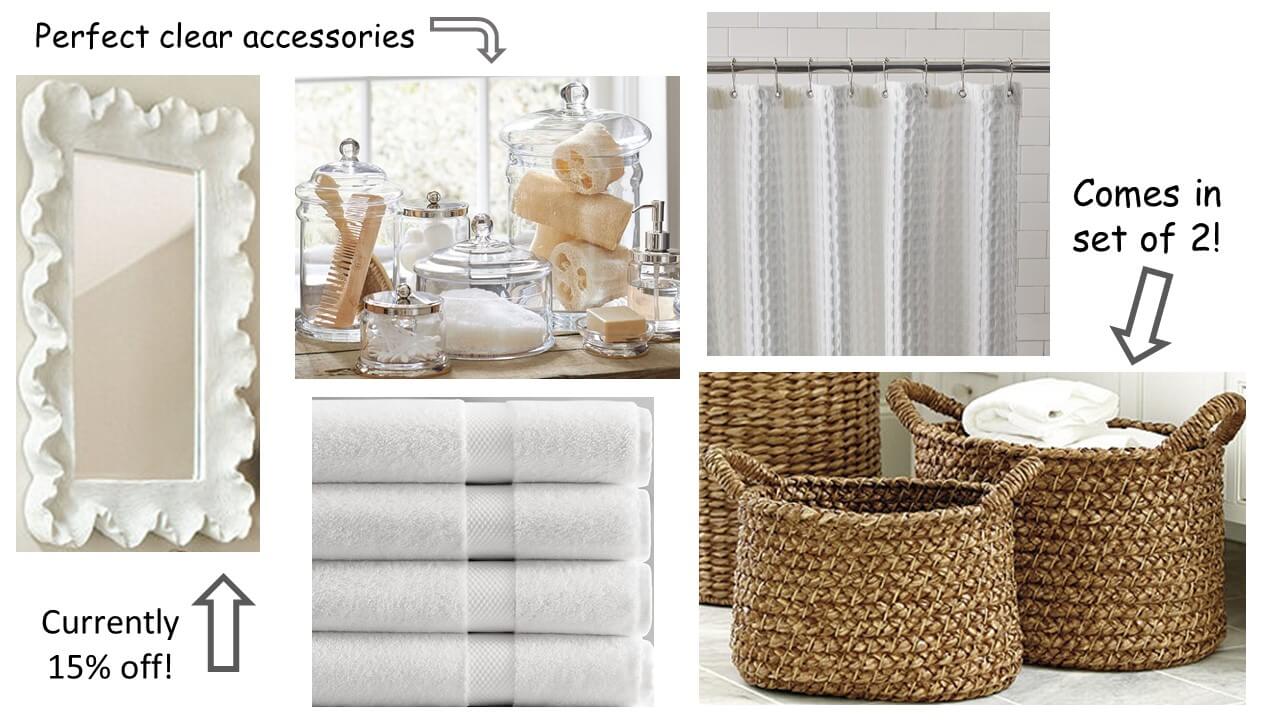 { mirror // glass accessories // shower curtain // baskets // towels }