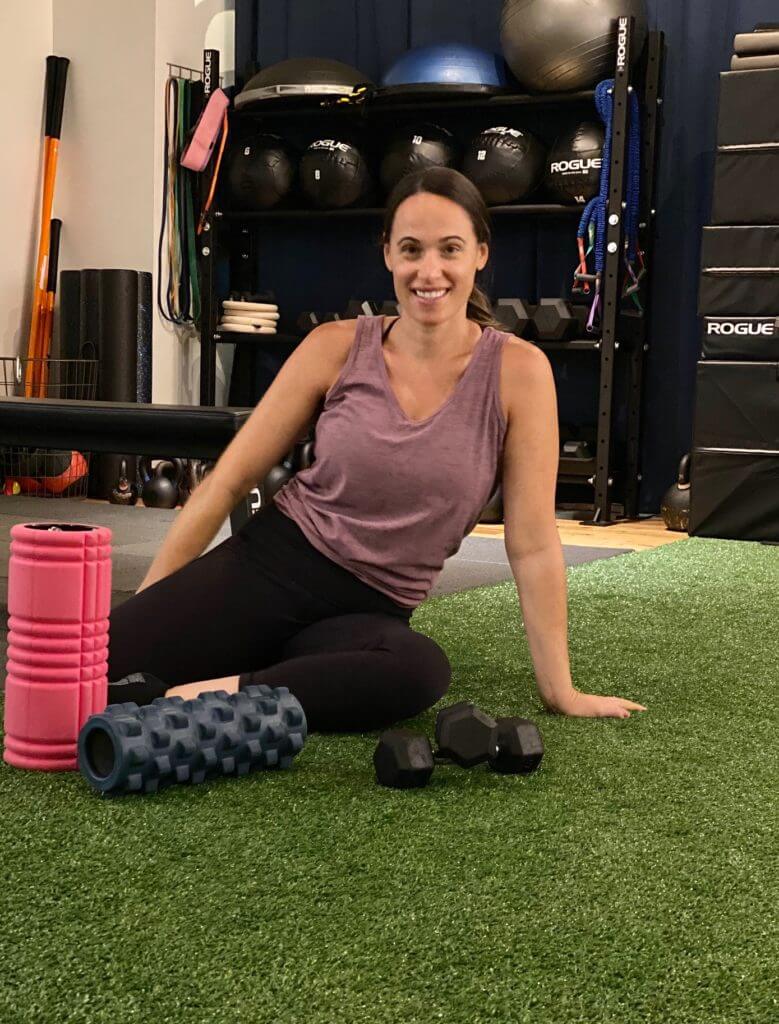 As someone who has been active my entire life, my desire has always been to exercise throughout my entire pregnancy. My mom was playing tennis at nine months pregnant with me and I hoped to do the same! Prior to becoming pregnant, I worked out 5-6 days per week in varying ways – strength, spin, running (4x half marathoner + countless 5K/10K races), crossfit, yoga, etc. Prior to the pandemic, I loved going to gym classes and the team aspect that came with that. Covid really threw a wrench in my workouts since gyms were closed for 3+ months in Boston and group fitness still isn't allowed. That also coincided with when I found out I was pregnant, so I had to pivot quickly.
Luckily, my husband is a personal trainer with both prenatal and postnatal certifications, so he has been instrumental in helping me adjust my workouts in a safe way for myself and for baby Koz. I feel grateful that my body was pretty damn strong before I got pregnant, although I was a few from my "goal weight" (thanks to too much eating & drinking during the quarantine). That said, my primary focus during this pregnancy is to stay strong and active. In a dream world, I'd love to stay lean, continue strength training and running until the end…but we shall see.
Below is my typical weekly workout schedule that I've been following for the past few months. In addition, probably go on 2-3 walks per day (15-30 minutes each) and complete at least 1 prenatal core/yoga/pilates/barre video per day. I love doing a quick 15-20 minute video each morning when I wake up to stretch my body and feel more aligned.
Monday – strength + walk
15-20 minute upper body
15-20 minute lower body
45-60 minute walk
Tuesday – tempo run
Peloton app, 30-45 min, intervals
Or I'll do a 45 minute groove spin class (if it's bad weather outside)
Wednesday – strength + walk
15-20 minute upper body
15-20 minute lower body
45-60 minute walk
Thursday – fun run
Peloton app, 20-30 minute easy run
Or I'll do a 30 minute pop spin class (if it's bad weather outside)
Friday – rest
Walk, light yoga, stretching, etc.
Saturday – full body strength
60-90 minute workouts w/ my husband (he's prenatal certified).
I take my time, focus on breathing, core work, strength and lower intensity.
Sunday – rest
Try to do just get outside or do yoga!

*I'll check back here in the 3rd trimester to let you know how this is going! I'm sure things will change and, depending on how my body feels, I'll have to adjust. Luckily there are countless resources for prenatal women. A few I am loving and using are the Peloton App,  SarahBeth yoga, Brett Larkin yoga and FIT by Laurie (all free!).