Given that today is my actual due date, I thought it would be a good time to share what I packed in my hospital bag and give you some insight into what we used, what we didn't and what we wish we'd packed.
When my water broke at 5:30am on Monday – only 35 weeks pregnant – I was not prepared. My
hospital bag
was not packed and we did not have all our plans in order. Luckily I had been reading some "what to pack" lists the week prior and had a few bookmarked in my phone. I grabbed those lists, threw together a bag for me and the baby and then read off a list of items I thought Terry should pack. We had some hits and some misses, but overall I would say we did pretty well.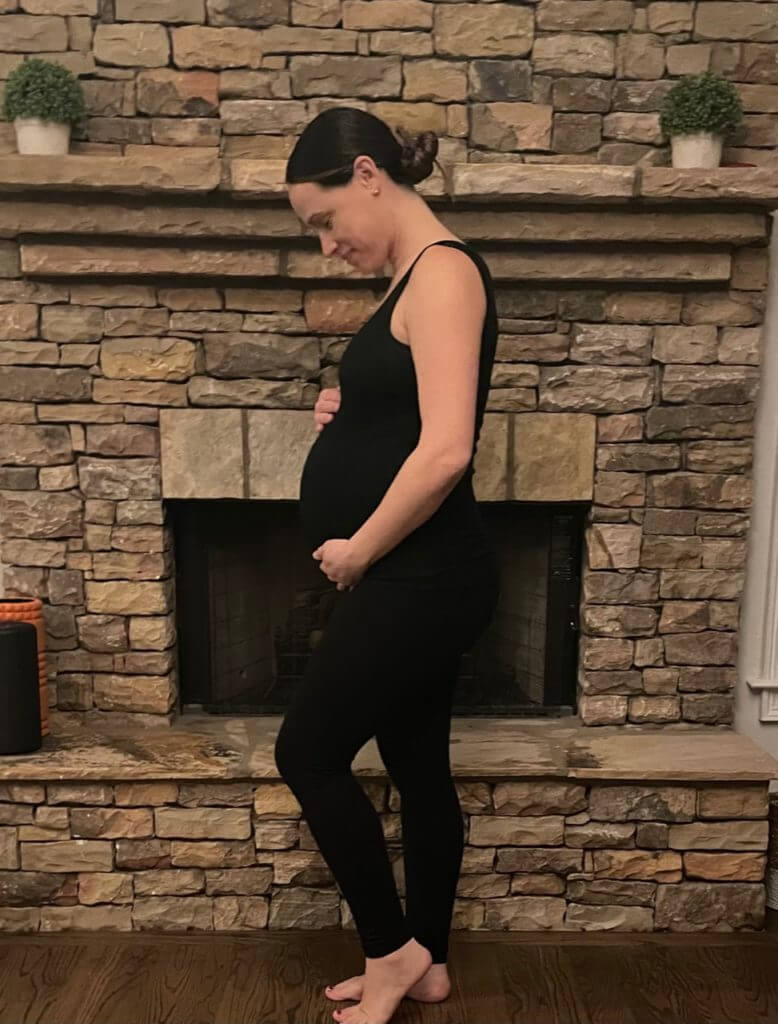 Terry took this picture at 6am on the morning my water broke. My last pregnancy pic – 35 weeks + 5 days.
What I packed

+
Comfortable lounge clothes:
I packed about 3 pairs of lounge pant + shirt combos since I wasn't sure how long we would be at the hospital. I figured it was a minimum of  2 days and a maximum of 5 days (if I were to have a c-section). Since Duke arrived about 30 past midnight and he was premature, we ended up being in the hospital from Monday at 7:30am to Friday at 1:00am. Alongside my (very stretchy) jogger pants were warm socks.
I probably wore 2 of these outfits (I changed less than I'd like to admit) but I wore one both to and from the hospital – stretch is key when you've just given birth so these were definitely useful.
+
Pajama sets
: I brought
my favorite pajama sets
, both in short, pant and nightgown form. I made sure to bring a pair of slippers as well, even thought the hospital gives you some. I lived in
the nightgown
and
pants pajamas
pretty much the entire stay. The button down tops make them perfect for nursing and they were comfortable yet still presentable enough to wear around others.
+
Nursing / pumping friendly items
: I had already purchased a
set of nursing bras
and brought all 3 with me. I also packed oversized, open front sweaters to wear over my tanks and pajamas since hospitals are notoriously cold. I ended up not wearing
the nursing bras
(since I had pajamas on and was basically half naked the entire stay) but I wish I had purchased and packed
pumping bras
! I had to hold the pumps the entire time which was a pain. Now that I have
actual pumping bras
at home, I see what a benefit it is to be hands free. Highly recommend packing these for yourself.
+
Post-partum specific items
: I made sure to pack
my own (maternity) robe
,
a nightgown
and
postpartum undies
so that I would have some a bit more comfortable than the disposable ones the hospital gives you. The hospital provided various postpartum items, such as ice packs with witch hazel for the lady bits. I highly recommend taking advantage of what the hospital offers and stocking up on the ice pads, disposable undies and anything else that comes with it. Once we got home, these items were critical in helping me recovery and I wouldn't have had the time to prepare these myself.
+
My own toiletries
: I packed
my toiletries kit
with travel sized everything – shampoo, conditioner, face wash, lotion, toothbrush, toothpaste, etc. I also packed my hairdryer, some scrunchies and my own bath towel. Believe it or not, I even packed (and used) a face mask one day, which brought me back to life! I could not have lived without these items! Showering for the first time after giving birth is like a day at the spa and I loved having
my big, plush bath towel
with my own preferred toiletries. It's the small luxuries like this that really made our stay all the more pleasant.
+
Random necessities
: Along the list of random but absolutely necessary items includes an eye mask and earbuds (so you can sleep during the daylight), an extra long phone charger, a blanket (hospital rooms are freezing) and our professional camera. We used every single one of these items and I consider them to all be crucial for a hospital bag. There can be a lot of down time (especially while you're not yet in active labor) so anything to keep you occupied and comfortable is key.
What Terry Packed
+
Extra snacks
: We thought we were packing a lot of snacks when we threw in some protein bars, mixed nuts, jerky and hydration packs. The first 24+ hours, I didn't eat anything (and I didn't notice if Terry did) but post-partum I was starving (and it was 1am which meant no food available) so we crushed the snacks. We were also at the hospital for 5 days so we should have packed more. All I was craving was a big bowl of fruit or a delicious salad…with a side of candy! Ha. I suppose variety would have been key. Our hospital provided meals three times per day to the mamas but dads were on their own. He could order & pay for them (which we did a few times) but our schedule was so off that we mostly grazed throughout the day. Our room also didn't have a fridge which made keeping food a challenge. I recommend calling your hospital to ask what's included and available!
+
Comfy Items
: We made sure that he also had plenty of pajamas, sweats, slippers and cozy lounge wear. We knew that Terry would be sleeping on a glorified bench and so making sure that he had items to help him sleep well, including pillows and blankets, were necessary! He wore them all and would definitely pack again next time – perhaps even an extra blanket.
+
Random necessities
: He packed a speaker, computer and long phone charger. Since we had no idea how long we would be in the hospital, we packed his computer to get some work done. Ha! Looking back, this is funny to me. Maybe it's because my labor moved so quickly (less than 16 hours from arriving at the hospital to when Duke was born) but Terry hardly had time to sit down, let alone get work done. Post-birth, we were far too exhausted to be productive but it was good to have these items anyway.
What We Packed for Baby Koz

+
Clothing
: In my head, I had visions of a chunky, alert baby being photographed in an adorable outfit, me beside him with a cute outfit on. HA! When in reality, I left in sweats and Duke left in a footie, a beanie and some mittens (all bout 3 sizes too big for him). It was about 1am when we left and in the 40s so he was basically covered up with a warm blanket and we took no pictures. Next time, I will pack two cute outfits but maybe bring different size options. You never know if the baby will be tiny or huge.
+
Announcement photo outfit
: Maybe some moms have the opportunity to wrap their baby up in a hand picked swaddle, place a huge bow on their head (if a girl) and an adorable custom sign but we were so busy with doctors & nurses in and out of the room and exhausted and trying to live in the moment. We snapped a few pictures but honestly, I just wanted to spend my time staring at my beautiful son. My advice on this is bring this if it's important to you, but have minimal expectation. After all, this isn't an Instagram moment, it's your child's birth.
+
Accessories
: We packed
an adorable blanket
(the first item I bought when I found out I was pregnant!) and a few binkies along with his car seat. These were the main necessities and we used all of these items so I am happy to report that this was a successful packing list. The hospital provides everything you could need for the baby – diapers, wipes, pacifiers, lotions, etc. They even sent us home with a big bag of goodies!
Final Thoughts:
+ Make a list once you hit your 3rd trimester and pack early juuust in case!
+ Items I wish I had packed: an empty bag for dirty clothing, more snacks, both nursing and pumping bras and some Starbucks gift cards as small "thank you" gifts for the incredible nurses.
+ Pack whatever makes you feel comfortable – giving birth is a very emotional experience and it's important that you create an environment that you feel safe & comfortable in.
+ My biggest piece of advice: take what your hospital gives you! Your are paying for it with your stay and they have various necessities for baby and mama that will be used (and refilled daily), so take advantage of it.