One of the first rooms I planned to renovate once we moved in was our laundry room. First and foremost because the previous owners took their washer & dryer so we had to buy a new one anyway. Second – I knew that with a baby coming, we were going to be spending quite a bit of time doing laundry so we may as well make it a space that we like!
The laundry room itself is great because it's located on the main floor and it set back so it's pretty quiet. The room is okay sized but the shape is odd which has given us quite the challenge. In the below picture, you'll see that the washer & dryer are located straight ahead; however, this is a bit misleading because the piping, plugs and outlets are all on the left wall. I think the previous owners sort of "staged" the room because it's simply not functional this way. Regardless, we knew that we wanted to gut the space.
Prior to moving in, we removed all of the wire shelving, patched and painted the entire room and refinished the hardwoods to match the hardwoods on the main floor. These changes alone made a huge difference, but that's just the beginning.
Here is what the laundry room looked like before we moved in: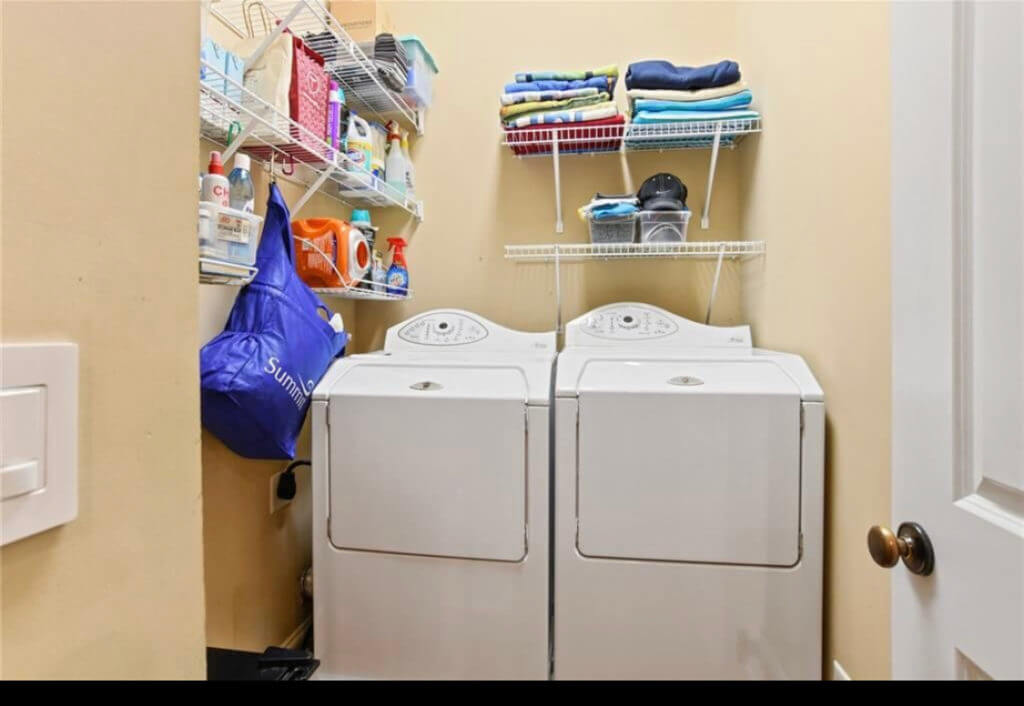 Here is my design board and final plan for the space: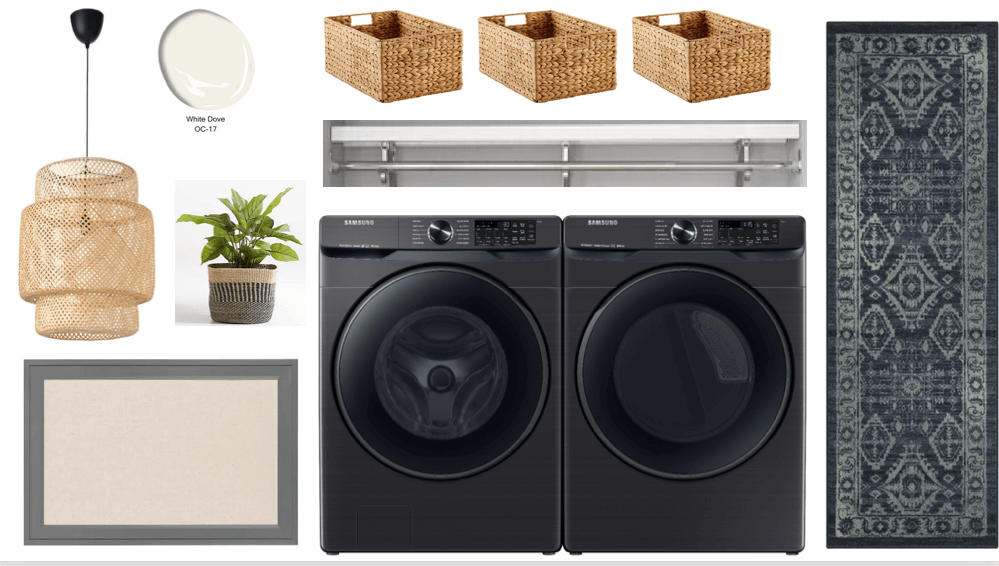 Our plan is to change pretty much everything to try and make the space more functional, increase the storage and make it look pretty! Below is our project list of what is being changed.
Changing the awful fluorescent overhead light to a hanging bamboo textured pendant.
We purchased new Samsung smart front loading washer & dryer in black stainless steel (for some contrast against the Dove White walls)
New custom shelving with a rod for storage will be installed (still debating between cabinets & open shelving)
Adding woven baskets for some warmth + texture (if we go with open shelving)
Placing a new runner in front on the w/d will add some visual interest as well as protect the floors (front load washers tend to drip when the doors are open)
We'll add a little cubby to hide Mela's dog food
I will hang a linen pin board (also love this one) on the wall for some personality and to display wedding invitations, holiday cards, pictures, etc.
Rounding the space out with a cute faux plant or two!
Stay tuned for the finished product! We have our handyman coming this week to install the shelving and finalizing our timing with the electrician. I can't wait to share our room once it's completely done.