Capri is hands down one of the most magical, beautiful places I have ever laid my eyes on. This small island just off the coast of Sorrento, in the Bay of Naples, is where turquoise water meets lush green mountains. There are huge, bright yellow lemons growing from every tree. Throw in the delicious smells of homemade pizza & pasta and the delicious sights of local gelato & there's just no reason to leave!
When I was working my way down the Amalfi Coast, I opted to take the ferry over from Sorrento to Capri and spend two days on Capri. Looking back, I would probably recommend to a friend to spend a full day on Capri, but then head back to the mainland for the night. Reason being? (1) Capri hotels are insanely expensive (2) the nightlife is pretty dead during most seasons (3) the true treasures are found during the day.
Given that Capri is small, I've listed the 5 things I would recommend you must do while there…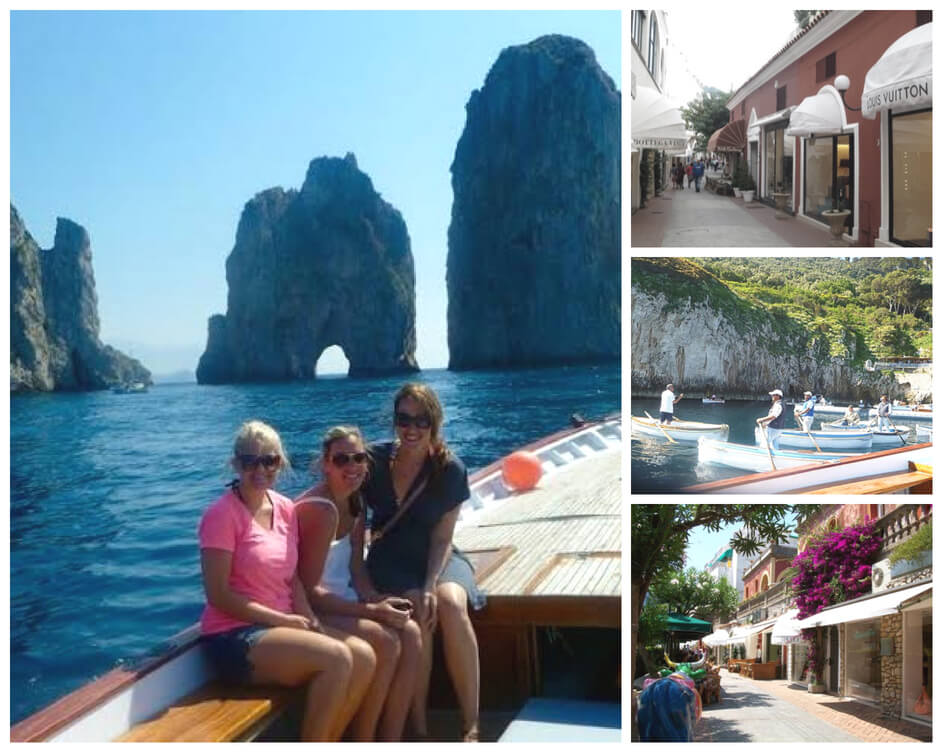 1. Take a boat tour around the island
We splurged for a private tour instead of a group tour. Best. Decision. Ever. It was worth the 100+ Euro to have the 3 of us on a private boat vs 25Euro to be squished like sardines. We found this adorable older man, Jerry, who took us out on his gorgeous boat- we took our time and had a 2+ hour tour with him. He told us stories, he showed us celebrity homes, he took us to multiple grottos (see below for blue grotto info, but there are many others- spectacular!) and we got some amazing pictures! He was funny, jolly & informative. I cannot recommend him enough. He truly made our day!
2. Go see the Blue Grotto
It's touristy, I know. But it is a once-in-a-lifetime opportunity! Trust me when I say, you will be glad you paid the 10Euro, squeezed into that little canoe & went in- it's just beautiful. I didn't have the best camera, so the pictures really don't do this place justice. Go see for yourself!
3. Take the chairlift up to Anacapri
You will take this ski-lift type ride up to the top of the mountain! It's really scary but fun (you're basically on this old metal chair with little security). The view on the way up is awesome- you'll get a birds eye view of the olive trees, lemon trees, ocean & more. Enjoy it!
There's not much at the top of Anacapri, but you've got the photo opp of a lifetime! We had caprese sandwiches & beers at the top of the lift, took some pics & then headed down. This was my favorite pic from the entire trip:
4. Explore main town Capri
This city is a playground for the rich & famous. From celebrity weddings (G&B!) to 5 star restaurants to designer stores, it's a sight to see. There's a main town square and then winding side streets filled with shopping- Chanel, Prada, Louis Vuitton, to name a few. Sure, it's out of my of our price ranges (unfortunately), but it's great to see and filled with beautiful flowers & yummy bakeries! Keep your eyes open- you may see a celeb!
5. Enjoy dinner on the cliff at sunset
Of course, I cannot for the life of me remember the name of our restaurant. But it was delicious! We had wine, caprese salads, homemade pasta & to-die-for desserts. The best part of the whole meal though…the view! The wall of windows opened and we felt as if we were dining cliff side over the Mediterranean.  Breathtaking.
Bottom Line: GO TO CAPRI!!! If you ever find yourself in Italy, along the Amalfi coast, or on a Mediterranean cruise, be sure to include Capri. It forever holds a special place in my heart!