One place that had always, always been on my bucket list was Cinque Terre, Italy. The one day I went it was pouring rain. I mean POURING. I have only one picture and it's so blurry from the rain that it's not even worth sharing. WOMP. WOMP. I do, however, remember having an amazing meal in Vernazza. I'm hoping to return to Cinque Terre in the next couple of years to bring you a proper travel guide, but for now this teaser and pictures will have to do.
Food + a view = best lunch ever!
Even though the weather was beyond shitty and I was there for a very brief amount of time, I still remember the enchantment that Cinque Terre holds. The cluster of these five small Italian villages is truly old world charm meets spectacular Italian Riviera views.
We took the train between a few towns, but chose to hike when we could. Each twist and turn provides a new view & I really enjoyed stopping for photos, etc. I can only imagine how amazing it truly is to hike on a warm, sunny summers day! I mean, check out these views- they never get old!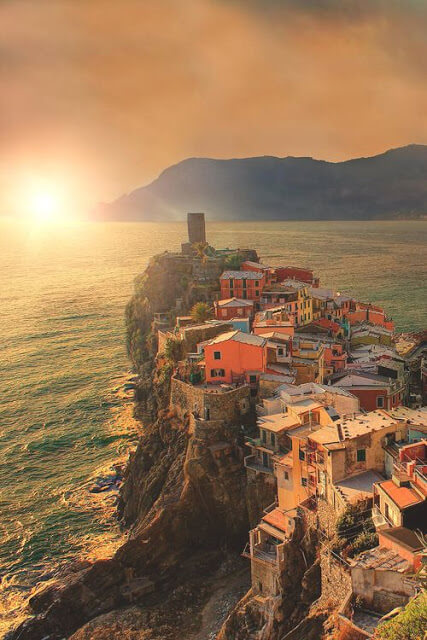 While I typically don't repeat vacation destinations (too many new places to explore!), Cinque Terre is definitely still on my bucket list…again! For those of you who've got this planned soon, I've found a few helpful tips through some of my favorite fellow travel bloggers, specifically this one, this one and this one.
Have you been to Cinque Terre? Whats your favorite part?!