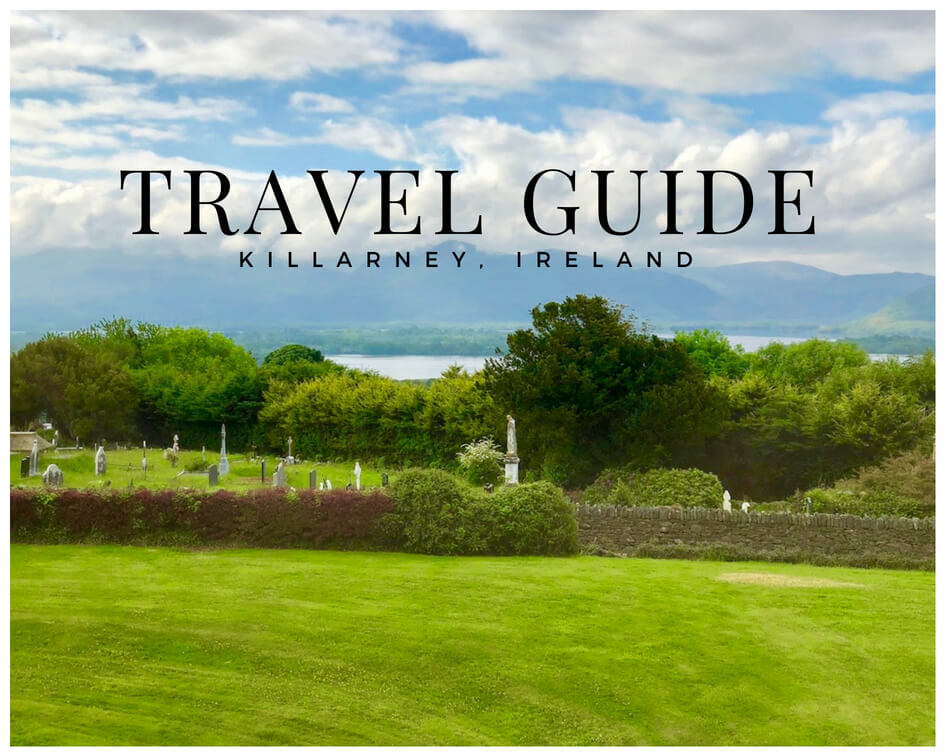 Killarney, Ireland was one of those cities that I wasn't expecting much from, but totally fell in love with. We continued our road trip through the Ring of Kerry and drove here after Dingle, spending two days exploring all that this lush area has to offer. There are a few things that make Killarney different than any other city we visited in Ireland. First, it's a much bigger city, with over 15,000 people, and is the second most visited city in Ireland. The commercialized part of Killarney has some fast food chains and larger, more recognizable stores; however, this lakefront city is thriving with culture, cuisine and all of the Irish charm!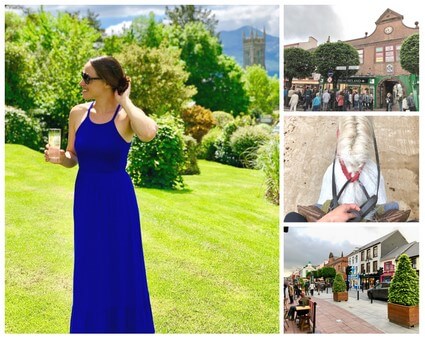 What To Do
+ Killarney National Park: This huge park provides a lot to do, including horseback riding, boat rentals, hiking, exploring the property and more. Depending on the time of year and your athletic level, be sure to find the activity right for you. We heard that Torc Waterfall is the best spot in the park
+ Horseback riding: Riding through Killarney National Park was the highlight of our trip to Ireland. This two hour excursion took us through open fields, up gravel hills, in the forest and around the lake. We walked, trotted, and those who wanted, cantered. I am not comfortable on horses and I must say, the guides made me feel very at ease. I highly recommend this as it's a fun, adventures activity and the perfect way to see the park as it's too big to see on foot.
+ Muckross House: A castle with a beautiful arboretum and stunning lawn. This is located within the Killarney National Park, set just a few miles outside of downtown Killarney. The Muckross property is massive and includes the house, gardens, a traditional farm, a visitors center, a restaurant and more. Worth walking around the property when you're in Killarney National Park.
+ Downtown Killarney: There are countless restaurants, pubs, shops and museums in downtown Killarney. It's a great city to walk around and just get lost!
Where To Stay
+ Killeen House: A bed & breakfast feeling hotel with a restaurant (near the golf course) – this is apparently "the spot" if you're here on a golf trip (they pack your daily lunches for the course, have all golfed themed interiors, and it's run by a lovely family. If you want old school Irish charming, this is the spot.
+ Aghadoe Heights & Spa: A luxury five-star hotel set at the top of the hill, overlooking the Lakes of Killarney. It's set away from town, in a quiet area, but has everything to offer. There are two restaurants, a gym, a nail salon, a full service spa and a swimming pool. Our room had a gorgeous view and its own private balcony. We had breakfast was included in our stay and it was a huge spread, set in their main dining room (where dinner is also served), overlooking the lake. They also have a spa here – I had an amazing hour massage, along with their "thermal journey", which included various steam rooms, saunas, showers and a heated relaxation area. You'll definitely want the time to enjoy this property and all of its offerings. This hotel was a splurge for us, but definitely worth it.
What To Eat + Drink
+ Noelle's Cafe: Cute coffee shop to grab tea, a hot chocolate or coffee. They've got pastries and light lunch as well and set in the heart of downtown.
+ Macs of Main Street: Located on…you guessed it, Main St. in town, this is an upscale, sophisticated Irish restaurant. The vibe is lacking a bit and it feels a bit stiff, but the food is consistently good.
+ Murphy's: A popular pub in town serving good Irish food as well. They have nightly traditional live music.
+ Porterhouse: An awesome, lively restaurant downtown – perfect for a fun night out. We snacked on some heavy appetizers, drank freshly poured Guiness and listened to live music. A favorite of ours!
+ Rozzers Restaurant: The best lunch spot when the weather is nice! I had a crab sandwich, T had a burger. The service was stellar and our meal was served outside on the front lawn, by the gazebo. It was so peaceful. This was one of my favorite meals our whole trip!
One of the best things about Killarney is the welcoming, friendly vibe the city offers. There was so much going on! Honestly, we enjoyed just wandering around town after dinner and following the music. We stopped in various bars around town to hear live Irish music and had a ball!