One of our favorite things to do when visiting a foreign country is to rent a car and drive! We are definitely not tour bus people (though we did the Golden Circle & Southern Iceland tours last year…and wish we had rented a car) and enjoy the freedom and flexibility that comes with renting a car. It is so nice to be able to stop when and wherever you want, explore areas you may not have otherwise seen and truly experience the culture by feeling like a local. Plus, it's a fun challenge to drive a stick shift on the other side of the road sometimes!

When we were initially planning our trip to Ireland, we knew that renting a car would be necessary. Given that we were flying in and out of Dublin but wanted to explore a vast majority of the Western and Southern coasts of Ireland, driving ourselves around was the most affordable and logistical option. I did a
lot

of research ahead of time on rental cars in Ireland as the country is known for the astronomical car rental insurance due to the narrow roads. After driving around the country for seven days, it's easy to see how people pop a tire or do damage to the car. These roads were the narrowest we have ever driven on. In fact, it is not uncommon for one car to have to pull over into the shoulder (aka ditch) to let the other pass. Driving here is scary at first but it turned out to be such a fun adventure.
Travel Tip: Rental car insurance (CDW) is mandatory and expensive. Be prepared to pay for this. It's best to check with your credit card company to see if they provide coverage for this (ours did not). Read more here.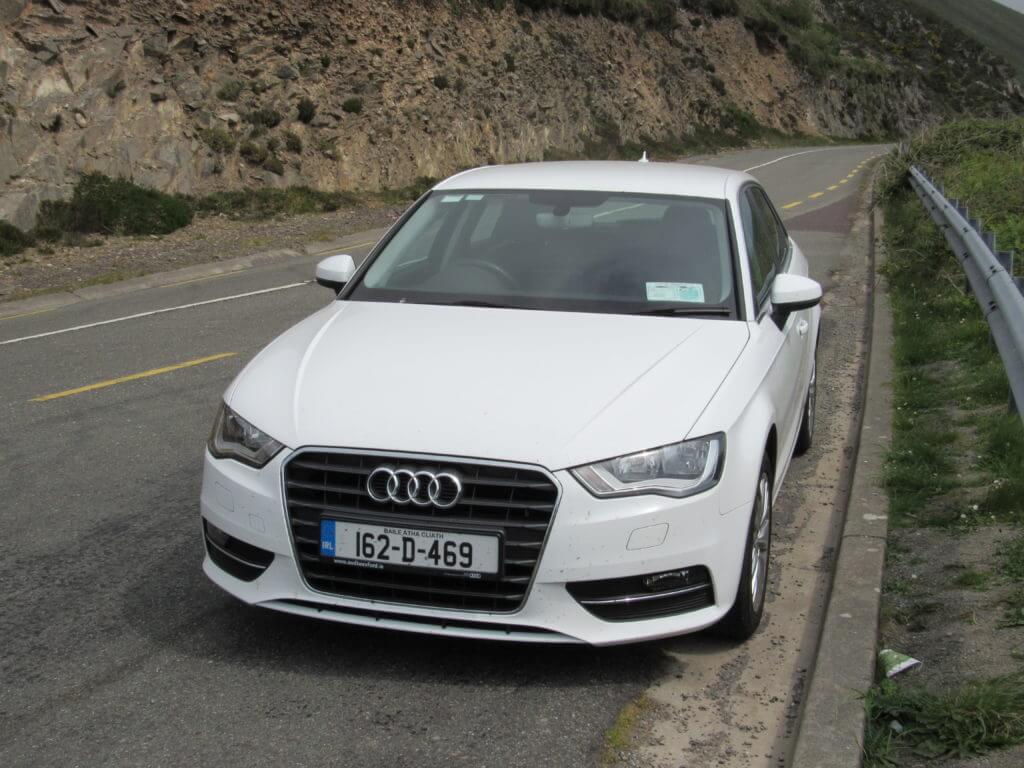 (so glad we upgraded to this car for the week – it made the driving (and riding) much more enjoyable, given how much we were in the car!)
So, if you find yourself in Ireland I cannot recommend driving enough. The Western Coast of Ireland has a highway that is known as the "Wild Atlantic Way" that runs all the way along the coast and is the world's longest defined coastal touring route. The whole road itself is over 1,600 miles and would take days to do. In fact, the route is so big that it's divided into six different regions, based on the topography and scenery (read about them here). Here is the route we did:
The Bay Coast > The Cliff Coast > Southern Peninsulas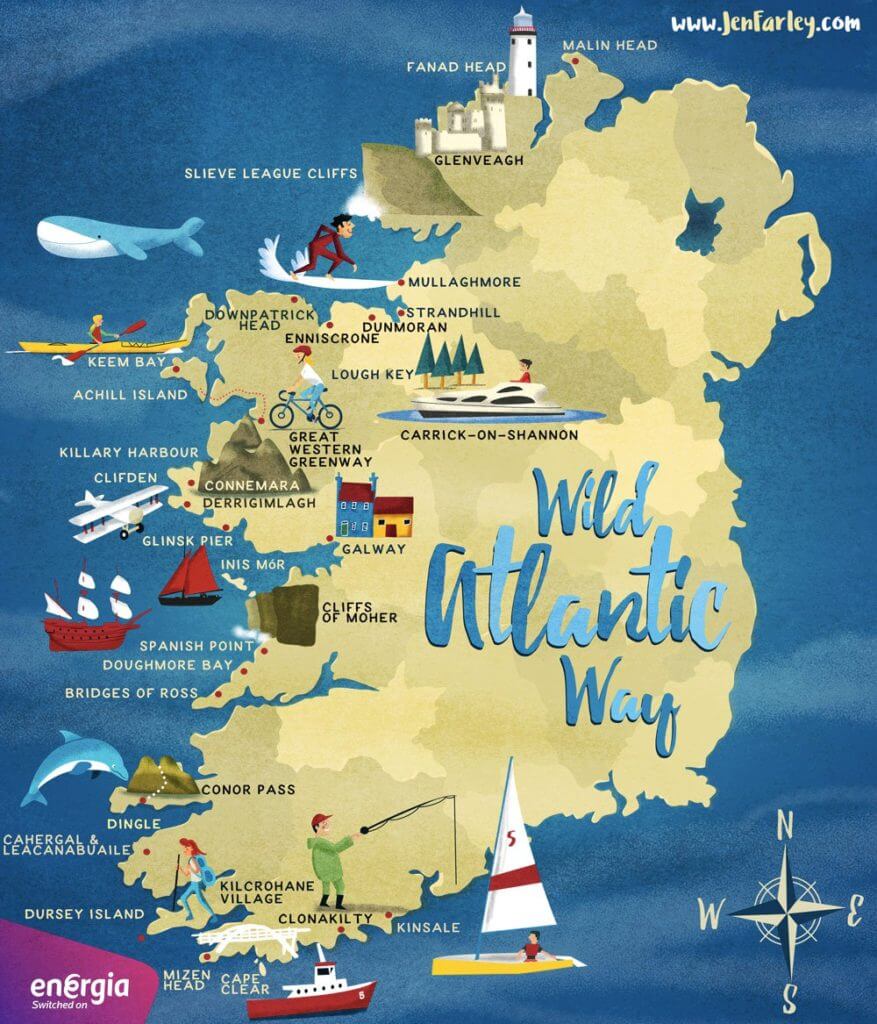 The Bay Coast
(3 hours)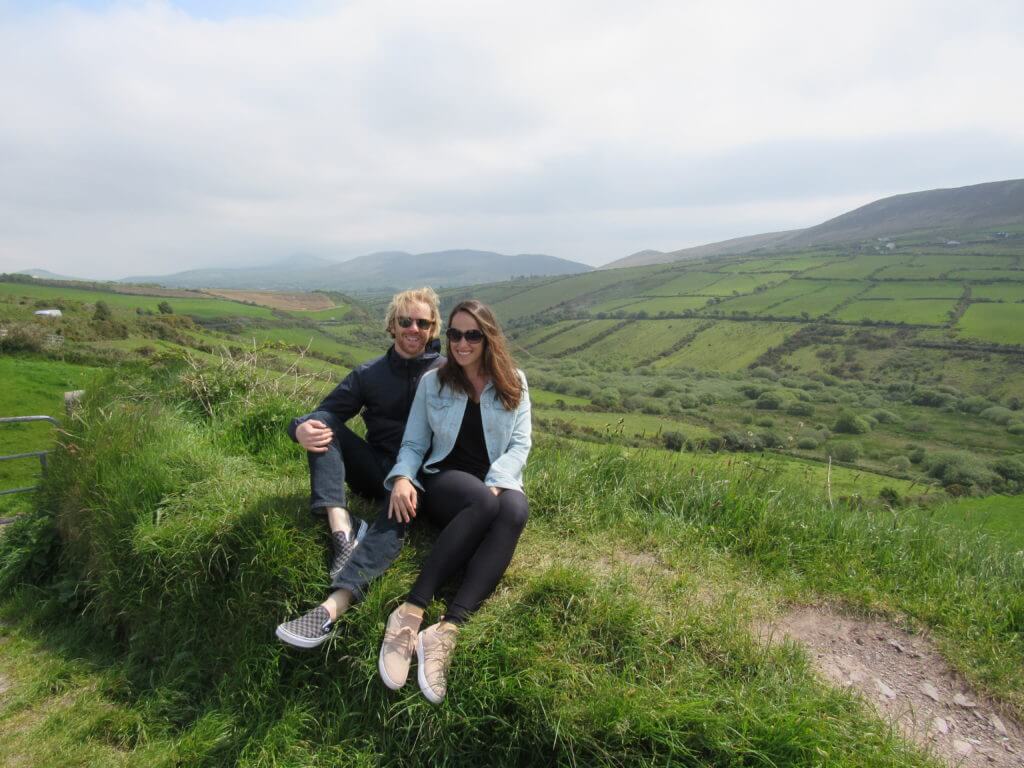 The Bay Coast goes from Erris to Galway Bay. Unfortunately, we did not have enough time to do Connemara (would have been our next spot if we had one more day) but it's known for the stunning views and wide open cliff side. This is a great place to ride horses as they go along the coast and down by the beach. We started our road trip at the bottom of The Bay Coast, in Galway Bay. We enjoyed a day and evening out in Galway City and then spent the night in Kinvarra, which is a bit south along the bay.
You can also easily visit the Aran Islands via a ferry from Connemara in Co Galway. I have heard this is also a beautiful way to spend a day and I'm sure it's a stunning view looking back to the coast of Western Ireland. Driving in this area was especially difficult – the lanes are very narrow and most of the streets are lined with stone walls, which divide the property for the local farmers. I can't even tell you how many times we had to pull over for a massive tractor to pass us. So scary!
The Cliff Coast
(5 hours)
The Cliff Coast may have been my favorite leg of the trip. Though there are countless tour buses on this area (talk about a tight squeeze!), the cliff side drive is one of the best we've ever done. We kept comparing it to the PCH road trip in California or the Western coast of Cape Town. There's something about where massive cliffs meet the ocean – it's a different kind of breathtaking that is hard to describe. We woke up quite early and allotted a lot of time for this portion of the trip and I am so glad we did – while the travel itself is only around and hour, we took plenty of time to walk around, grab lunch, enjoy the view, etc.
Of course, we saw the Cliffs of Moher here. I must admit – these blew my mind! The pictures do not do them justice and I was surprised how much I enjoyed seeing them & how beautiful they were. It reminded me of the awe I felt when seeing the Grand Canyon for the first time. We then stopped in Lahinch, which is s small beach town known for their surfing. We grabbed some ice cream and walked around the beach area to enjoy the views. We truly could have stayed here for a long time. We also went to the Lahinch Golf Club to see the greens and so Terry could pick up a few goodies. This course is consistently rated in the top 100 worldwide and it's easy to see why. The views were spectacular and the green is next level. If you are in the area I recommend stopping by both of these places – try to snag a tea time if you can.
Traveler Tip: Pay the extra $2 and go to the top of the tower for higher up views of the cliffs.
Southern Peninsulas
(5 hours)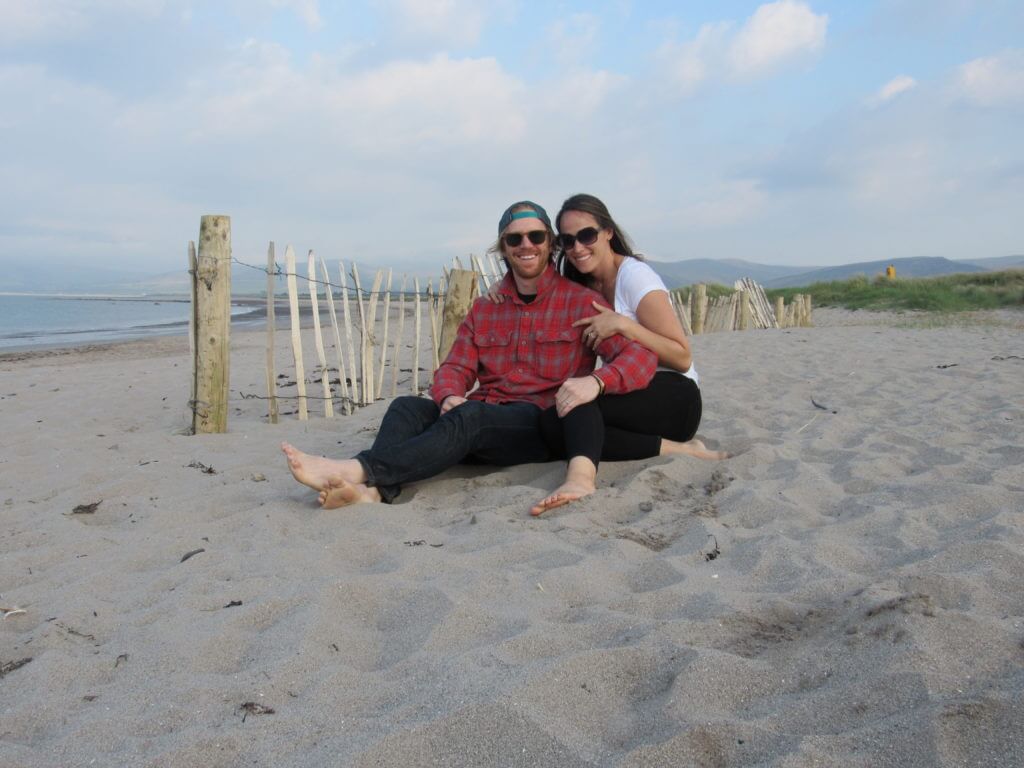 The Southern Peninsulas region took us further south into Co Kerry. While there are various ways to get from The Cliff Coast to the Southern Peninsulas, I highly recommend foregoing the inland route via Limerick and taking the ferry. We drove down to Killimer and took the 30 minute car ferry to Tarbert. A local recommended this to us and thank goodness they did – not only did this cut off about an hour of our trip, but it got us out of the car and we got to enjoy the beautiful 70 degree and sunny weather that we were blessed with the entire trip. The ferry is under $20 total, including passengers, and leaves every 30 minutes most days (seasonally, I assume). Highly recommend!
There were so many places that we wanted to stop along this route. We first drove to Caragh Lake where we spent the night at the most beautiful inn. This area has a different feel – it's wider roads, faster driving and more hills and trees. From Caragh Lake, we drove to Dingle with a pit stop at Inch Beach, a famous very wide beach that is known for summer fun and surf. This area looks a lot like Big Sur. We wanted to pull over every five minutes to take a picture. As you're going up the hills, the views just get better and better. While in Dingle, you must do Slea Head Drive, which is the 1-2 hour drive around Dingle Peninsula. There are plenty of sheep, the famous beehive huts and various locations where movies such as Star Wars have been filmed. This area is especially rural and has a very old world feel. We hesitated to add this on but were so glad that we did – the views are out of this world!
Last minute, we opted to take the Connor Pass from Dingle, the most charming seaside town, to Castlegregory, a beach area known for surfing, paddleboarding and beautiful sunsets. We came so close to not doing this but since the weather was so ideal, we hopped (back) into the car and drove the 30 minutes over this mountain pass. The terrain was rocky and brown and you could tell this would not be an ideal drive with winter conditions. Once we hit the beach area, we grabbed a couple of beers and spent a couple of hours on the beach. It was 68 and sunny at 7pm…in Ireland. This weather is one in a million there and we soaked up every moment. It's funny how the random, unexpected pieces of vacation end up being the absolute best!
If you are headed to Ireland, I highly recommend taking a road trip along the Wild Atlantic Way!