Copenhagen may seem like a random place to visit but its close proximity to the Eastern US makes it an easy flight, perfect for a long weekend. I spent three nights / four days in this Danish city and it was an ideal amount of time. Most of the sites in the city are easily accessible and centrally located. Home to over two million locals, Copenhagen is a safe, clean, walkable city. It's no wonder that it is consistently named one of the "happiest cities in the world" – everyone is so friendly!
Copenhagen is an easy city to spend a weekend with a significant other, family or friends. The city is small and manageable but has a lot to offer. We lucked out and had warm, sunny weather in April which was a dream. Given that most of the activities and sites are outdoors, I recommend going during a season that is warm enough for you to be comfortable outside.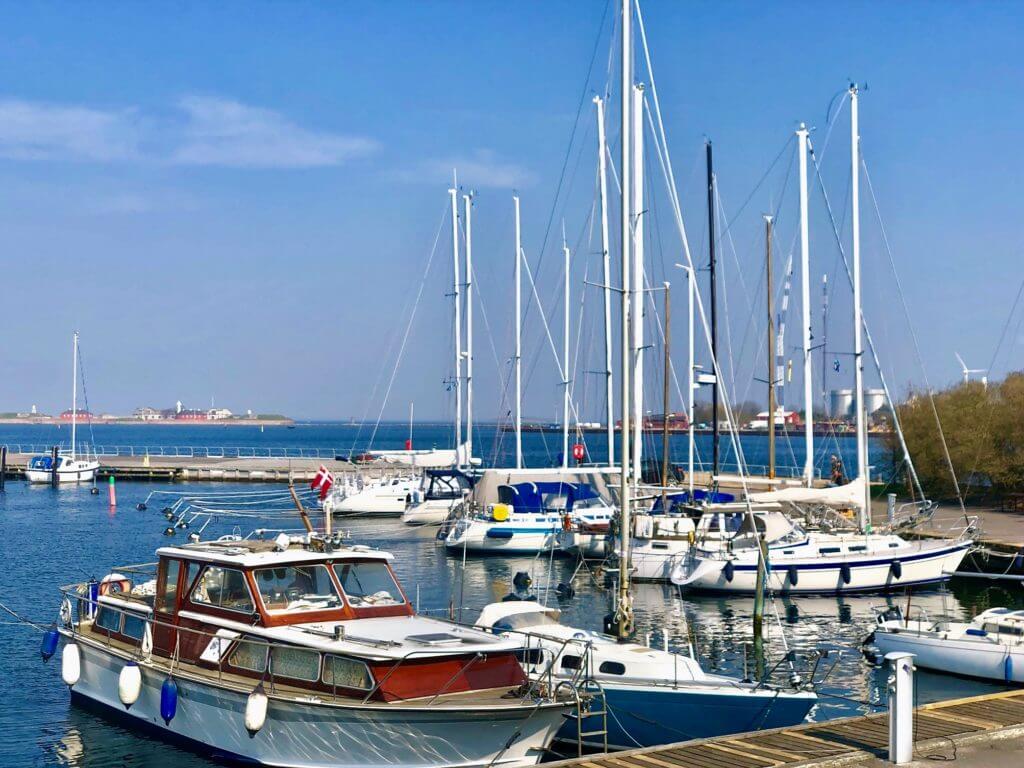 What To Do
+ Hot Yoga: We took a class at Hot Yoga Copenhagen, which proved to be an absolute treat! After a 7 hour plane ride and walking over 20,000 steps around the city, a good hour of stretching and strengthening was just what the doctor ordered. This studio is adorable – they have a lounge area with hot tea prior to class and then warm showers after. It's centrally located near a lot of restaurants and main areas we toured. If you are looking for a local class, I would definitely recommend this place – Shamir was very friendly and everyone was quite welcoming.
+ Tivoli Gardens: This is an absolute must when visiting Copenhagen. It's basically Six Flags meets Disney world but more fun. You pay $20 to get in and then pay per ride – it ends up being a bit pricey if you want to do a lot of rides but we just walked around and went on one or two. I actually like that it's inexpensive to get in because there are restaurants, concerts and fun sites to be seen around the property. We went at night which ended up being really fun because the crowds were minimal and the entire place was lit up with beautiful lights.
+ CopenHot: I wrote a review a few weeks ago about CopenHot and the incredible experience we had. This was probably my favorite activity that we did in all of Copenhagen and I think that anyone would enjoy this experience.

+ Cycle Bar: What a fun way to see the city! These bars on wheels are a fun way to drink beers and bike around the city. We saw a couple of groups of guys on these and it looked like a great time.
+ Explore Nyhavn: When you see pictures of Copenhagen, this is what you're seeing. These charming, colored houses line the river on either side and go for blocks. This area may be a bit touristy but it's pretty and ideal for walking around or grabbing a drink to people watch.

Where To Stay
+ Hotel Danmark: This hotel is the most centrally located (directly across from Tivoli Gardens) and and ideal spot for any weekend trip. Though the rooms are small, the location is reason enough to stay here. Read my review here.
+ Manon Les Suites: You can read my review about this stunning, one-of-a-kind hotel whose pool totally steal the show. My only regret is not having enough time to fully enjoy the amenities.

Where To Eat + Drink
+ Mother: This Italian restaurant is located in a happening spot of town. We enjoyed pizza, wine and live music with a lively atmosphere.
+ Nyhavn: Though this area is a tourist hot spot, the restaurants are surprisingly affordable and delicious. I had the most delicious Greek salad at one place (can't remember the name but it's baby blue) and some delicious rose at another. From my experience, you can't go wrong when you are along the water in the cutest part of town.
+ Vaffelbageren: Yum! This happening joint is best known for their delicious ice cream and waffles on a stick. It gets very crowded as it is super popular, but don't worry – the line moves fast. Be sure to grab a cone to walk around while you explore Nyhavn.
+ Formel B: One of the many Michelin Star restaurants in Copenhagen (22 in total), this is one of the lesser priced ones and without a formal pre-fixed menu. While I certainly appreciate the creativity and talent needed to achieve a Michelin Star, I can safely say that these types of places just aren't my cup of tea.
+ Sticks 'n Sushi: This sushi restaurant has sky high views of the city that are to die for. Located on the rooftop of the Tivoli Hotel, we enjoyed a window seat for dinner.  The cocktails, appetizers and sushi were delicious. This was one of my favorite place we ate and I highly recommend it.