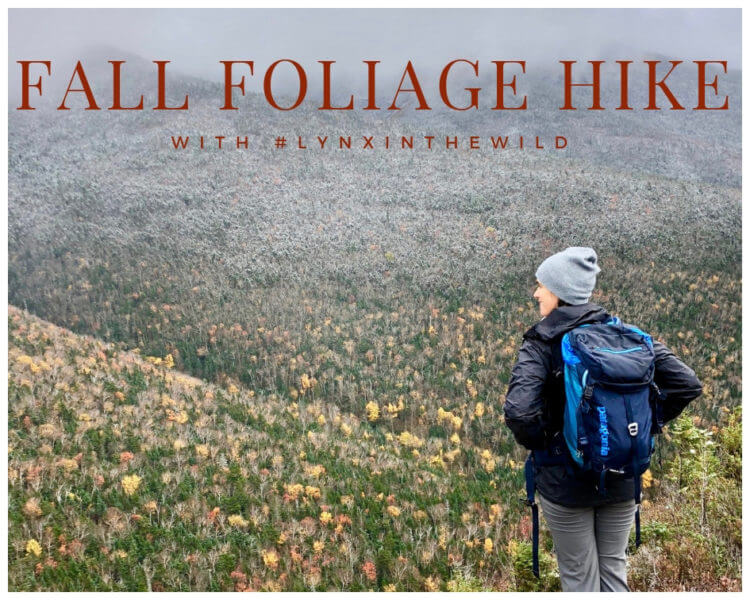 This past weekend we went up with twenty-four other people from Lynx Fitness Club to enjoy some hiking and camping in the White Mountains of New Hampshire. They have an entire outdoor excursion part of the gym, called "Lynx in the Wild" and this was the first hike of the season. My husband was the co-leader for the weekend and there was so much thought, effort and planning that went into the event that I was super proud to see it all come to fruition. We kicked off the day by meeting at the Old Bridle Path trail head in Franconia, NH at 9am. It is only about a two hour drive from Boston but you feel like you're a million miles away. There are also plenty of hotels and cabin rentals in the area if you are looking for a less rustic outing.
We all went into the weekend with the intention of hiking the entire Franconia Ridge Hike, which is a huge loop that goes up Mount Lafayette, across to Little Haystack, and down Falling Waters Trails; however, Mother Nature had a different plan for us. This 8+ mile hike includes two 4,000-foot peaks (Mount Lafayette and Mount Lincoln) and is best done with clear and dry skies. Since the weather turned last minute, we were looking at highs of 48 degrees with rain and snow both 100%. So we altered our plans and chose to do the 6+ mile route of the Bridle Path to Greenleaf Hut to the top of Mount Lafayette. Truth be told, I was happy that we ended up scaling down the hike as the original plan was a bit outside my comfort zone. Plus, I like the idea of a non-loop hike so you can turn around at any time without worry. It ended up being the better option for most.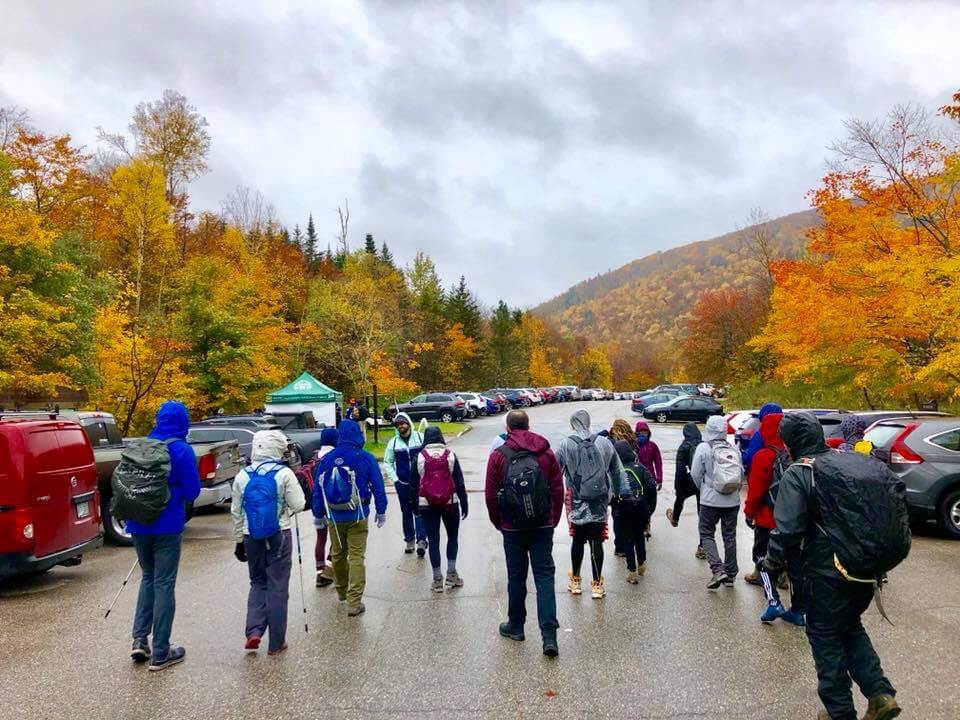 After a quick round of coffee/tea and warming up, we bundled up and hiked three hours up to the top. The first hour or so was okay but then the rain and cold really set in. By this point, we were hiking through puddles and looking forward to those snack breaks. Naturally, the group split into about 3-4 different mini-groups and there were about 6 of us that stayed together most of the hike. I had an ear pod in one ear (listening to the audio book of 'The Kind Worth Killing' – so good!) and that really helped me focus on my breathing and make the time fly by. The views up were simply stunning – imagine the fall foliage with yellows, oranges and reds for miles and miles. Then add in white dusted pine trees and snow-capped mountains. It was super muddy and slippery so at least half of our hike was spent clawing up on hands and knees or sliding down on our bums, but it was all worth it.
Side note: Cold weather is definitely not my favorite (seeing as I am a born and raised Georgian) but I will say that with the proper gear, I felt okay. I wore these pants in gray, this base layer and this rain jacket (with a vest in between) and stayed relatively warm. The wool socks, beanie and gloves certainly helped.
We ended the day by the warm campfire drinking red wine, eating fresh-of-the-grill tacos (so good!) and chomping on s'mores. The group was an eclectic bunch, ranging from novice to experienced, 20s to 40s and locals to visitors. It was a really fun way to get outside of the city, enjoy some fresh air and make some new friends. While I was not one of the braves ones who camped, we stayed until well after dark and headed home around 10pm. This was such a fun weekend and I can't wait for the next #LynxintheWild excursion.
If any of you are located in Boston and interested in joining the next outdoor adventure, let me know!