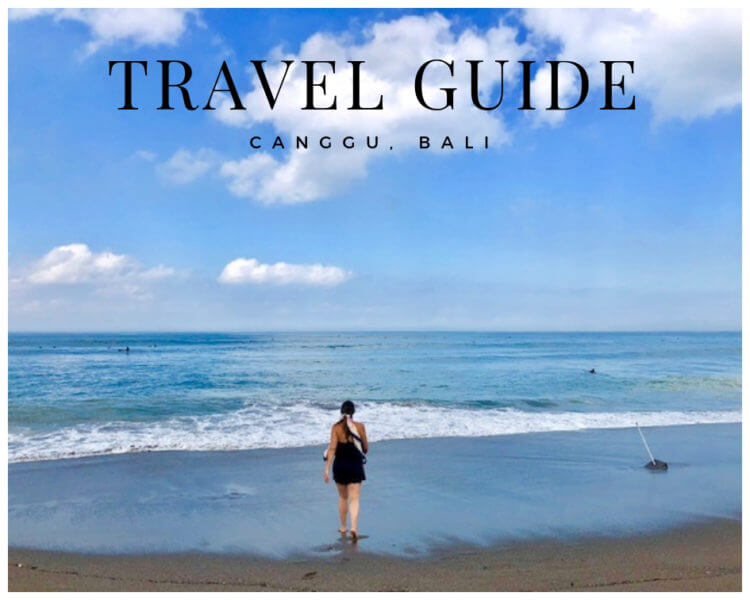 When we were planning our trip to Bali, I knew that I wanted to go to Ubud (for culture / zen / adventure) and to an island (originally Gili T, but due to the devastating earthquake we changed that to Nusa Lembongan) and those were my two "must visit" spots. My husband is a huge surfer (growing up at the beach will do that to ya!) and so he picked Uluwatu and Canggu as two destinations that he wanted to visit. Not knowing much about either, I went in with an open mind not expecting much. As I mentioned, Uluwatu was probably my lease favorite town that we visited; however, Canggu absolutely blew me away. I did not expect to love this place and boy did I. The town offers everything- for surfers, for yogis, for foodies, for shoppers…but it avoids the touristy, over-run feel of Seminyak or Kuta. I have a feeling that in 3-5 years it may be different, but we caught it before it becomes too much.
Something about the vibe from the moment we arrived was perfect – it was like the ideal mix of chill and chic. It was chill in the sense that places were low key, restaurants were inexpensive, everything was walkable in flip flops and there wasn't much traffic. It was chic in the sense that hotels / restaurants / stores were very clean and modern feeling with a hint of upscale. Our hotel was incredibly high end luxury (think Four Season level service / remoteness) meets historical / cultural explosion (think centuries old architecture and vast, lush property). It was truly the best of both worlds.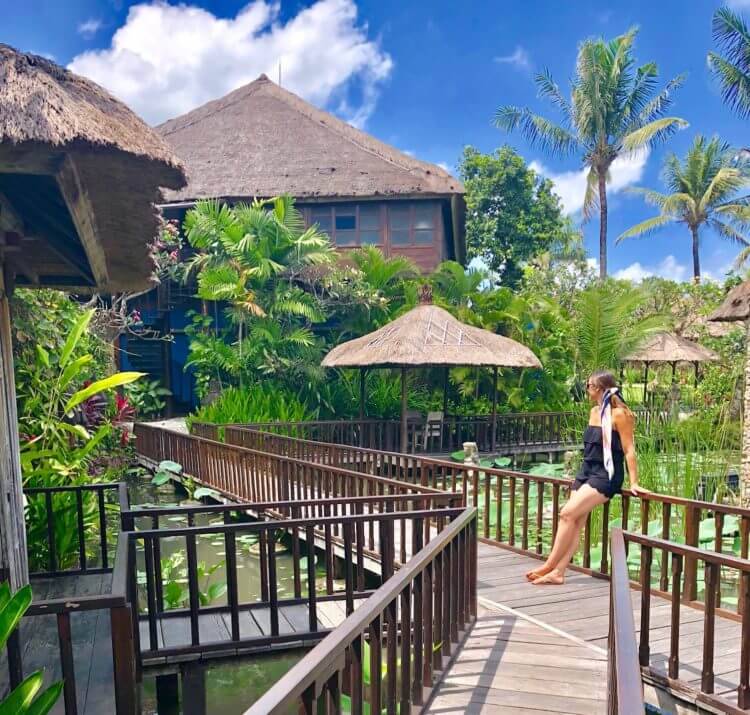 Enjoying every moment of the stunning Hotel Tugu – trust me, stay here!
Where To Stay

+ Hotel Tugu: This gorgeous hotel is set on a huge, lush, sprawling property. Everything is connected by intricate stone pathways and bridges over Koi ponds. The landscape and architecture is stunning – it feels like you're in a museum meets secret garden. It is conveniently located next door to The Lawn and across the street from Old Man's Bar and the beach, which makes it walkable to countless restaurants, surf shops, bars, stores, etc. We enjoyed various amenities such as the spa, restaurant, upstairs bar (what a sunset!), pool and lounge area. If you're visiting Canggu, there is no better place to stay.
+ D'djabu Villas: We didn't actually stay here, but we poked around as this gorgeous hotel is located on the main road with a beautiful entrance and pool. Located right by the beach, this resort has  rooms equipped with kitchen and living rooms. It is a great place to stay if you want more space or access to incredible amenities
+ AirBNB/Villas: Like most places in Bali, renting a villa is an excellent option. If you're doing this, I recommend using The Lawn as a landmark and trying to be within walking distance from it. If you can do that, you should be quite pleased with your location.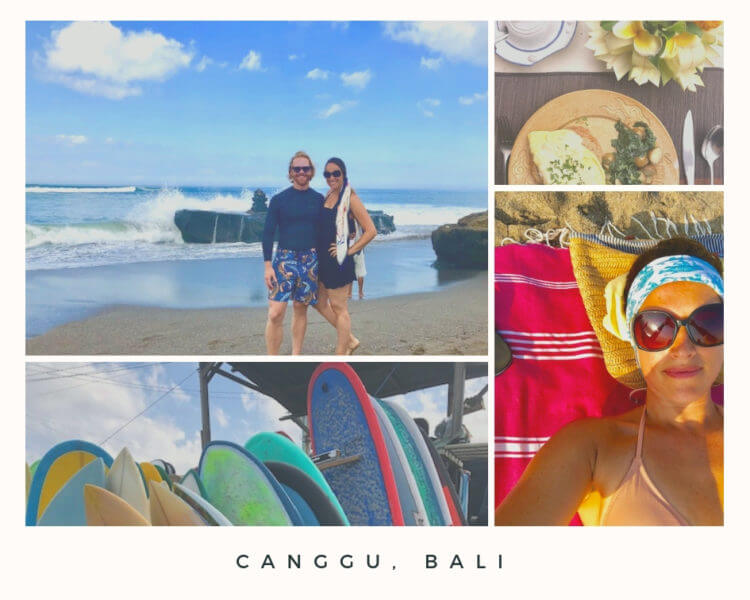 What To Do
+ Take surf lessons: Canggu is surf central! Beginners can head to Batu Beach while more experienced surfers go to Echo Beach. If you're brand new, try surf lessons with Da Surf School.
+ Hit the Beach: Batu Beach is great for beginner surfers and relaxing with lounge chairs and umbrellas on the beach. Echo Beach is more for non-beginning surfing waves and also full of chairs / umbrellas but also various warungs and bars along the beach. Both are great, just different.
+ Beach clubs: There are three main ones (Echo, Finns, Potato) and various other ones. These are great if you want pool access, food & beverage service and live music with beach views and all-day access. Be sure to check ahead of time though, as some beach clubs require reservations and others are first come, first serve (and fill up quickly!)
+ Go Shopping: Main street is lined with various surf shops (Luke Studer & Kartel), clothing stores, home good stores and then street vendors. I saw so many stores that I was dying to go in and shop around. Had we had more time (and room in my suitcase), I would have bought bathing suits, dresses and more.
+ Catch a sunset: We were fortunate enough to have the best sunset in town at the Hotel Tugu – you have a prime view of the sunset on the beach and it's stunning. The Lawn is another place that you can catch the best sunsets in town.
+ Practice Yoga: There are many wonderful yoga studios in the area; however, a couple that were recommended to us were The Practice and The Chillhouse. We did a 90 minute Hatha class and it was very breathing focused. They provide you with everything – just bring water. Drop-ins at most studios are $10-$15 and well worth it.
+ Tanah Lot: One of the most famous temples in all of Bali, Tanah Lot is set on the sea and only accessible via low tide.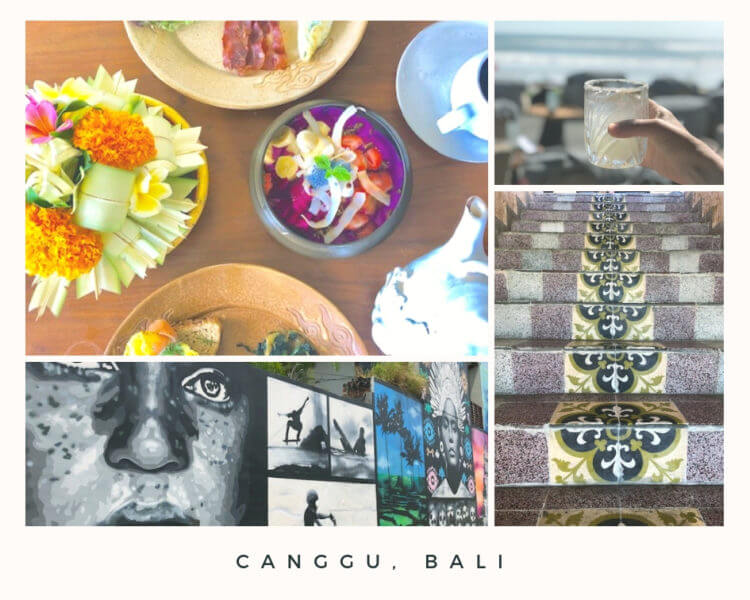 Where To Eat + Drink

+ Nalu Bowls: Known for their famous smoothie bowls
+ Jikka Coffee + Eatery: Full of healthy bowls, breakfast, etc.
+ Shady Shack: Great for vegan options; breakfast spot for locals
+ Betelnut Café: Another solid breakfast / lunch spot (great smoothie bowls)
+ Milk and Madu: Known for brunch and happy hour where they offer 2-1 cocktails 5-7pm
+ Peloton Supershop: Another highly rated vegan spot
+ Crate Café: This place is famous for insta food (@cratecafe)
+ Two Trees: This new spot is known for amazing vegan food
+ Finn's Pool & Beach Club: A good day poolside lounging-into-night drinking place. Set up shop and stay all day!
+ The lawn: A beautiful sunset property with bar, restaurant and grass lawn overlooking the beach. It's best to go around 5 to grab a cocktail and catch the sunset.
+ Old mans bar: A hole in the wall outdoor bar behind the parking lot to Batu Beach. They typically have live music or a DJ. Very well known so gets crowded.
+ The sun bar: Open 12a-4a and across the street from Old Man's Bar, this is the late night spot in Canggu.
+ Echo Beach Club: Another famous beach club, best known for 2-for-1 happy hour
+ Glow: Located by Echo Beach, an organic place that serves smoothies, fresh pressed juice, a variety of salads and breakfast all day. We got an açaí bowl & fruit smoothie – both so tasty!
+ Ji Restaurant: Adjacent to Tugu hotel, this restaurant has outstanding sushi & cocktails. The best sunset view in town (similar to The Lawn but with the 3rd floor view). Their sushi was best I've had in ages – get the truffle roll!
+ Bottega Italiana: Italian heaven with homemade pastas, simple salad, Italian sandwiches and house wine. The pasta was out of this world – dare I say even Better than Boston!? It's mix & match. I got simple tagaloni with tomato, basil & stracciatella cheese. Small place with 4 tables inside & 3 outside. Highly recommend!