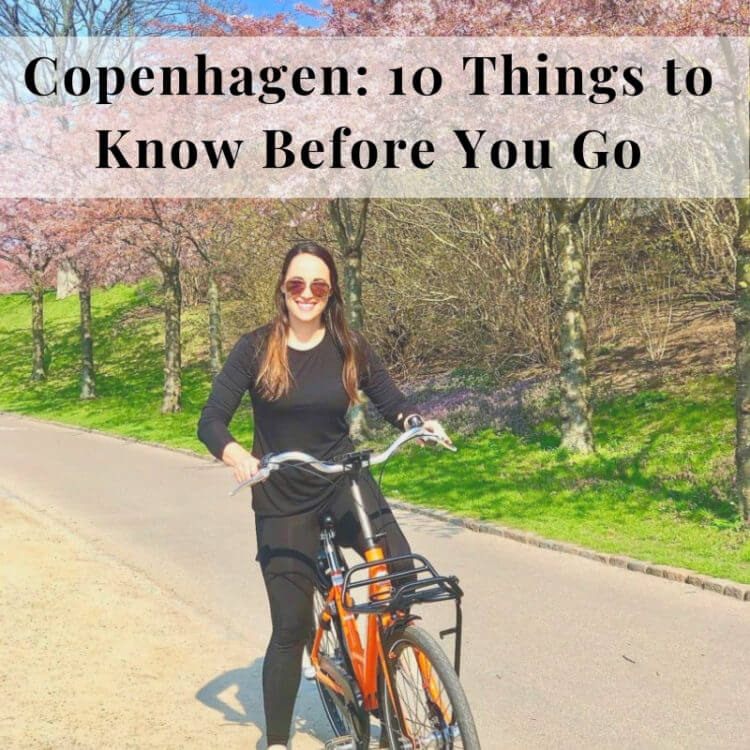 Biking along the water by The Mermaid statue
I have published quite a few travel posts about Copenhagen over the past few weeks. Even though I was only there for three nights / four days, my friend and I fit so much in. We both wanted to be active during the day, enjoy delicious meals, experience the culture and get some rest. We certainly were active by taking hot yoga, renting bikes to tour the city and walking well over 20,000 steps per day. We balanced that out with some authentic Danish meals (open faced sandwiches are their jam) along the colorful Nyhavn Harbor – an ideal spot to rest for a meal and some people watching. We had a ball at Tivoli Gardens, CopenHot and the Danish Chair Museum – all local favorites. Lastly, we tried to rejuvenate a bit by relaxing with a rooftop drink at our Hotel Danmark and lounging by the lush, tropical pool at Manon Les Suites. All in all, I think we lived it up and maximized our time (and our fun) in Copenhagen. That said, there are a few things that I think anyone should know before they go. Read on for my list.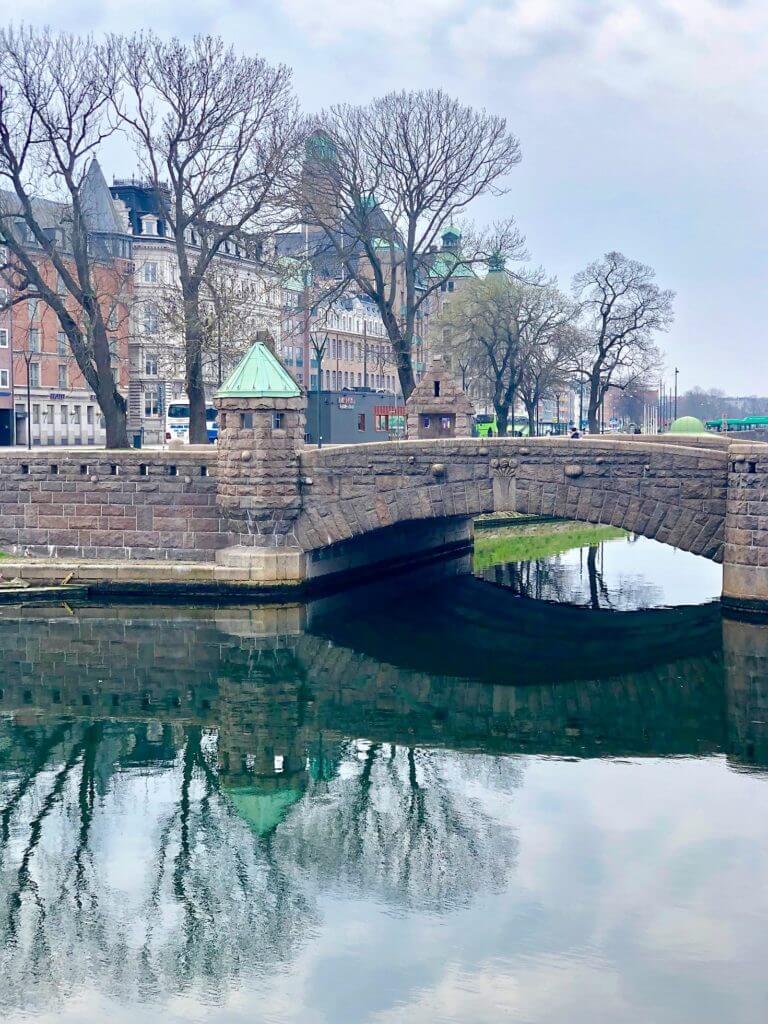 A day trip to Malmo, Sweden made fun a fun adventure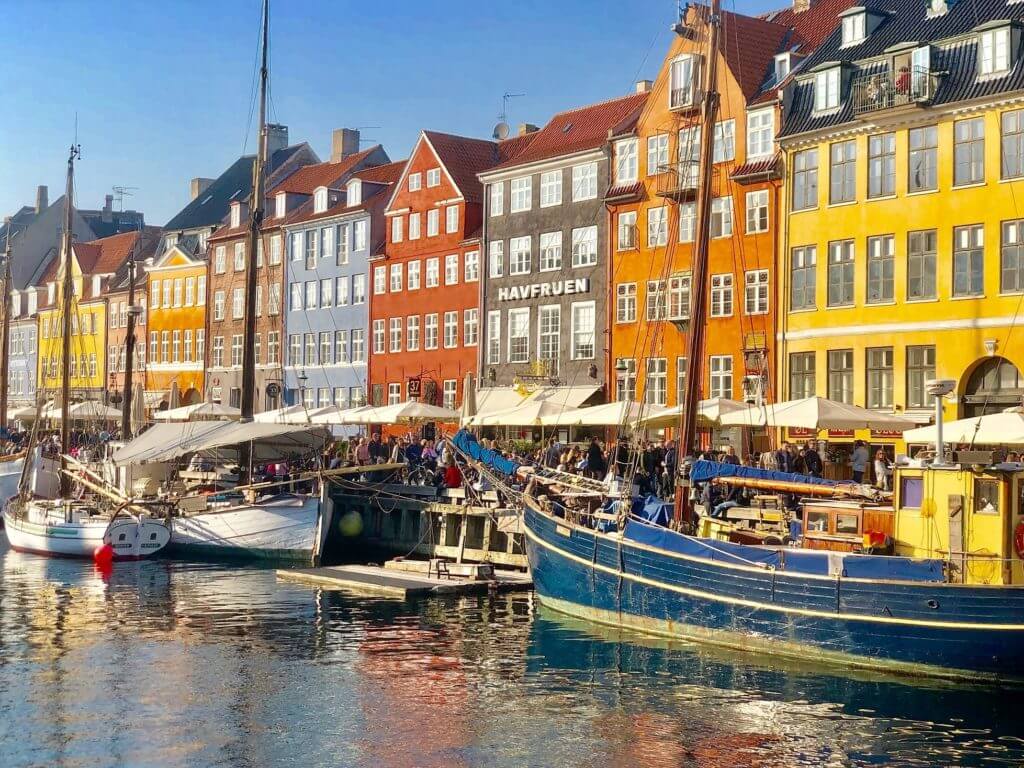 These colorful views along Nyhavn never get old!
Copenhagen: 10 Things to Know Before You Go

1. They drive on same side of the road as us: I realize that this may seem very random but it's important to note in case you're going to rent a car. If you are just staying in Copenhagen it is definitely not necessary to rent a car; in fact, everywhere is accessible via walking, biking or taking the train. But good to know, nonetheless.
2. It's the "happiest people on Earth": One fun fact that I kept hearing about over and over prior to visiting Copenhagen is that they are consistently voted the "happiest people on Earth", which I find to be fascinating. For a city that is dark and cold most of the year, the Danish keep a positive attitude and are beyond lovely. Everyone makes conversation, is polite and friendly. We've all got something to learn from them!
3. City is spotless: The city is so impeccably clean – it reminds me a lot of Zurich, Switzerland. Not only is there little to no trash, but the building exteriors are all very colorful with window boxes. There are quite a few parks in the city as well and each is pristine, well-manicured and full of beauty. You can tell that the locals truly value their city and want to keep it in tip top shape – a mentality I am fully on board with.
4. They love ice cream: Maybe this is why they're so happy? I mean, who doesn't love walking around a colorful city by the water, eating fro yo? I know I do. There is an ice cream shop on almost every corner and you can't go more than a few blocks without seeing someone eating a cone. We enjoyed a delicious soft serve from a local joint – can't remember the name but it's the super popular one on the main drag in Nyhavn.
5. It's so colorful: If you didn't get the memo before, Copenhagen is full of color. The Nyvahn Harbor area is the most famous due to the bold, primary colored homes along the main canal; however, there are various other areas that are just as colorful. I prefer the charming pastel colored homes that line the side streets. Between the exteriors, the robust flower beds and the bright-colored boats everywhere, this city is beyond picturesque.
6. It is pricey: There is something about the clean, pristine, uber posh feeling countries in Europe (especially in and around Scandanavia) that makes you forget how ridiculously expensive most things are. Similar to Switzerland, Iceland and Sweden, Copenhagen is quite pricey, so come prepared to spend. Everything from hotels to taxis to dining out is at the top of most budgets, so it may not be for everyone. If you are on budget (aren't we all?), try to go for a long weekend like I did. A notoriously expensive city is much more manageable when it's only for a long weekend.
7. Everyone bikes: Pretty much every European city is walkable; this is one of the best attributes they share. Copenhagen, similar to Amsterdam, is not only accessible by foot but even more so, by bike! There are bikes e-v-e-r-y-w-h-e-r-e and it is almost every local's preferred method of transportation. We opted to rent bikes one day to explore some further out areas of the city and we were so glad we did! The city itself is quite flat, so biking around was rather easy. There are multiple apps you can use to rent bikes, which we found to be very convenient. Renting a bike is a must if you're in the city in nice weather!
8. Head to Sweden: This is something I did not know prior to visiting, but Copenhagen is less than 30 minutes from Sweden. We took a half day trip over to the neighboring city of Malmo, Sweden. It's an industrial town that is best visited during the week as few people actually live there. The train is an easy 30-minute commute over and if nothing more, it's fun to visit a new place.
9. Embrace the sun: Oh boy, did we luck out with the weather. Most of the year is overcast, cloudy, rainy / snowy but from May to September, the sun comes out to play. Much to our surprise, we encountered 70 degrees and blue, sunny skies every single day of our trip. And let me tell you – the city was jammin'! Everyone was out and about at all hours of the day – eating, drinking, walking, biking, frolicking…it was a sight to be seen. I can't recommend going in the Spring or Summer enough, as this city really is best enjoyed while being outside.
10. Dine fancy: Right in line with the hefty price tag is the fun fact that Copenhagen has over 20 Michelin star restaurants. Most of them being seafood based, but the options are plentiful. We felt like it was something we had to do ("when in Rome") so we chose of the lesser priced options. It was still pretty expensive and it was a small restaurant but we enjoyed our meal.