Zurich, to me, is one of the most underrated European cities. Despite being a small city, it's a huge hub for large financial institutions and banking giants. It's divided into 12 districts, each containing 1-4 neighborhoods. The public transportation here is stellar, making it extremely accessible and simple to get around.
There's the "old town" and the "new town", divided by the water.
This city is very clean, safe and walkable.
Zurich also offers a lot of charm and it's a great hub to kick off exploring other areas of Zurich.

Tip: Switzerland is expensive. Like, insanely expensive. Be prepared for all costs (hotel, transportation, dining out, etc) to be very inflated.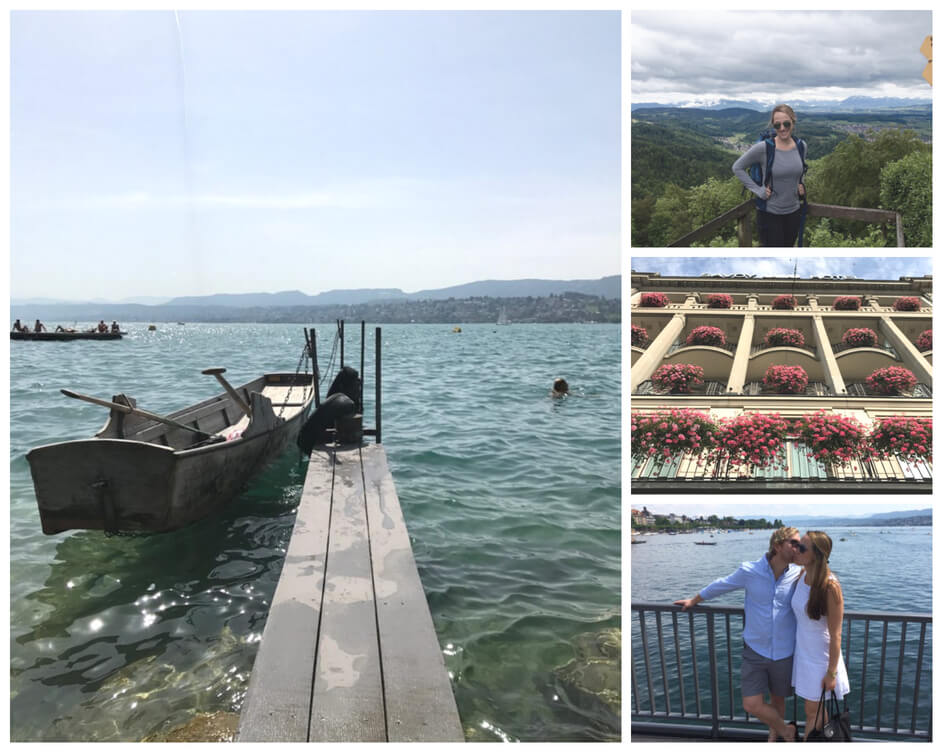 What To Do
+
Get lost in Old Town

: These Zurich streets are like mazes and you never know what's waiting for you at the end.

There are endless churches, galleries, museums, restaurants, stores, winding streets, gardens, etc.
+

View the City by Boat

: We took the public boat tour of Lake Zürich with low expectations, but were pleasantly surprised. It was really fun because you can hop on/hop off in different towns around the lake. The weather was a bit misty & overcast when we went, but we grabbed a bottle of wine made the most of our two hour boat adventure. I totally recommend doing this!
+

Day Trip to Interlaken

:
We decided to head down to Interlaken for a day on a whim. The train was quite expensive so we were able to snag a rental car (

C-Class Mercedes Benz

, mind you)

for under $100 total. Interlaken was fantastic.

We so desperately wish we could have stayed the night here and just explored. Oh my gosh this town is SO adorable- filled with super friendly people, restaurants & bars, parks and endless outdoor excursion opportunities. We went white water rafting and it ended up being the highlight of our entire Europe trip!  Words cannot describe the magical, out-of-body experience that happens as you're floating down a river, tasting fresh water and looking up to see the majestic Swiss Alps staring back. It was truly one of the best experiences of my life and I cannot recommend this enough. We stopped by the Balmers Hostel after for a few beers and snacks on their back porch – they have an amazing lawn filled with hammocks, picnic tables & killer view of the Alps. We wanted to spend the night here but it's super popular & sells out way in advance. It's on my bucket list to come back.
+ Train to Utielberg: A friend-of-a-friend who lives in Zurich recommended that we check out Uteilberg and I am so glad that we squeezed it in! We took train (so easy and only S10) to Utielberg and climbed to the top for some seriously amazing views. The summit gives you a panoramic view of Lake Zurich, the Limmat Valley & Swiss Alps. There's a restaurant up there (we didn't go in) and the entire trip only takes about an hour. Worth doing!

Where To Stay
+ Sheraton Neues Schloss: We stayed here and to be honest it was a bit outdated and very pricey, but an excellent location. I'd recommend it, especially for those enrolled in Starwood / Marriott.
+ AirBNB: I really think this is the way to go in Zurich, as hotels are extremely pricey. I would stay in the old town – this is where many of the historical sites, local restaurants and cute shops are located. Anywhere along or by the river is ideal.
Where to Eat + Drink

+ B. Good : 
Funny story – as we were meandering through Old Town, we turn the corner and the first thing we see is B. Good (those of you Boston folks are probably getting a kick out of this!). They said this location was the first international spot & that so far, it was very well received. I had to support my local business, so we shelled out 33CHF for a salad & burger w/ fries (yup, it's pricey!)
+ The COOP: The COOP is the local grocery
and has everything!

Since Zurich is so expensive, we wanted to get a few items for the room. We picked up baked goods, fruit, chocolates (duh), wine and snacks for our trip. This grocery is clean, affordable & has everything you need! It's great alternative if you want to avoid dining out for every single meal.

 
+ Zeughauskeller: 

Our favorite Zurich spot! This actually came recommended by quite a few people. It's actually an old armory, still decorated with tanks, canons and huge rifles. It's a really cool vibe. Sure, it's a

wee bit touristy, but not overpriced or tacky. We sat outside because the weather was awesome. This spot is a fun, traditional Swiss restaurant with about 90 entrees and 88 of them being sausage. Ha! T got spicy sausage, while I ordered the chicken. All entrees comes with the world's best potato salad, a traditional potato cake & green salad. Of course, we both had house beer. It was so awesome that we came back again for dinner (we usually are not repeat diners!) and had an even better time!
+ Santa Lucia: 
Since we had clearly had our fix of sausage & potatoes, we opted to try some Northern Italian food. Located down a winding road in Old Town, this was a hidden gem! We sat outside on the adorable back patio and split a glass of wine, salad & pizza. This did not disappoint. If you want a cute date or Instagram-worth spot, this is it.
+Ristorante Italia: One of T's clients who is a chef/restaurant owner here in Boston recommended this place and let me tell you…it was to die for! Given that it was in the opposite direction of where we spent most of our time, we never would have found this place. Upon entry, it feels super swanky and sultry- perfect for a date night. The delicious Italian red wine was pricey, but not by Zurich standards. They brought homemade bread & olive oil right away, which was incredible. We shared a starter salad of parmesan and fennel carpaccio…y'all, this salad was hands-down one of the best things I have ever tasted. Omg, I still dream about it! For entree, I had linguini nere with shrimp & pomodoro sauce, while T has ghnocci al pomodoro. Everything was fresh, handmade & beautifully presented. My only regret is that we didn't have enough room to try the tiramisu because I'm sure it was outstanding.

 
You can read an updated post on Zurich here, which we visited again during a 12 hour layover.