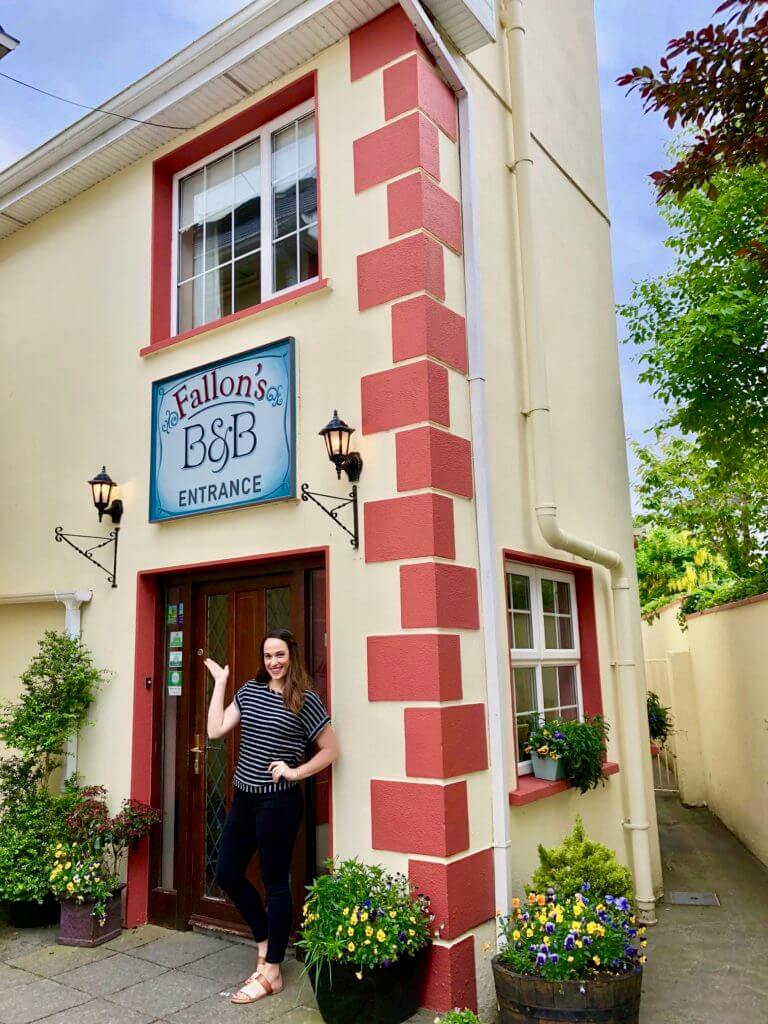 When I started my initial research into Ireland I knew that bed & breakfast style accommodations were the way to go, especially in the more remote areas. Upon coming across the Fallon Bed and Breakfast, I immediately knew that this was a good fit for us. We were driving in 2 hours from Dublin, off of a 5 hour red eye, and were in search of a calm, comfortable place that would provide the famous Irish hospitality that everyone raves about. We stayed here for one night, in fact our first night in Ireland, and what a warm and inviting way to start our week long trip…
Location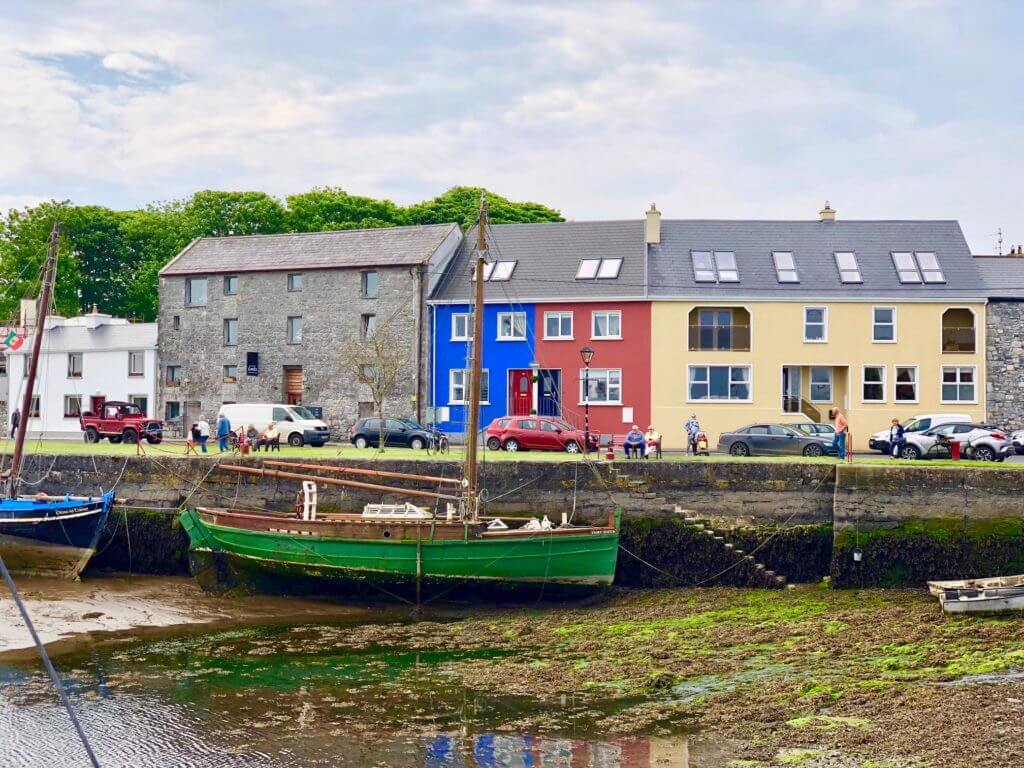 Tucked way in the corner of town, this bed and breakfast is hidden just enough so that you have some peace & quiet away from the main street, while still being walking distance to various restaurants, bars, shops and the waterfront. Located in Kinvara, a seaport village in southwest Galway, we found the Fallon B&B to be an ideal spot for exploring County Galway. There is a serenity of Kinvara, an old world charm. Known for Dunguaire Castle, this darling town is set away from Galway City, providing a much more traditional Irish experience. Being away from the hustle & bustle of the city was nice, as we enjoyed exploring the local area while still being able to drive a quick 25 minutes into Galway City for dinner and drinks. Since we were going North to South on our Ireland road trip, we found this location to be especially beneficial as we were a mere 45 minute drive from the Cliffs of Moher, Lahinch beach and the other sites along the Western coast.
Accommodations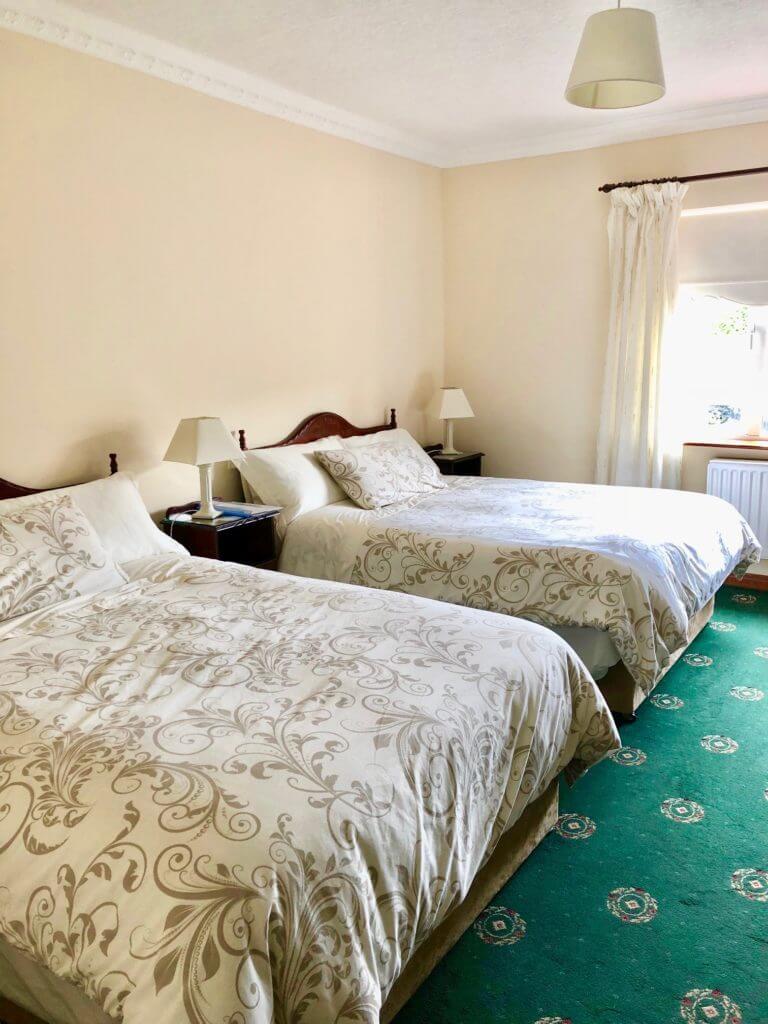 If you are looking for a traditional, charming, cozy cottage feel than this is the place for you. While it doesn't have a modern or fancy feel, it boasts old world character and comfort. The rooms are spacious with mahogany beds, detailed crown molding and rich colors. Each room has an en suite bathroom with a shower and access to a private terrace. Breakfast is served in the downstairs dining area, which we found to be especially wonderful. We really felt like we were over at a relatives house for brunch – they had various cereals, fruit, yogurt, etc as self serve and then made-to-order hot dishes. We both went with a variety of egg, meat and toast. We were very comfortable and relaxed during our stay.
Overall Experience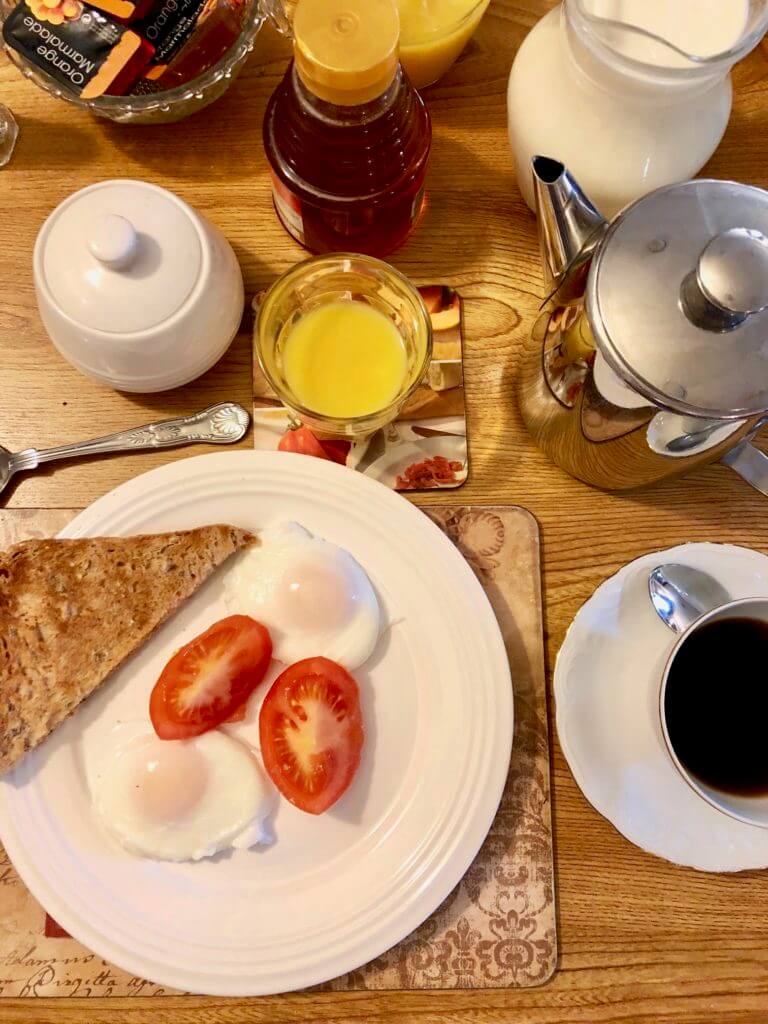 While the location, accommodations and breakfast are all very lovely, what really made our stay special was the people. We were greeted upon arrival outside of the front door, immediately making us feel welcome! Maura Fallon, the owner, ran the B&B with her husband until he passed away a few years back. Now their 7 children (and many grandchildren) help her run the place, so it has the most wonderful family vibe. Every person was friendly and delightful to talk to – Maura especially. I can't say enough about how sweet and welcome she was. It was such a joy speaking with her and the perfect start to our vacation. If you are every staying in Co. Galway, I encourage you to look up the Fallon Bed & Breakfast and opt to stay a night in Kinvara. You won't be disappointed!
Thank you to the Fallon B&B for sponsoring this post. While our stay was complimentary, thoughts and opinions are my own.