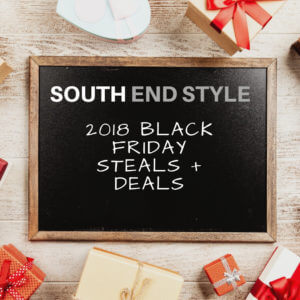 It is almost Thanksgiving…which means it's almost Black Friday Y'all! I hope you enjoy every single moment of your Thanksgiving and that you are left with a full belly and a fuller heart! So once the day is over and you're in full on Christmas mode (let's be honest), I am here to help you navigate one of the best shopping days of the year. With so many retailers offering incredible online deals, I tend to shop from the comfort of my own bed; however, many of these deals will likely have an extra 10-15% off door buster if you go in person.
Last year I scored this Shark Rocket TruPet vacuum at Kohl's on a huge Black Friday sale for over 50% off. It was honestly one of the best purchases I have ever made – it works like a charm and use it daily. #adulting.
A few items that I have my eye out for big discounts on this upcoming Black Friday are a Clarisonic, Fit Bit, an electronic toothbrush and Bose headphones. These are all items that I want but don't necessarily need so I am only going to buy them if I find a killer deal. Hey, half of the fun is in the hunt, right?!
Here is a small roundup of some of the best Black Friday deals & steals for your own home and for some additional holiday gift ideas (you can see all of my gift guides here). Enjoy your weekend of turkey, shopping and family…I'll be back on Monday with my last gift guide!
Disclosure: some items have affiliate links.
TARGET
1.Instant Pot – a slow cooker and so much more – only $70!
2.Keurig Mini – so cute for a guest bedroom – under $50!
3.KitchenAid – a must have kitchen appliance – half off!
4.Beats Wireless headphones – perfect for travel and only $180!
POTTERY BARN
1. A classic nightstand – a great deal at almost $100 off!
2. Faux Fur Mongolian Stool – perfect for any space!
3. Antique Gold Tray – ideal for holding jewelry!
4. Metal Accent Stool – over 30% off!
STUDIO MCGEE

1. Hoover Lamp – so perfect for an entry way or living room!
2. Cattail Basket – ideal for any bedroom, living room or entry space & under $70!
3. Sea Glass Beads – these are such a great gift and add instant chicness to any area. Under $35!
4. Woven Napkins – perfect for a hostess gift or stocking stuffer. Less than $20 for a set of 4!
ANTHROPOLOGIE

1. Velvet Chair – the most classic chair. Only $500!
2. 2019 Planner – everyone needs this, less than $20!
3. Marbled Monogram Cheese Board – such a great gift / home staple and only $25!
4. Celeste Passport Holder – perfect for travel
CRATE & BARREL
1. Marble + Wood Bowl – a great table centerpiece or fruit bowl. Under $50!
2. Holden Ribbed Vase – the perfect vase (a go to for my designs). Under $40!
3. Scented Mercury Glass Candle – a warm winter scent, only $22!
4. Floral Napkin – beautiful for any table (more colors) – only $6!
WEST ELM
1. Cordoba Rug – a neutral yet feminine rug perfect for  40% off!
2.  Monogrammed Mugs – stock stuffer alert – only $6!
3. Velvet Pillows – 8 color options, all under $18. Some under $10!
4. Marble Coasters – perfect home gift, a set of 4 for under $30!
What are you buying on Black Friday?!