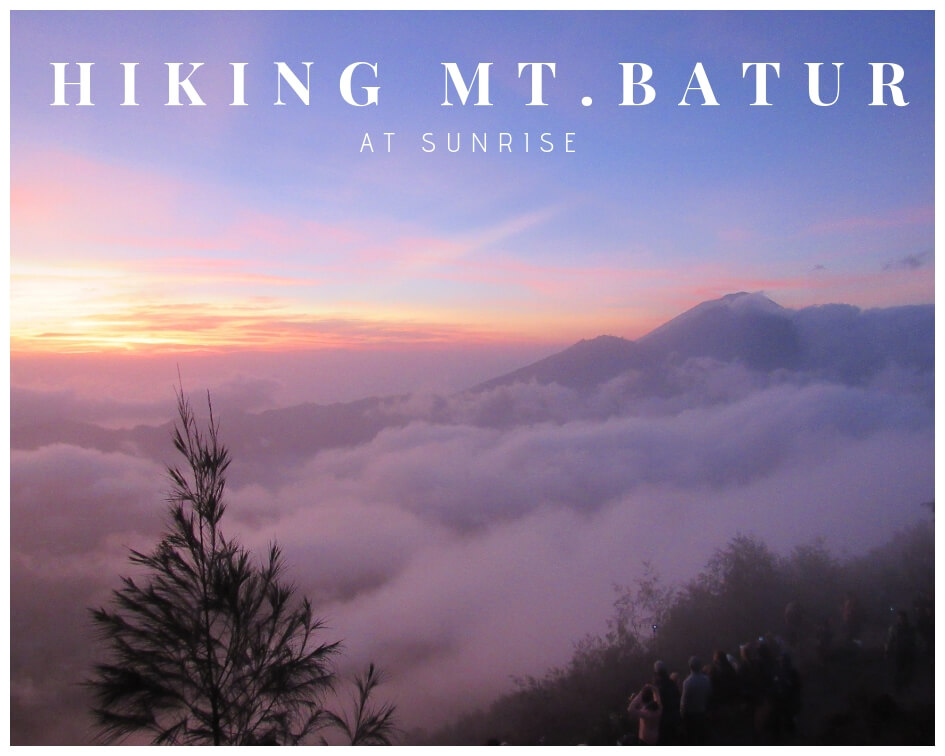 When we go on vacation, one of the main things we try to do is at least one adventure-based excursion that is special to that particular location. Whether it's white water rafting in Switzerland, horse back riding in Ireland, sunset swimming in Iceland's Blue Lagoon or shark diving near Cape Town, we like to experience adventure! One of the first things we read when researching Bali was about the morning sunrise treks up Mt. Batur.
This is a pretty popular excursion to do in Bali so there are a lot of companies that can take you. We found Bali Hai Tour to be an excellent company for a variety of reasons. First, they were very organized – we were told to be in our hotel lobby at 3am (yikes!) for pickup. Sure enough, our driver was waiting for us and ready to go. We hopped in the van and drove about an hour to the trail head where our guide met us. They provided us with water bottles, flashlights and snacks for the hike. The logistics were well thought out and left little to no planning to us, which we liked. Also, our guide spoke pretty good English so he was able to tell us some history about the area, facts about the volcano and some funny stories along the way. He was such a joy and I am sorry that I didn't write his name down!
Our guide told us that we could expect for it to take around two hours to get to the top. The hike is roughly three miles up, but our crew (of 4) was fast and made it in about an hour and a half. Now, I'm not a good hiker so it felt about medium difficulty to me. There were a few steep areas and since we were cruising, I felt pretty out of breath at times. Luckily, there are four designated stops along the way with toilets and water (the toilets are a whole experience in their own – let's just say I held it as long as humanly possible).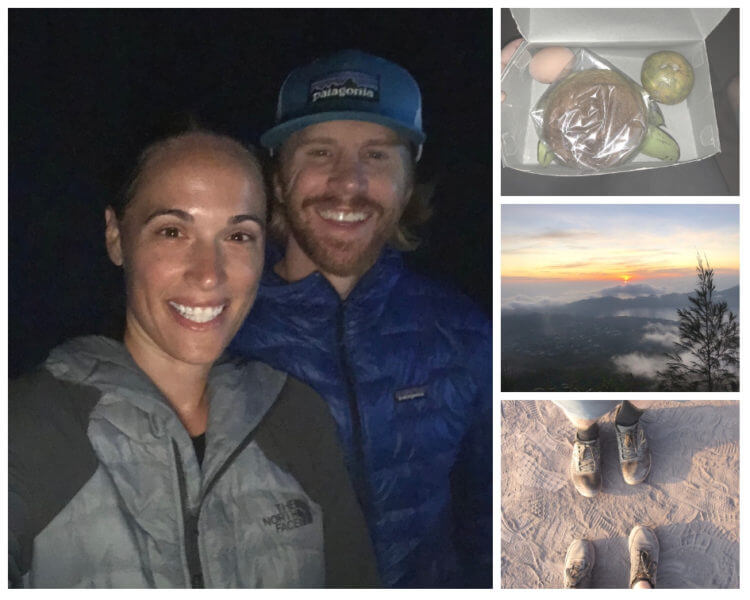 (climbing in the dark / our breakfast / signs of sunrise / our ash-covered shoes)
Once at the top (about 5:45am – it was still dark), our sweet guide prepared us some hot coffee and gave us a boxed breakfast, which included a banana, hard boiled egg, orange and bread. We set up shop to grab a seat for the sunrise. The vibrant, bright shades of red, orange and pink that we saw were truly out of this world. As the sun was rising and the clouds were rolling in, we could see Mt. Agung in the background. The view was truly breathtaking and SO worth the early morning pickup. To me, this sunrise was comparable to that of the Grand Canyon or Lions Head. Absolutely stunning.
After the sun rises, it gets hot and crowded pretty quickly so we started to head down. Once we were down at the bottom, our driver was waiting for us (again, so easy!) and he drove us to a hot spring about 10 minutes away. We changed into our bathing suits (they provide you with towels and lockers) and hopped right in. We didn't stay for too long as we wanted to get back and eat (we were so hungry by this point) but it felt so good to be in water and rinse off after being covered in dust and sweat for hours.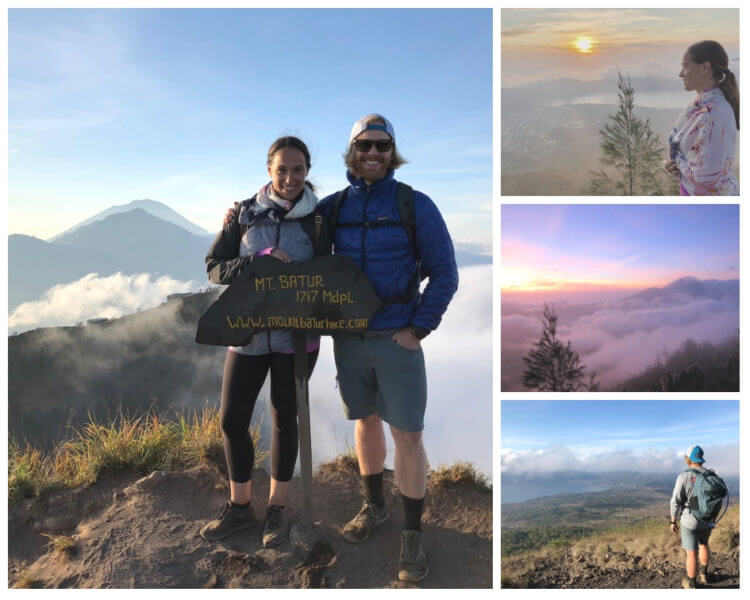 ( finally at the top / beautiful views in every direction )
What To Pack:
Pants: Capris / workout pants / hiking pants (you'll want to avoid shorts)
Layers: Tank top / Short-sleeved top / Long sleeved top (non-cotton)
Outerwear: Light jacket and/or windbreaker (we packed both)
Shoes: Hiking or tennis shoes (I wore cross trainers and was fine, though it is slippery)
Sun Protection: Hat / Sunglasses (for the way down)
Accessories: Bandana / scarf (for dirt – it gets pretty bad) / water / snacks / toilet paper
Additional: Bathing suit / flip flops (for hot springs)
This may seem like a lot but you will start wearing most of the layers since you begin around 4am. Once we started hiking, we got pretty warm and shed some layers. Then at the top you will be cold again and it's quite windy (hence the wind breaker). On the way down I was in a tank with hat, glasses and scarf. Also, there is a lot of dirt and ash from the last volcanic eruption so heads up, everything you own will be ashy! Make sure you pack shoes that you don't mind getting dirty, even possibly ruined.
This was definitely in our top 3 favorite things that we did while in Bali. If you find yourself in or around Ubud, you absolutely must do the Mt. Batur sunrise trek! We saw people of all ages and all abilities – you can take it slow or hike it fast. No matter how to get to the top, the 360 view that you see will be worth every bead of sweat. Trust me!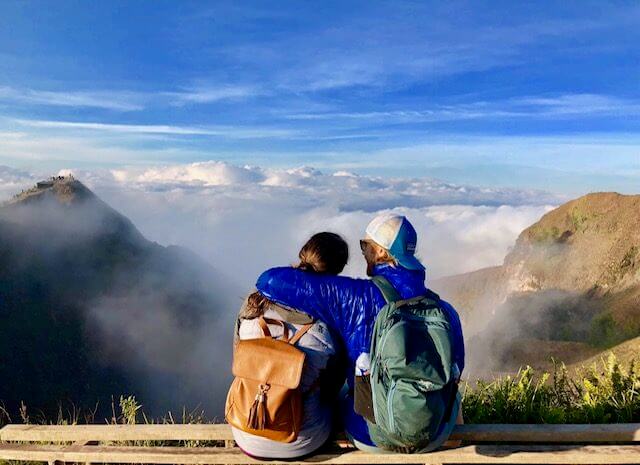 Thank you to Bali Hai Tours for sponsoring this post. While our tour was complimentary, thoughts & opinions are my own.