On our way back from our honeymoon in Africa, we opted to have a long layover in Munich as it was the start of Oktoberfest. Neither of us had been to Germany and this seemed like the perfect time to get a taste of the Bavarian life! Munich has a very simple and intuitive public transit system. We headed straight into town from the airport with no problems. The train runs about every ten minutes and only takes 45 minutes to get into town so this is easy access for those of you with long layovers. From the airport, you can easily take the S-Bahn train (S1 or S8) into Marienplatz, which will put you off right in the heart of the city. The fare is only about $12 and there's even a tourism office right when you get off if you have any questions.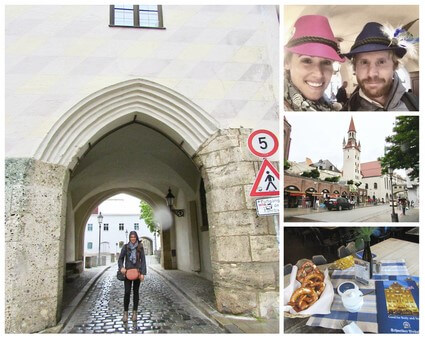 What To Do

+ Bike Tour: Munich is such a cute, charming city (similar in look to Zurich or Amsterdam) with endless cobblestone roads, winding streets, gorgeous architecture and a plethora of lush flowers and window boxes. I would have loved to bike around and get lost in the city but Mother Nature had other plans for us. Hopefully next time!
+ Visit Marienplatz: Often referred to as the "heart of Munich", this central square (where the train drops you off) has incredible architecture, dating back to the 1600s. The town hall is located here and we heard that they've got a stunning Christmas market if you happen to be here during the holiday season. You walk about 2 minutes in every direction and there are huge outdoor beer gardens, restaurants, shops, grocery stores, and more.
+ Stroll through Viktualienmarkt: It's basically a huge farmers market plus some. There are tons of open front restaurants with fresh baked pastries, hot coffee, fresh fruit, veggies, sausages, etc. There's even a huge beer garden that opens at 9am, for all of you early birds!
Where To Stay
+ Hotel Bayerischer Hof: The hotel is a few blocks from the heart of the city and their open air terrace offers a great panoramic view of the city.
Where To Eat + Drink
+ Hotel Bayerischer Hof: This hotel has a killer rooftop lounge that overlooks the main squares and is an ideal spot to grab a happy hour drink or night cap.
+ Schneider Brauhaus: Known for their "Bavarian breakfast", which consists of two sausages (eggs for me), a basket of fresh baked pretzels and a wheat beer. There must have been over 45 people in the place having the exact same meal – at 10am on a Tuesday, y'all! I'm not sure if anyone works there but whatever they're doing, it looks way more fun than my typical Tuesday morning.
+  Hofbrahaus: The biggest and most popular beer hall in all of Munich, this place has multiple floors, an indoor beer hall and an outdoor biergarten. There are hundreds of family style tables, where you sit down, order beers & make friends. There was a live Bravarian band playing and they were incredible – when's the last time you saw an ensemble of a tuba, two trumpets and an accordion? The entire vibe was upbeat, lively and so much fun.
Looking for more travel guides? I've got over 40 guides on my travel page.