When I knew we were going to Sonoma, I reached out to some local boutique hotels, as I love to stay in these charming, unique spaces. Upon first contact with Zac from the Cottage Inn & Spa, I knew this was the place for us. From the beginning, the staff was friendly, attentive & responsive. They helped us lock down dates, schedule a massage, and made us feel incredibly welcome.
Let me tell you, this place did not disappoint. We stayed two lovely nights and did not want to leave. There is a lot to share, so let me break it down for you…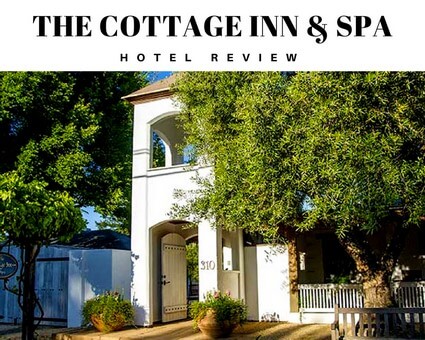 The Property
The Inn reminds me of an English country home meets charming bed & breakfast. Located just steps from the Sonoma square makes this place incredibly convenient. We had no problem parking right outside and we ended up walking to dinner both nights. The inn itself is quite small, but feels spacious. There are various lounging areas, including multiple courtyards with fountains, a covered outdoor firepit (with music playing; this was my favorite spot!) and multiple benches to sit and read or relax.
We felt very secure, as guests have actual keys (how great is that!?) for the main entry and the specific guest room. Although the property felt very relaxed & serene, we never felt as though we couldn't explore or enjoy sitting outside.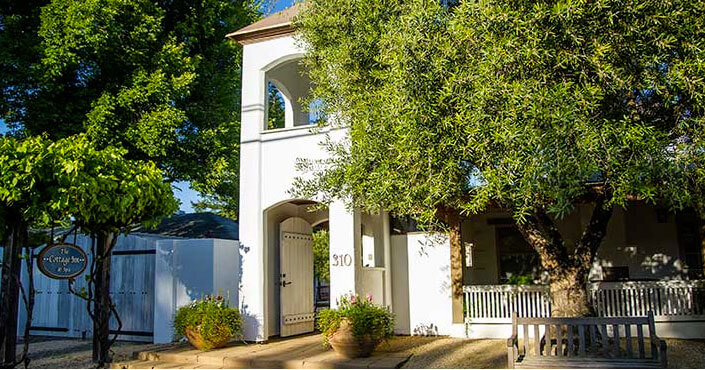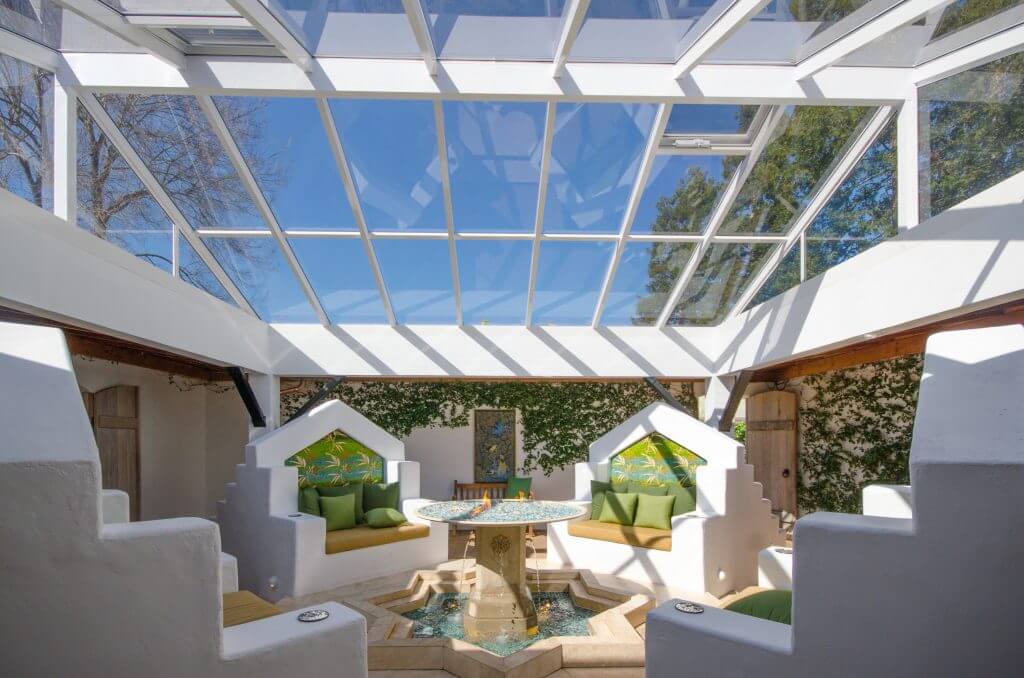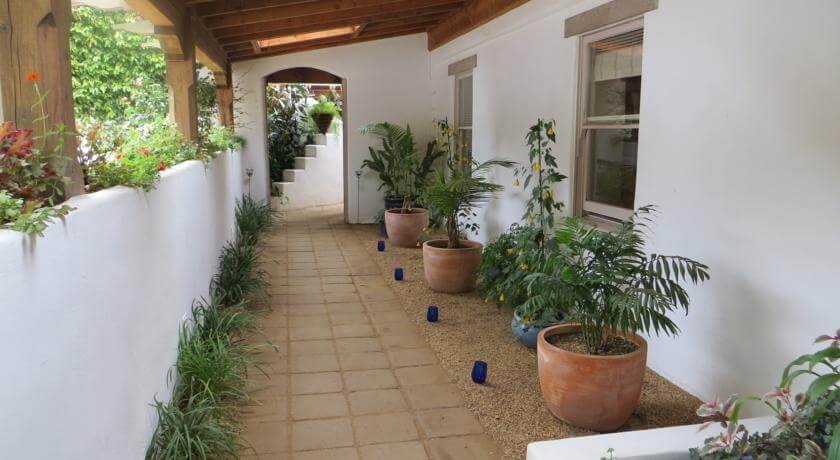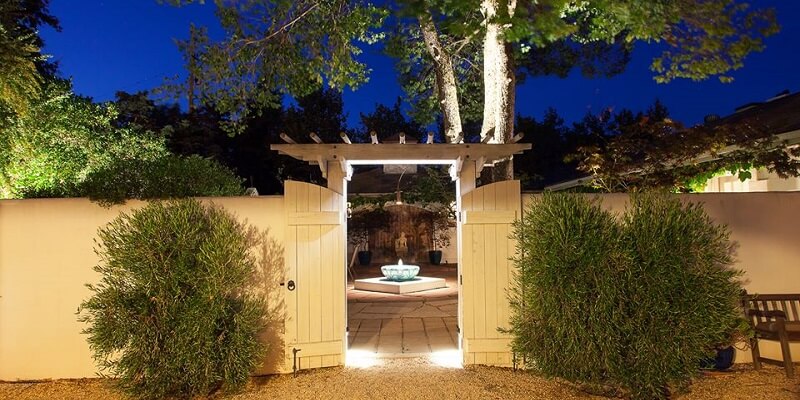 Accommodations
We stayed in the lovely Vineyard View Suite, which turned out to be the perfect location for us. It was in the back of the building, which meant it was quite private. Our room was huge and fully furnished, with a very comfortable California King bed, a living area consisting of a leather sofa & chair and a working fireplace, a spacious bathroom with both a stand-up shower & a soaker tub, and a full dining area with a table, chairs, sink, mini fridge & more. The floor plan was very open and felt even larger with the vaulted ceilings and double doors that opened to a balcony.
We took advantage of this entire room, drinking wine by the fire, soaking in the huge tub, and enjoying our morning coffee & pastries at the dining table with the double doors open, soaking in the view. It felt as though we had our own home in wine country.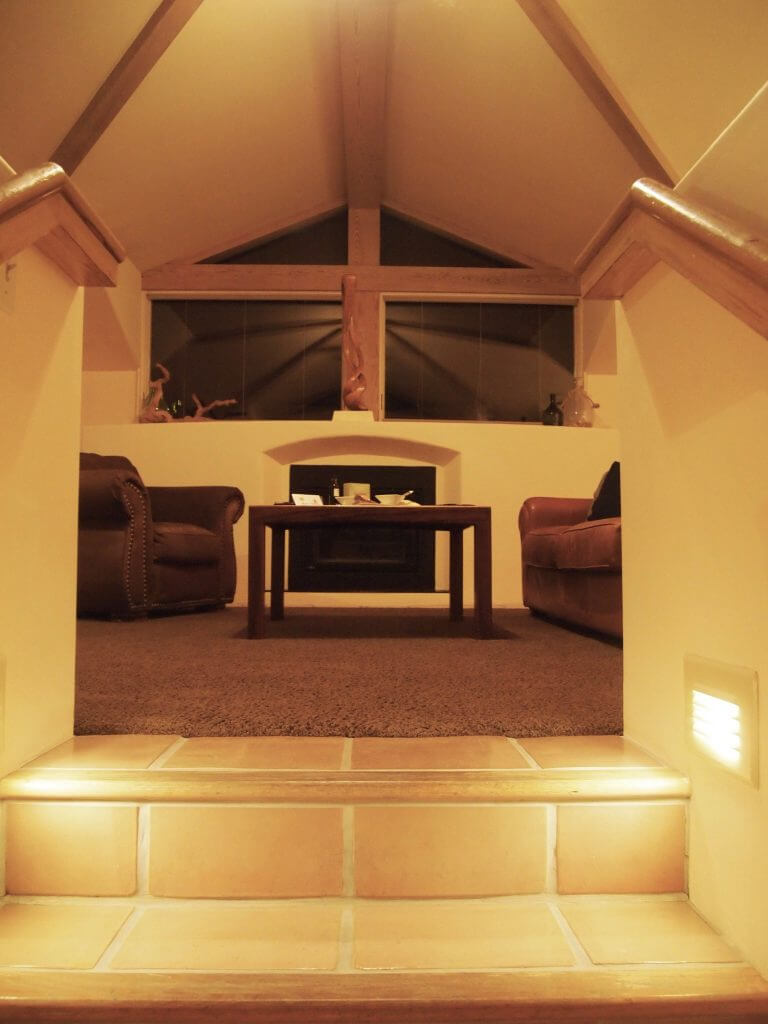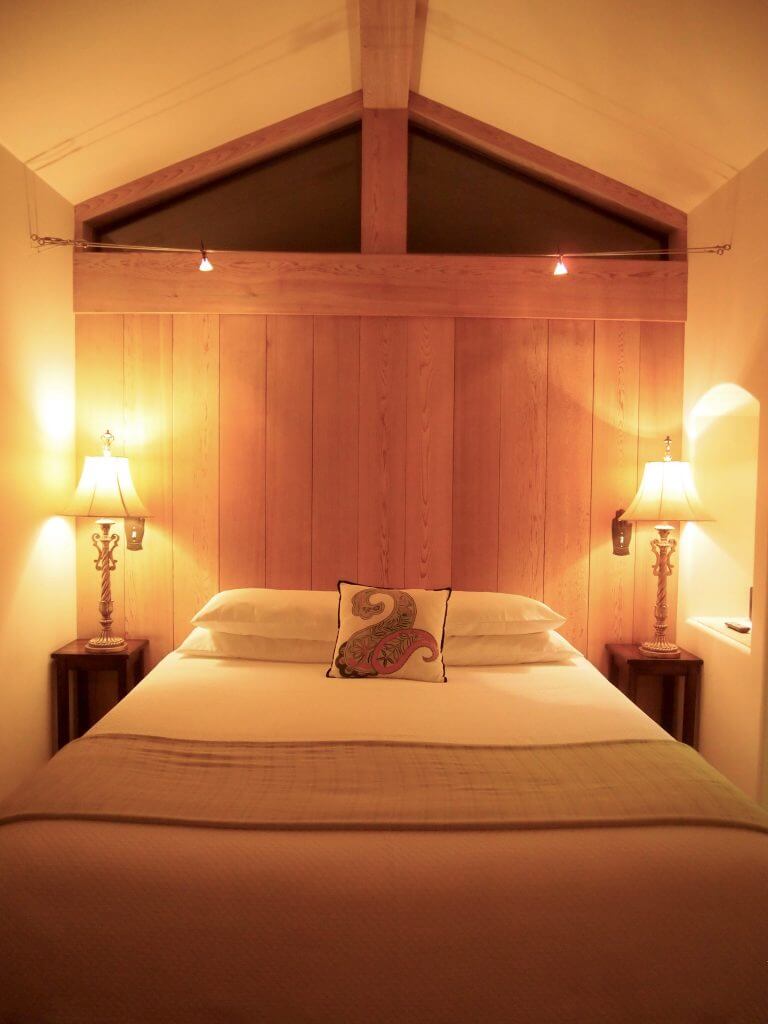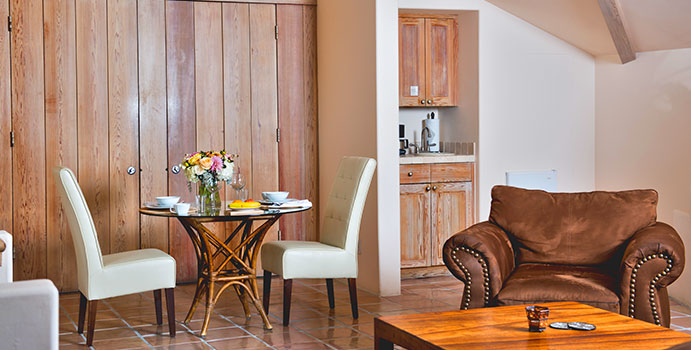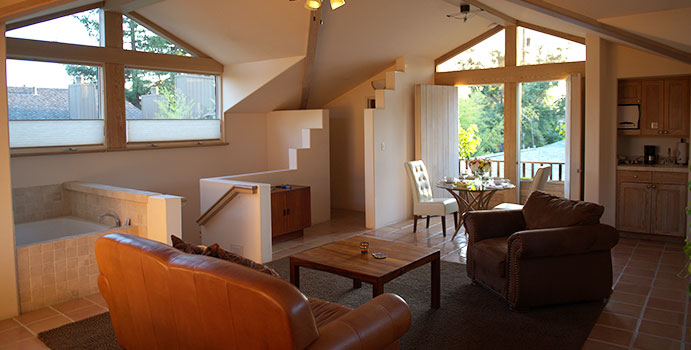 Service + Amenities



The service at the Cottage Inn was truly outstanding. We unexpectedly arrived late (and I failed to mention to Zac that we were running behind our scheduled check-in), and given that the Inn is quite small & the office was closed, I felt really bad. However, this was no problem, as the after-hours property manager so kindly met us right outside and presented us with the key and welcome note that was left for us. She guided us around the property and showed us to our room. When we explained that we were late because she had just gotten engaged, she screamed "congratulations" & gave me a huge hug. It was the best reaction! She was such a joy to be welcomed by.
Additionally, the staff made sweet signs saying "happy birthday"and "congratulations" along with beautifully cut fresh flowers. They arranged a delicious cheese board with some local cheese, olives & olive oil to pair with our newly purchased wine. We thoroughly enjoyed this treat by the fire as we took it all in. As I said, the service was just outstanding.
All rooms come with complimentary Wi-Fi, daily housekeeping services, in-room continental breakfast, guest privileges at a local fitness center and a wine tasting pass. The daily breakfast is an adorable basket filled with pastries from a local bakery that's delivered to your door every morning at 8am. The fridge was fully stocked with milk, water, juice & butter, while the pantry had plenty of jams, coffee, cereal & condiments. There is nothing better than waking up to a delicious breakfast, hand delivered.
There are also bikes you can rent located on the property. We would have loved to rent these to explore some local wineries (we used that tasting pass!), but we just didn't have enough hours in the day. Next time!
On our last morning there, I was treated to a fabulous 60 minute massage. The spa was located next door to our room, so I conveniently walked downstairs and into the spa. So easy. My masseuse was Gloria and she led me into a small space with two massage tables. The room smelled of lavender, had quite music playing & overlooked a courtyard filled with stone and ivy covered walls. The whole thing was very zen. The massage itself was exactly what I needed to round out a fantastic 6-day road trip, full of excitement & adventure. Getting post-vacation massage on my last day is definitely going to be my new thing. When you stay at the Cottage Inn, I recommend splurging on a massage.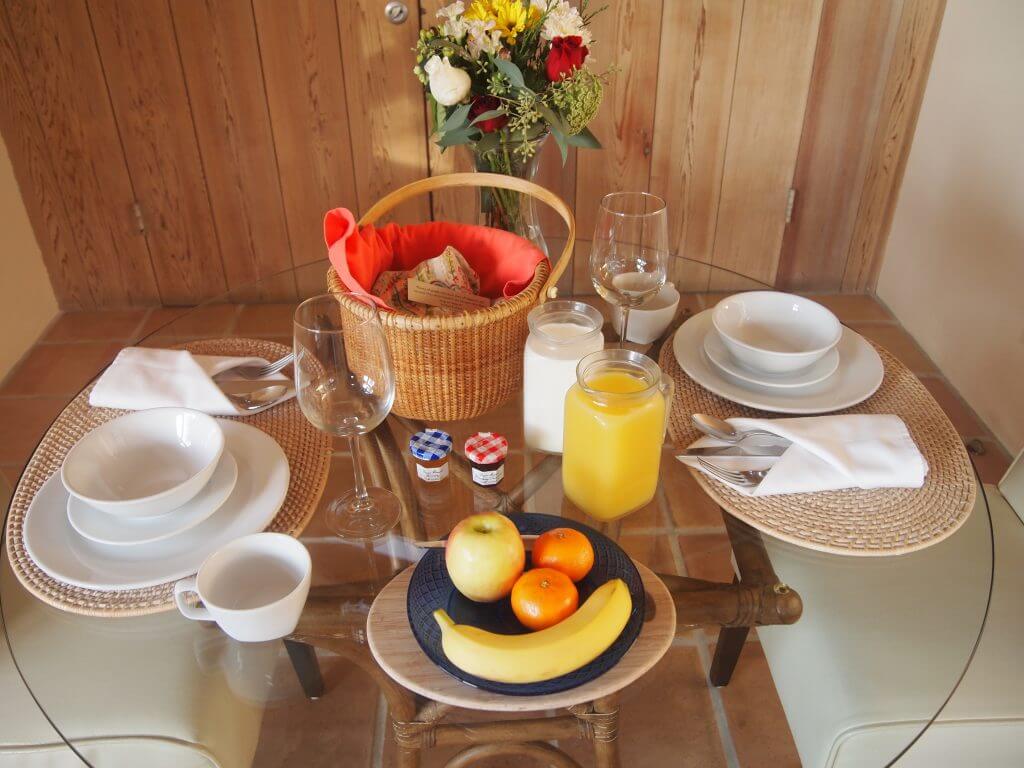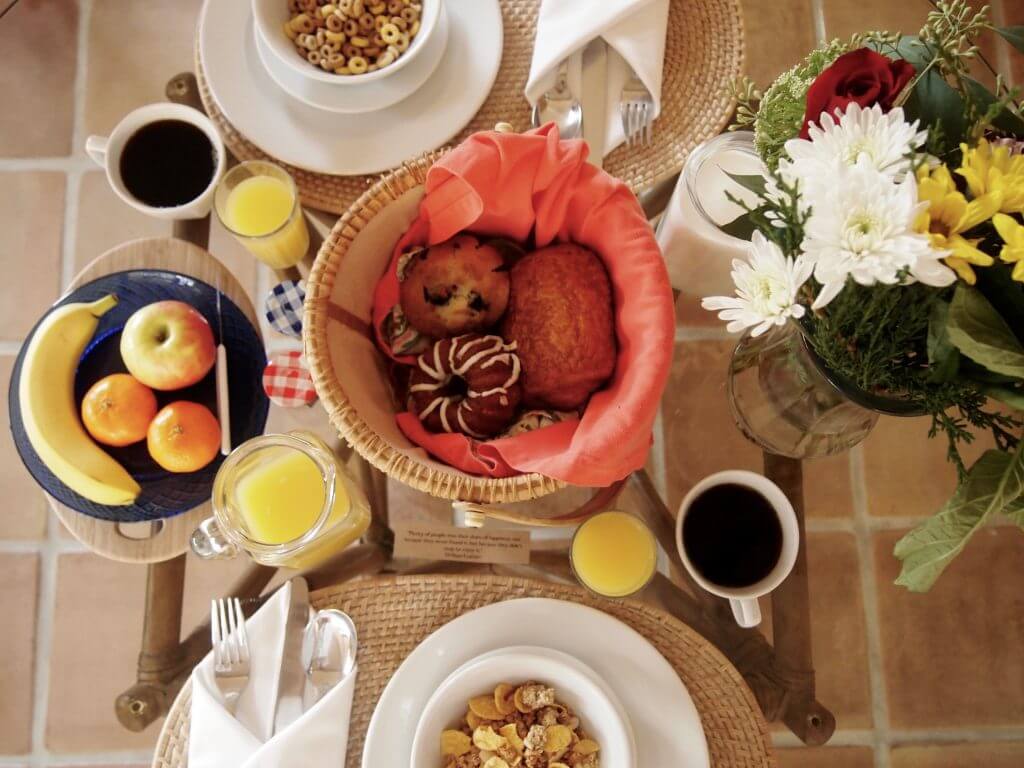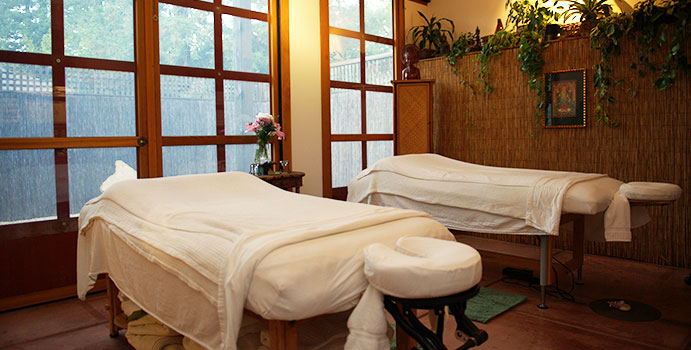 Overall Thoughts
We couldn't have asked for a better place to stay in Sonoma. From the perfect location to the stellar service to the charming property, we loved everything about the Cottage Inn & Spa. I highly recommend you staying here if you're in Sonoma. It's safe to say we were sad to leave. Don't worry Sonoma, don't worry Cottage Inn & Spa- we'll be back!
Although this post is sponsored by The Cottage Inn & Spa, all opinions are my own.