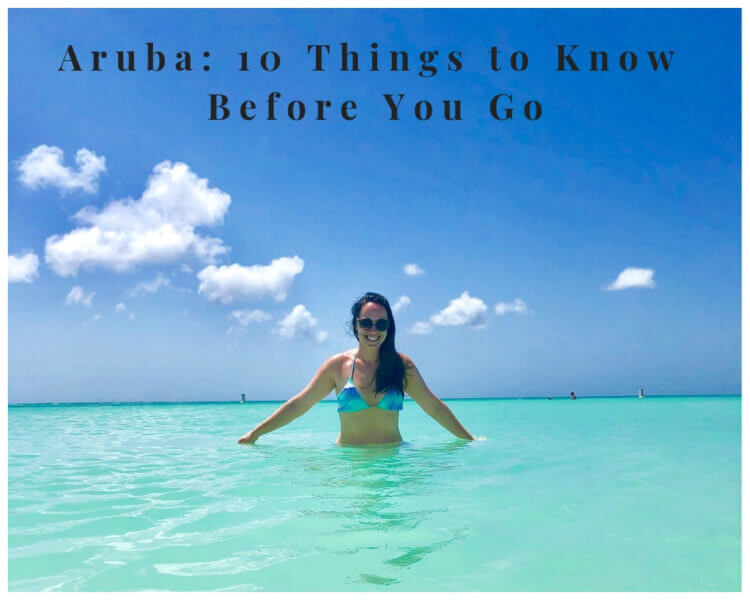 Aruba is one of those destinations that has been on my radar for quite some time. Even though I love to explore far away places and exotic destinations, we are so lucky that The Caribbean is one of the most beautiful places in the world – and it's practically in our back yard. Aruba is particularly exciting because there are direct flights from most US locations (only 4 hours from Boston) and it sits so far south that there is never any worry about hurricanes.Aruba, better known as "one happy island", is pretty much 80 and sunny year round. What a dream! I am so glad that I finally made it there and I must say – I can see this being a place that I hop down for a long weekend once or twice a year. Read on to learn more!
1. It's Expensive. I guess I shouldn't be surprised since this is a tourist destination and and island, but I still was! Granted we went at peak season, but we found restaurants, hotels and excursions to be quite inflated. I about died when our SunBum (my fave) sunscreen rang up at almost $30. Dinner for two always rang in over $100; I would recommend that you dine somewhere that you know is good, as they are all expensive. We had two outstanding dinners (both over $150) and one very average-at-best dinner for over $100. It felt like such a waste! Bottom line: come prepared to spend.
Traveler Tip: stop at the grocery store on the way to your hotel and grab sunscreen, beer/wine and snacks. Everything at the hotels is so pricey that I wish we had done this.
2. It's Very Touristy. Again, this shouldn't have come as a surprise but Aruba has been built up a ton the past ten years. Where we stayed, on Palm Beach, it is full of high rise hotels, chain restaurants and crowded beaches…we tried to stick to local spots and head away from the tourist traps. It is pretty hard to avoid if you're going during peak season (like we did) but certainly some places are much more crowded/touristy than others.
3. It's easy for Americans. As I mentioned earlier, Aruba is an easy flight from most US hubs. For us it was a 4-hour direct flight from Boston which makes for an easy long weekend. We hopped on our JetBlue flight at 6am and were on the beach by 11am. It was quick, easy and painless. Additionally, Aruba is on US currency, everyone speaks English and even the outlets are American good thing, since I forgot my universal one!). You do have to have a passport but aside from that, you feel like you're in the US (for better or for worse).
4. It's a Dutch Colony. As someone who absolutely loved visiting Amsterdam, I found this to be a fun fact. If you aren't lucky enough to cross the pond over to The Netherlands, Aruba does give you a similar vibe. For example, go enjoy the pancake house for some authentic Dutch food or grab some waffle strudels to snack on. Interesting fact: Typically, Arubans are citizens of the Netherlands, but Dutch people are not necessarily citizens of Aruba.
5. It's Full of Activities. There is so much more to do here than simply go to the beach! Branch out from your typical resort and check out what else there is to do, such as snorkeling, kite surfing, SUP, ATV tours, hiking, sailing, jet skiing. We could have easily spent another two days exploring the island. Get out and enjoy all the Aruba has to offer!
6. Eat Local. By local, I mean the seafood! We had outstanding Wahoo, Mahi Mahi, Grouper, Shrimp and lobster to name a few. We also had some Dutch cookies and Rum Punch, Chill beer and Ariba Aruba (the local cocktail). In my book, there is literally nothing better than fish tacos and an ice cold beer on the beach. Needless to say, we were in Heaven!
7. It is Very South: When I think of the Caribbean, I typically think of islands off the coast of Florida. Well, not this island. Aruba is technically in the Caribbean; however, it's so far south that you're practically in South America. Curaçao, also a Dutch island, is East, Venezuela directly South (less than 10 miles) and Colombia directly west. Because of this, there is a lot of South American influence: culture, culinary, and language to name a few.
8. Papamiento is the Official Language. The official languages are split between Dutch and Papiamento, although schools require students to learn English, Spanish, French. Even though everyone speaks English, we heard each of these languages every day. I found the people of Aruba to have an incredible cultural diversity.
9. It's in a No Hurricanes Zone. I mentioned above that one of the biggest advantages to vacationing in Aruba is that you don't have to worry about hurricane season or inclement weather. That's right, Aruba is so far south that it is out of the hurricane zone which means that you can pretty much be guaranteed 80 degrees and sunny almost year round. Since much of the Caribbean is "off limits" September – November, rest assured that you can come here without worry! There is always a slight wind which makes it so comfortable. The weather is truly a dream come true in Aruba. No wonder it's dubbed "one happy island"!
10. You Can Drink Tap Water. Since Aruba is a desert island, there is no minimal not freshwater. Therefore, they make purified seawater and it's fabulous. We were so pleasantly surprised by this. Whenever I travel, I always pack a refillable water bottle so I can stay hydrated and feel fresh. To me, there is nothing more annoying than having to pay for water so we were pleased to be able to fill this up wherever we went. It's such a cost saver!
So, who's ready to go to Aruba?!