Saratoga Springs is just one of those towns…you visit it, a little unsure of what to expect, and you leave wanting more. It totally steals your heart in the best way. We note only got married in Saratoga Springs, but love visiting whenever we can.
Saratoga itself is an adorable town! It reminds me of Athens, GA- a small, quaint downtown filled with rich history, cute shops, amazing restaurants & an "old town" feel due to to all of the horse racing. The horse track is open six weeks out of the year and the town totally transforms. While I love visiting Saratoga any time of year, during track season is my favorite.
The entire city celebrates with a week long prelude festival of music, racing events, parties, restaurant week and other special events!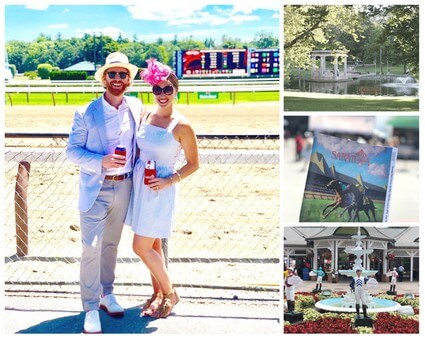 What To Do
+ Go to the track: The obvious thing to do here is go visit the race track to watch some horse racing. You can bring in your own food and drink to set up in the paddock, reserve picnic tables, sit at a track-front restaurant or rent a luxury box. There are so many different ways to experience the track – I recommend trying them all!
+ Polo Match: Every Friday and Sunday in the Summer there are polo matches at the Saratoga Polo Club.
+ Shopping: Downtown Saratoga is chalk full of cute shops, art galleries and local boutiques.
+ Saratoga Lake: This small but cute lake is nearby with various activities – I hear the sunset cruise is a fun one!
+ Lake George: This massive lake is only 30 minutes away and home to endless fun water activities, including water skiing, jet skis, pontoon boats and speed boats. If you are in the area and have time, Lake George is definitely worth visiting.
Where To Stay
+ The Pavilion Grand: One of my favorite hotels in the city, this boutique hotel is the perfect location to explore Saratoga. The hotel is newly renovated and extra beautiful. It's pricey but worth it!
+ The Adelphi: The newest hotel in town, this place brings back old charm mixed with modern amenities. It's located in the heart of downtown so its walkable to everything.
+ Hilton Garden Inn: Less than half of a mile from downtown, this hotel is a great spot to stay if you want to save some money but still enjoy the city. They have shuttles to the track, a huge common area and a bar in-house.
What To Eat + Drink:
+ Salt & Char: A great steakhouse located at the Adelphi steakhouse, this is the place to go for a delicious meal – be sure to get a martini!
+ Gaffney's: My favorite place in town, you can either grab a meal or grab a drink…better yet, both! Be sure to come here on a nice night and enjoy the band outside in the courtyard.
+ Baileys: Another great spot with outdoor seating and live music.
+ Sperrys: A local favorite known for great meat, seafood and ambiance, this lively bistro books up fast so be sure to make reservation.