One of my favorite things about living in the Northeast is the abundance of charming seaside towns. We've got the North Shore, the South Shore, Rhode Island shore & more! Having spent a good amount of time on each, one of my favorites is, without a doubt, Nantucket.
Everyone describes The Cape as an arm doing a bicep curl…Falmouth is by your shoulder & Provincetown is by your clenched fist. Well, Nantucket, is a small island off the coast of elbow. From Boston, you can either fly (quick & easy) or drive to South Shore & catch the fast ferry (a bit longer, but usually less expensive). I've taken the ferry a few times and it's pretty easy- you grab a drink, grab a seat & enjoy the view! 90 minutes later and you're in Nantucket…the land of gorgeous shingled homes & the biggest, most beautiful hydrangeas you've ever seen!
I promise that I'm not exaggerating when I say that every. single. house. looks like those!! They are just so spectacular, lush & picturesque— it never gets old!!
Ok so now that we've covered how to get there & what you will be seeing, lets talk about where to stay, what to do & what to eat!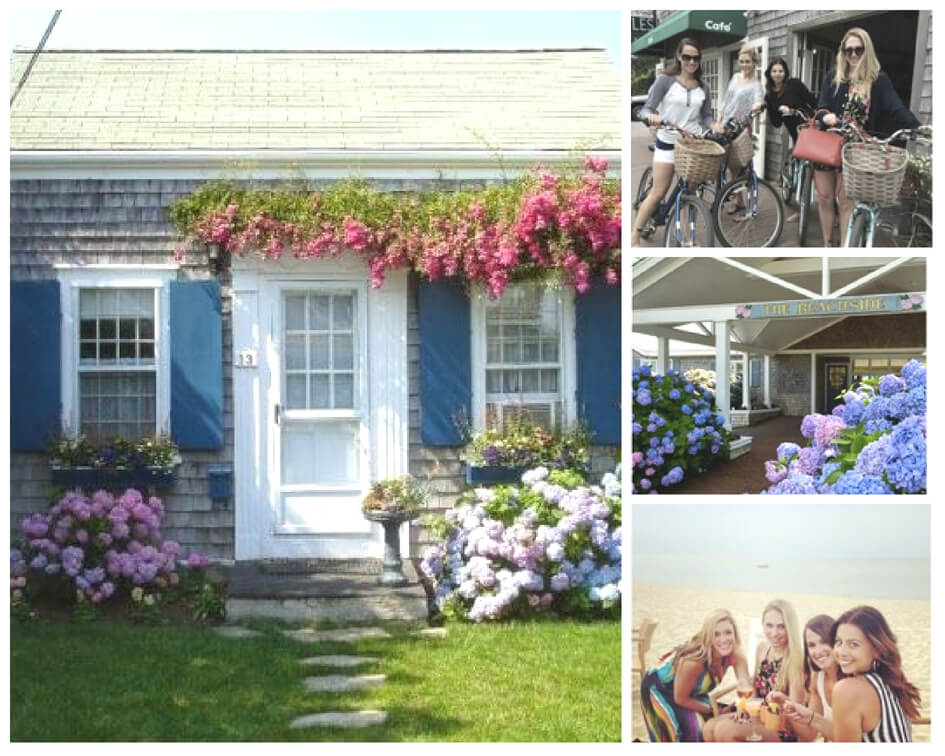 What To Do
+ Ride Bikes: The best way to explore the island, hit the shops and view the beautiful homes is via bike!
+Beaches: There are many great public beaches as well as some private ones (depending where you stay).
+ Cisco Brewery: A local favorite, this brewery has a great setup with a brewery, winery and distillery. They have a huge outdoor space and its typically got food trucks and live music. A must-do when on the island!
Where To Stay
VRBO

or

HomeAway

: Unless you're lucky enough to have a friend with a summer home down in Nantucket , your best bet is to rent a home for the week/weekend (note: many summer rentals require full week rental).
White Elephant Hotel

: A beautiful waterfront hotel. Perfect for summer.
The Beachside

: A small motel-style hotel walkable to the pier. We stayed here- was great location & perfectly accommodating.
Where To Eat + Drink

:
+ Galley Beach: This is the go for sunset drinks & apps- you are literally sitting on a chair on the beach and the sunset is just spectacular!
+

The Pearl:

Asian inspired seafood restaurant that's delicious. Be sure to get the wok fried lobstah.
+ Cru: One of the most popular restaurants in town – a seafood/raw bar that's on the water.
+ Nautilus: An Asian fusion place with a great bar.
+ Provisions: This is a cute spot to grab lunch.