This past weekend my parents were in town visiting. They haven't been here since before our wedding and, of course, at that time – we were too busy wedding planning to really enjoy Boston. This weekend, however, I had a fun-filled 3 days planned for them and wanted to show off all that Boston has to offer, especially in Summer! This is actually a great great travel guide for those of you visiting Boston as I will highlight all of the places to eat, drink, visit, explore and more. There's no shortage of things to do here this time of year, so be sure to "pin" this for your next trip to Bean-town!
Day 1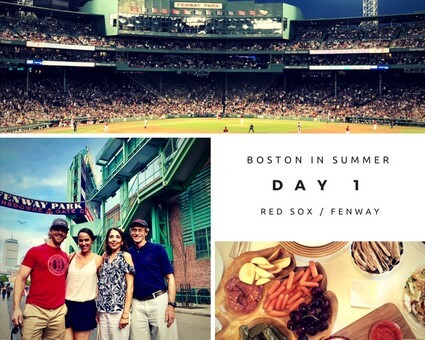 They checked into their room at the Park Plaza Hotel – this hotel is a great location (literally across the street from Boston Commons), across from the T stop, central to a lot of different neighborhoods, has a Starbucks and luxury gym in the hotel and is full of history. It's a great spot to stay in Boston.
After they got settled in and grabbed a delicious lunch at Tatte Bakery (apparently the egg sandwich on a croissant is to die for!), they spent the afternoon exploring the Museum of Fine Arts. The MFA is a huge museum near Back Bay and definitely worth checking out. I also recommended the Isabella Stewart Gardner (they've been & loved it), the Museum of Science and the Boston Public Library, as they have a free concert series in the summer.
After an art-filled day, we were ready to entertain on our back porch for a little Friday happy hour! We then headed out to Fenway Park to take in a Red Sox game. We snagged bleacher seats and enjoyed a cool, beautiful evening watching the Sox win (in 10 innings!). An ice cold beer + Fenway frank = happy husband + dad!
Travel Tip: If you are headed to the game and want to grab a meal before/after, I suggest that you head to Eastern Standard or Island Creek Oyster, both within walking distance from the stadium and delicious food.
Day 2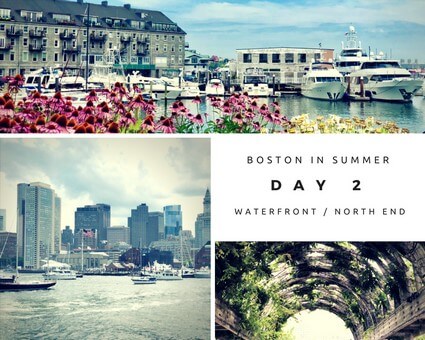 Day two was totally weather contingent, but lucky for us the rain held off and it was 80 and sunny all day. Perfect. We grabbed brunch at Flour Bakery (total sh*tshow on the weekends, fair warning) and headed over to the waterfront. We started at the Rose Kennedy Greenway which has a lot of excitement in summer – there are countless tents with art vendors, food trucks, the Trillium beer garden, splash fountains and more. It's a happening spot with a lot to do, for all ages.
We then took the ferry over to Charlestown which was incredible. It felt so good to be on the water and there's no better view of the Boston skyline than from a boat! Once in Charlestown, we walked along the Navy Pier and explored some cool historical stuff. We didn't venture too far into Charlestown, though the main street has super cute shops and restaurants. Once back on main land, we walked all along the Boston waterfront – they've done such a nice job with it and the views are beautiful.
Travel Tip: If you have extra time, head over to Pier 6 for some waterfront eating & drinking.
Once we returned home to shower up (after walking over 5 miles!), we headed up to the North End…aka the Italian mecca of Boston! No trip is ever complete to Boston without a visit to the North End. With so many delicious restaurants, shops, bars and bakeries, this is my favorite spot to take out of town guests. We had the perfect Italian dinner at Il Panino, full of Aperol spritz, antipasti, ravioli, lobster pasta and more. We of course ended with a little limoncello to wash down the tiramisu and cannoli. What a perfect night!
Day 3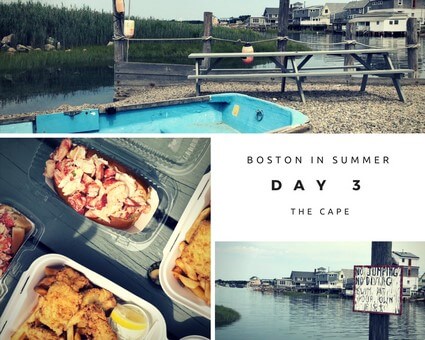 We drove down to the Cape for our last full day, where we've got some extended family. We stopped at the Green Harbor Lobster Pound, which is one of my favorite spots. It is a hole-in-the-wall seafood shack on the water with the best fresh fish and lobster. You BYOB (drinks, chips, etc) and grab your mains and then sit outside on the covered picnic tables to enjoy. It's so fun and seriously delicious. Fair warning: their serving sizes are huge, so come ready to share! We then spent the afternoon with family in Marshfield – such a beautiful town on Cape Cod. Really any part of the Cape is beautiful and worth visiting in summer.
We ended our last day with a cookout at our house – steak, shrimp, asparagus & salad. It was the perfect Boston evening, a bit cool with no bugs. We sat outside for hours and chatted while drinking some wine. The perfect Boston Sunday!
See my other Boston travel guides: Seaport, Nantucket, Martha's Vineyard & Winter Wishlist.