Happy Monday! I'm going to keep today short and sweet because today is a VERY big day for us Southerners / Georgia folks! Today my Georgia Bulldogs are in the national title game for college football. Y'all, the Dawgs haven't been to the game since 1980, before I was born! I flew down to Atlanta last night to meet up with a bunch of college friends and we're tailgating today and doing our best to cheer on our Dawgs to a victory!
That being said, I always like to share a seasonal "wishlist" to explore Boston (ex. Fall 2017, Spring 2016 & Summer 2017. I think it's easy to get caught up in the daily grind. No matter how long you've lived in your city, there's always something new to explore!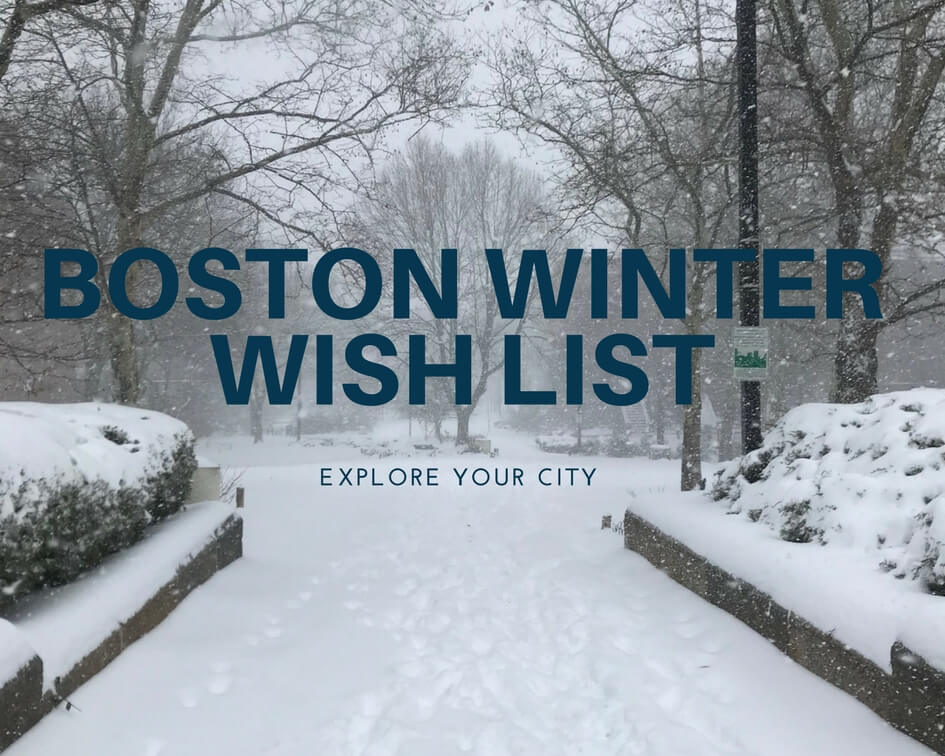 Go ice skating: The Boston Common Frog Pond and City Hall both have large outdoor rinks for like $5 that you can go skating in. On a non-windy, warm(er) day this sounds like so much fun, followed by a warm hot chocolate! Perhaps a weekend day date or outing with girl friends?
Eat at 5 new-to-me restaurants: Oh my gosh there are SO many restaurants in Boston that I have been dying to try. We really limited our dining out majorly in 2017 because we were saving calories money for our wedding and honeymoon. While we are still on a budget (more on that in another post), we're hoping to explore more restaurants in the city now that we're walkable to most. On my radar is a new hot pot place, an authentic Chinatown pho restaurant, the Eately popup, a new North End Italian spot any more. Any suggestions?!
Take at least 2 ski weekends: We are quite spoiled here as we're 3 hours from Loon/Lincoln, Sugarbush, Stowe and various other mountains. I do really enjoy skiing when I (a) have a friend my level and (b) it's above 20 degrees. We're hoping that my in laws will come up for a Vermont ski weekend and we'll likely go with our other friends to their New Hampshire house. Getting outside for the weekend, getting some exercise and getting some fresh mountain air really helps me survive winter here. There's no better feeling than an adult beverage after a long day of skiing. Am I right?!
Get out of the house every day: As someone who works from home at least two days per week, there are times when I will look up from my computer to realize it's 3pm and I haven't eaten a thing, brushed my hair or left the house. Nature of the beast, I guess. So now matter how miserable it is outside, I'm hoping to get out every single day, even if to grab coffee or hit the gym. Cabin fever is a major problem here in Boston!
Once a month date nights: I realize that once a month doesn't seem very often but when your husband is knee deep in a start up (that literally takes 24/7 work) and I travel for work/pleasure at least 3x/month, and it's freezing cold majority of the time, it's hard to muster up the energy to actually plan (and go on) a date night. This is something we've got to get better about so I'm making a pact here to do it! In fact, we've got plans on Friday to go on a double date to dinner + a comedy show so that's a good start!
Visit a museum or two: with so many to choose from, I've actually only ever been to the Museum of Fine Arts (MFA) and the Isabella Gardner. On my list for years has been the JFK Museum and the Museum of Science. Hoping to make both this year (the perfect snow day activity!)
Try many new fitness classes: if you're following me on Instagram, you probably have noticed that I joined a new gym – Lynx Fitness Club (new here in Boston!). They offer over 50 classes per week, including boxing, barre groove, yoga, treadmill training and various HIIT style workouts. I'm eager to try them all and see which is my fave!
Learn to cook some new dishes: there's no better time than winter to get into the kitchen and start cooking. I definitely will try making some homemade Mediterranean dishes from the cookbook I got for Christmas, as well as some new healthy crockpot and casserole types. I'm not big on hearty, rich meals but I do like whipping up a lighter version. Stay tuned as I'll share any great recipes I've found in my Friday posts.
Make it to a Bruins game: Hockey isn't really my sport but it's always fun to cheer on your local team. The games are somewhat short and definitely high energy. I'd like to grab a bite at Ward 8 or another nearby spot and then head to the Garden for a game!