I've spent the past five weeks reminiscing about the best day of my life and it has been an absolute joy to share it with y'all. As a quick recap, I shared our wedding vision, the hotel we chose, our day at the track, our "I Do BBQ" rehearsal dinner and finally, the big day. This eight month engagement process was a true mix of emotions – at times I was stressed or anxious (mostly about the weather! ha) but the vast majority of the days I was excited and eager to plan the wedding of my dreams. And that it was.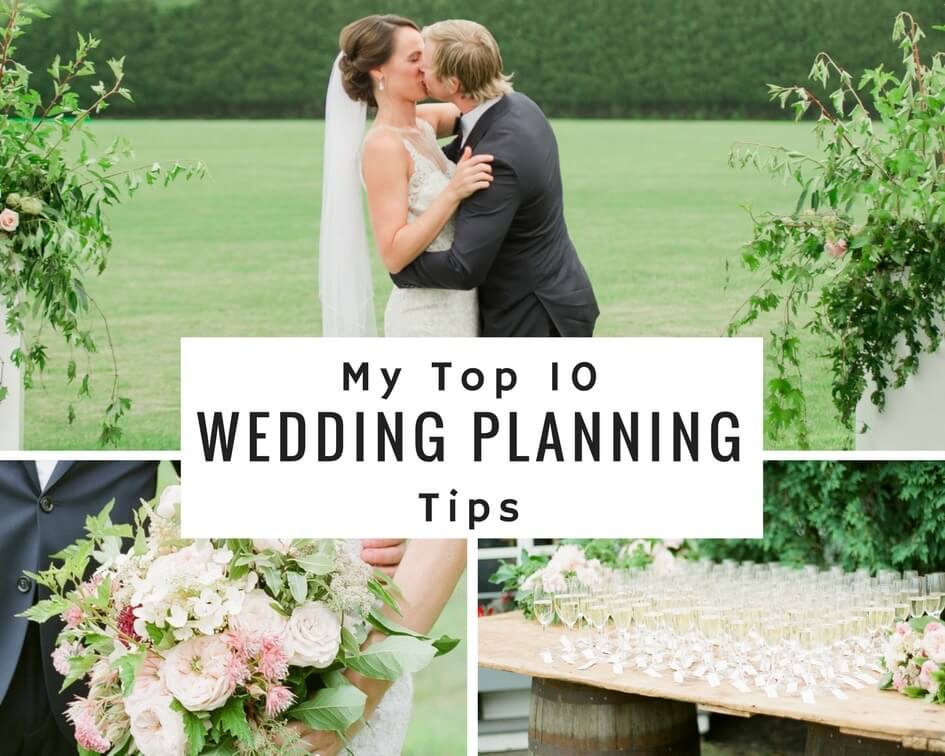 Without a doubt, the best money you can spend is when you hire a coordinator. Whether that means a day of coordinator (like I had) or a full fledged wedding planner, you'll need someone by your side that you can count on. And I don't mean a friend or your mom (they have enough to worry about). The actual wedding day flies by so it's critical to have a person in place that is checking every detail for you. Your job that day is to relax, have fun, and live in the moment!
If there is one word you need to remember it is this: organization. Let me say it again…organization, organization, organization. Lucky for me, I have a super duper case of OCD and I just loved carrying my wedding binder around with me and having every contract and timeline perfectly color coded. If you're not organized, get a wedding binder and do your best. Better yet, find a wedding planner who is & follow their lead.
The initial stages of planning can be very overwhelming so it's important to know your priorities. For my fiance and I, we know that we wanted a destination wedding with (a) open bar (b) good music and (c) an outside venue. Those were the three factors that were non-negotiables for us and we stuck to it. For some, it may be a designer dress and for others it may be a certain meal. Whatever you & your soon-to-be-hubby really want on your big day is what you should prioritize.
Which brings me to my next piece of advice: make it your own. I can't even tell you how many people are going to give their (unsolicited) advice and let you know loud & clear what's important to them. Guess what? Who cares! This day is about the bride + groom and the day should reflect what y'all want it to, not what your wedding planner or maid of honor or mother in law want. What you want. Now is the one phase in your life where it's okay to be selfish- in fact, I suggest it!
A good way to stay within budget and to kick off the weekend is to keep the rehearsal dinner low key. Now I know many will disagree with me, but I can't recommend it enough. There was nothing better than having guests show up, feeling calm & comfortable, and enjoying a BBQ dinner outside, under the stars! We ate good food, we drank good beer, we danced to live music, we told funny stories, etc. This vibe carried over into the wedding day and everyone really felt that they could be themselves – too many weddings are stuffy these days. Where's the fun in that?!
A piece of advice that is applicable to really anything in life, but especially on your big day is to trust your gut. If you're feeling pressure to do one thing but don't really want to, speak up. If this whole wedding planning thing is just way too expensive and overwhelming and an elopement is what you want deep down, do it! Remember what I said about being selfish?
I've said it before and I'll say it again…negotiate everything. Maybe it's the salesperson in me or maybe it's the insane inflated prices that come with weddings these days but oh my goodness, please negotiate! I cannot tell you how much money I saved by negotiating with vendors. You want flowers? Sure they're $100/centerpiece. Oh, they're for your wedding? I meant $500/centerpiece. True. Story. There will be vendors you have to walk away from and there will be vendors that will work within your budget. Find them.
As you get closer to the big day, it's important to delegate where possible. If asking for help isn't your strong suit (or you're type A like me) now is the time to get over that and let others help you! Your friends, family & bridal party are there to be supportive in every way, even if that means your dad is super gluing together ceremony fans 72 hours before the wedding (sorry dad!). Most everyone has something they're good at so put them to work – y'all know the saying…together we achieve more!
Everyone told us to prepare that something will go wrong. And so we did. We had our mentality that "it is what it is" and if Mother Nature decides to unleash her fury on our wedding day, so be it. If one of the groomsmen ends up being that guy and making an ass of himself all night, so be it. We were prepared. Thankfully, we had the best luck one can have on our wedding day and everything went right. In fact, it went better than planned. That, or I was too much in complete bliss all day to notice any different 🙂
Lastly, remember this moment. The best thing Terry and I did at our wedding was, about 2/3 of the way through the reception, we snuck away to take a moment for just us. We were in the field looking back on our tent full of our 120 most loved ones in the world. It wasn't lost on us that all of these people were here to celebrate our love and that there likely won't be another moment where my 85 year old grandmother is dancing next to Terry's childhood best friend. This day will be the absolute best day of your life and one that will be in your heart forever. Do your best to soak. it. all. in.
What's your best wedding planning tip?!