All parts of Cape Cod are beautiful yet so very different. From Hyannis to Provincetown, from Nantucket to Martha's Vineyard, there's a little something for everyone on the Cape. Lucky for us, we have some great friends with a beautiful home on the Vineyard so we headed down last weekend for a little R & R. We lucked out as it was 80 and sunny all 3 days, with a slight breeze around the clock.
Martha's Vineyard itself is pretty easy to get to from Boston, though timing is everything. Like most big weekend destinations in summer, traffic can be a nightmare if you don't time it right. My advice is to leave no later than 2pm to head down 93 South from Boston or you will literally be sitting in parking lot traffic for hours. We were able to peace out of Boston around noon which put us right at the Woods Hole parking lot around 2 (that included a pit stop on the way to grab a friends' bike in Seaport). The ferry from Woods Hole to the Vineyard is much easier, in my opinion, than from Hyannis to Nantucket. These folks have a system down and it runs so smooth. We parked our car at 2pm, loaded onto the bus at 2:10 and were in the ferry parking lot buying our tickets by 2:20. Perfect timing.
Travel Tip: While there's no need to buy ferry tickets ahead of time (unless you're taking your car on), be sure to check the Steamship Authority website prior to arrival to confirm which parking lots are open and which ferry is on time.
The Vineyard itself is only about 7 miles off shore and 100 square miles in size. You definitely need a car while visiting the Vineyard, as the neighborhoods are very spread out and it can take over 45 minutes to drive from one side of the island to the other. Plus, most people stock up on groceries and goods on the main land since the prices are cheaper & there are more options. The Vineyard is divided into 6 main areas ("towns" for lack of better term) and each has a different vibe. Oaks Bluff & Edgartown, for example, are more bustling with shops/restaurants/bars while Chilmark and Aquinnah are more remote. This post will focus on Aquinnah as that is where we spent our weekend. You can read more about the various towns here.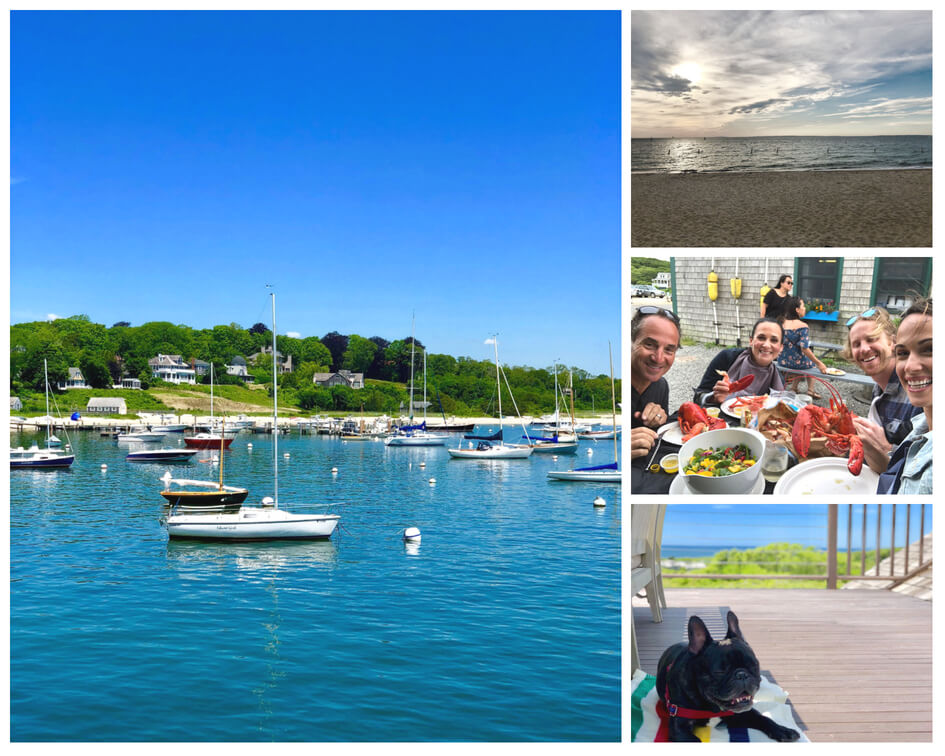 Where To Eat + Drink

Chilmark Tavern

: This local favorite is a great place to spend your Friday night. It's a neighborhood spot where you'll see familiar faces for sure. The menu is mainly seafood with a Mediterranean twist. Think ahi tuna, lobster squid ink pasta and mussels to share. The food is delicious and the restaurant is BYOB (fact: Chilmark is a dry town) so come prepared with your own wine to share.
Larsen's Fish Market

: Locals know the drill with this casual spot. You call in your order ahead so that when you arrive, your lobsters, steamers and crab cakes are waiting for you. Otherwise you'll be waiting at least an hour in line. There are picnic tables outside to dine at, so be sure to come prepared. We brought all of the goodies – tablecloth, plates, napkins, salad, wine (again, BYOB) and cookies. Here you'll just be picking up your mains – freshly steamed lobster, clams, crab cakes, fish, etc. The market is literally located on the dock so this is about as fresh as it gets. A true Vineyard experience.
The Aquinnah Shop: Located at the Gay Head Cliffs (way up at the top of the hill), this place may have the best view in all of MV. They have a secret back deck that is perched high above the cliffs overlooking the Atlantic. It's the perfect place to pop in after your morning bike ride to grab a coffee and breakfast sandwich.
Chilmark General Store

: Next door to the Chilmark Tavern, this cute store has a country feel. They've got salads and sandwiches that you can order to go, which they'll make as you walk around the store and pick up any last minute supplies for the beach.
Orange Peel

: Bakery meets food shack, this is the kind of place where you walk up and order at the window. Known for their outstanding baked goods, we also hear their clam chowder is some of the best on the island.
What To Do
Catch a sunset

at the famous Menemsha Beach. This local fishing village is supposedly home to the only sunset on the ocean in the East coast. You really feel like you're in California as the sun goes down. The beach gets real crowded, especially in summer, so claim your stake early to get a prime spot. It's a close walk from Larsen's Fish Market so a fun idea is to grab dinner then watch the sunset. What a perfect summer night!
Take the pups to
Lobsterville Beach

for some frolicking on the beach! It is a quaint, rocky beach located just down Lighthouse Rd and it's usually not too crowded. A lot of people take their dogs down there to run around and enjoy a taste of the ocean.
Exercise outdoors!

I can't even tell you how many people we saw riding bikes, walking, jogging, taking the pups out, etc. Aquinnah is an outdoorsy town with so many beautiful streets to explore. We took the bikes out early morning (when it was still cool) and rode an hour loop that provided us with endless ocean views.
Go bowling

Barn & Bowl Bistro at the newly opened . This old barn converted into a bowling alley has 10 lanes, music playing, a full bar and food service. We enjoyed some flatbread and white wine as we bowled our hearts out (lots of gutter balls!). This is a fun nighttime activity in the area and one the whole family can enjoy.
As you can see, Aquinnah has so much to offer – and that is just a small part of Martha's Vineyard!