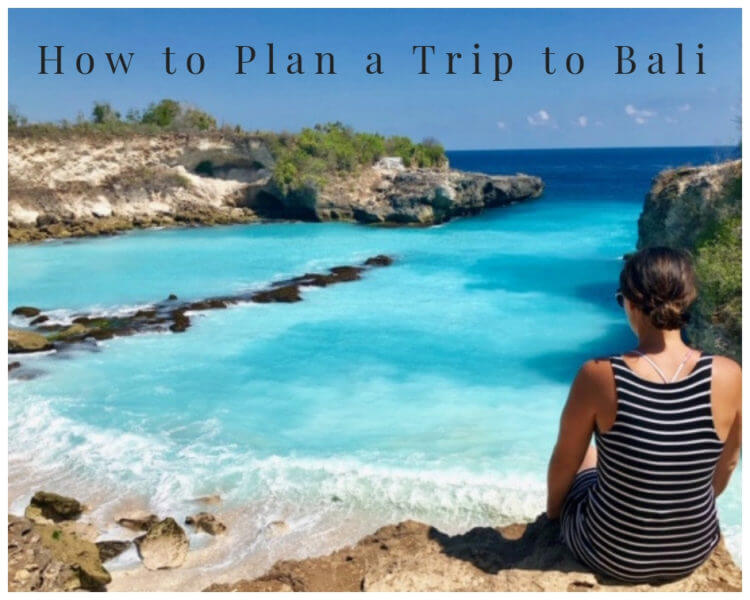 One question that I get asked quite often is how to plan these big vacations. You can read about my tips for planning a trip to Africa here. Obviously, planning any major vacation – let alone on another continent – takes a good amount of research. As I said before, I like to follow travel bloggers, sort through TripAdvisor, search Pinterest and read various travel magazines. I find that by using a variety of sources I can cover most angles and get the most amount of data needed to start planning.
Step 1: Pick Your Cities
When it comes to Bali in specific, the best place to start is to decide which cities you want to visit. I can't imagine flying all the way to Southeast Asia and only visiting one city so odds are that you will go to at least 3. In our two week trip we visited 5 cities total and I thought that was a good amount. We didn't feel rushed, yet we didn't feel like we missed out either.
City Breakdown
Ubud: The cultural epicenter of Bali, Ubud is an absolute must visit location in Bali. The streets are packed full of pedestrians and scooters but there is a lot to see here. From the famous monkey forest to the Hindu temples and shrines to the ancient rice paddies, the city is rich in history. This is also a great home base for taking day trips to visit Northern Bali or go on volcanic hiking excursions. If you want to enjoy the Balinese culture, explore the outdoors and shop in the various markets, I would recommend at least 3 nights here.
Canggu: This coastal city is growing but hasn't "popped" yet. It has a great combination of laid back surfers and yogis and trendy shops and restaurants.While there are many great restaurants, shops and bars to choose from, it still has the Balinese charm. Great for yogis, vegans and surfers alike, Canggu offers a great mix of old meets new. The sunsets are spectacular and you can still stay in luxury without a huge price tag. This was by far my favorite beach town we visited (and our favorite hotel).
Kuta: The most touristy of all of the Balinese cities, Kuta is super popular among the Australians coming for a fun vacation. It is known for resorts with pool parties, overcrowded streets, packed (trash filled) beaches and a wild nightlife. This is the most European feeling (read: non authentic Balinese) city on the island. If you want clubs and parties, this is the place for you. If you don't, avoid it at all costs. We chose to avoid it and are so glad that we did.
Seminyak: Sort of like Kuta's younger sibling, this is pretty touristy but with a bit more class. The restaurants are great – many organic, healthy, vegan – and the beaches are beautiful. Many people recommend Seminyak for the incredible culinary and various large beach-front resorts that draw big crowds. It was the most expensive city we went to with few lower-key options. We only spent 1 night / 2 days in Seminyak and it was enough – it felt way too touristy for our liking.
Uluwatu: This laid back surfers paradise is a bit more "off the beaten path". Many people come to visit the famous temple and then to catch the island's best sunset at Single Fin. Those who stay here want a bit more of a remote vacation – smaller hotels, extremely chill environment and the main transportation is scooter. It is a surfers dream so if that is what you are looking to do, this is your spot. This fell in the "gray area" for me – it wasn't my favorite, wasn't my least. We changed hotels mid-stay and that made all of the difference. I much preferred the nicer hotel for the beautiful beach and sunset views.
Nusa Dua: We did not venture to this part of the island but we hear that it is ideal for families traveling to Bali. The water is calm (less surfing, more wading and swimming), the sand is white and the vibe is calm and relaxing. Perfect for those traveling with kids or those that want to avoid the crowd. It's an easy drive from Jimbaran, Uluwatu and most of Southern Bali for day trips or dinners out.
Jimbaran: This Western Balinese fishing village is known for their beach barbecues and luxury resorts. Home to the Four Seasons and the famous Rock Bar for incredible cocktails and sunsets, Jimbaran is less crowded and more romantic. This tranquil beach city is known for honeymooners and those looking for full relaxation. We opted not to stay here as we were in Uluwatu (just south) but I would have liked to do at least 1 night here.
Gili Islands: These islands are a 3 hour boat ride or quick flight from the East Coast of Bali. They're a bit less touristy than Bali and known for their incredible sunsets and crystal clear water. Each of the three Gili Islands offers something unique: Gili T is known for parties, Gili Meno is known for relaxation and Gili Air is known for upscale luxury.
Lesser Sunda Islands: This is better known as Nusa Penida, Nusa Cenigan and Nusa Lembongan. These three small islands are easily accessible off of the Southern coast of Bali. Nusa Cenigan is a small tropical island off with not much more than the clearest water you've ever seen. Nusa Penida is known for top notch snorkeling and unbelievable landscape (home to Kelingking). Nusa Lembongan is a remote paradise with outstanding surfing, beaches and waterfront villas. I consider these a must visit when in Bali – true paradise!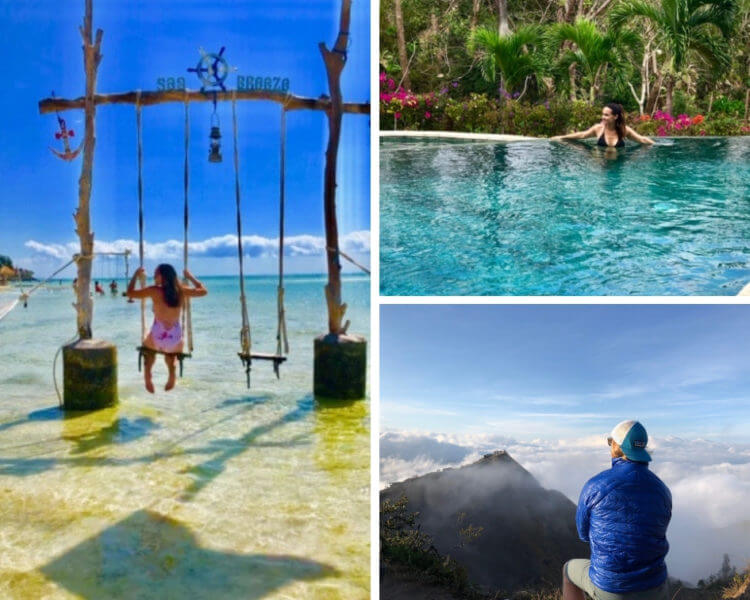 Step 2: Pick Your Season
The best way to get the best deal to anywhere far away, like Bali, is to be flexible with your dates. Depending on what you are wanting to do during your trip, there are various times of year to go! Let's break down the seasons in Bali to help you decide:
April – September: This is Bali's dry season and the best time to go. July and August is peak high season (which means more crowds and higher prices), but April, May and September are said to be the most ideal time to visit. You'll get the lower prices of off season while getting the beautiful, dry weather of on season. We went in September and the weather, prices and crowds were perfect.
October – March: This is Bali's rainy season which means wet (non-ideal) weather, rougher seas and dirty beaches. That being said, there is a popular period in late December (holiday season) that is popular as it's still in the 80s in Bali. The weather is unpredictable but if you luck it, could be beautiful.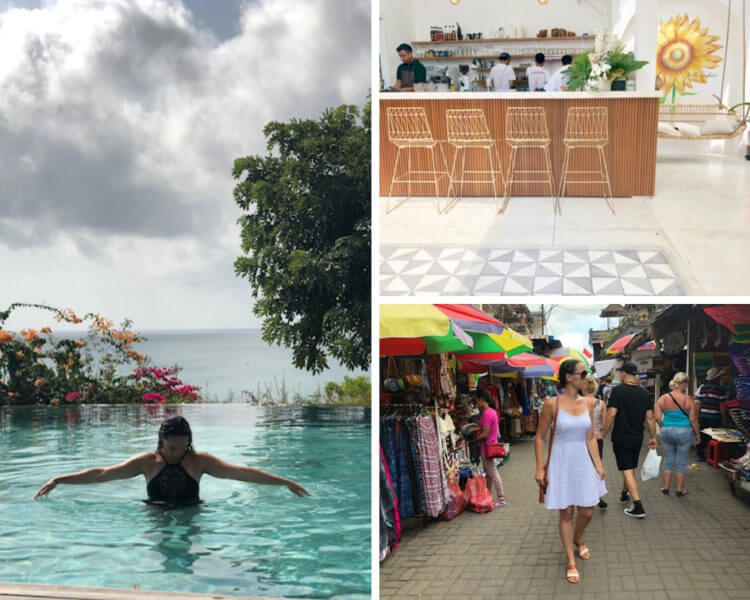 Step 3: Fill In the Blanks
Accommodations
Once you have your dates all set and your cities picked out, the majority of the work is done. I like to always book my international flights first and then fill in the blanks with hotels. For Bali in specific, we used Booking, AirB&B and Marriott when possible (for status / points redemption). Bali is known for its inexpensive, luxury accommodations. When in Bali, staying in a villa is an absolute must – particularly in Ubud or Nusa Lembongan. For less than a hotel rate you can stay in a luxury, private villa stocked with a pool, multiple rooms and staff. For an idea on where we stayed and more recommendations, check out my travel guides.
Excursions
There are a plentiful amount of incredible excursions to choose from in Bali, including a few that we did: Mt. Batur sunrise hike, Nusa Penida outdoor hikes, taking a sunrise yoga class, touring a coffee plantation and visiting the Monkey Forest. Other adventurous options include surfing, stand up paddle-boarding, white water rafting, cooking class and more. Again, we gathered all of our options and then would pick and choose which peaked our interest most.
Food + Drink
Luckily, Bali is not the type of place where you need reservations ahead of time. In fact, I think I only made 2 reservations the whole trip (and I'm pretty sure we only followed through with one). What I typically do for any trip abroad is make a big list of restaurants, bars and coffee shops broken down per city. I'll make specific notes such as vibe, cost, hours, known for, etc. to help guide us when there. We usually like to "wing it" for meals but I always like having this list in case we get hangry and need to make a quick decision. I have helpful travel guides for each city that we visited that lists our favorite places we ate and drank: Ubud, Uluwatu, Canggu, Nusa Lembongan, Seminyak.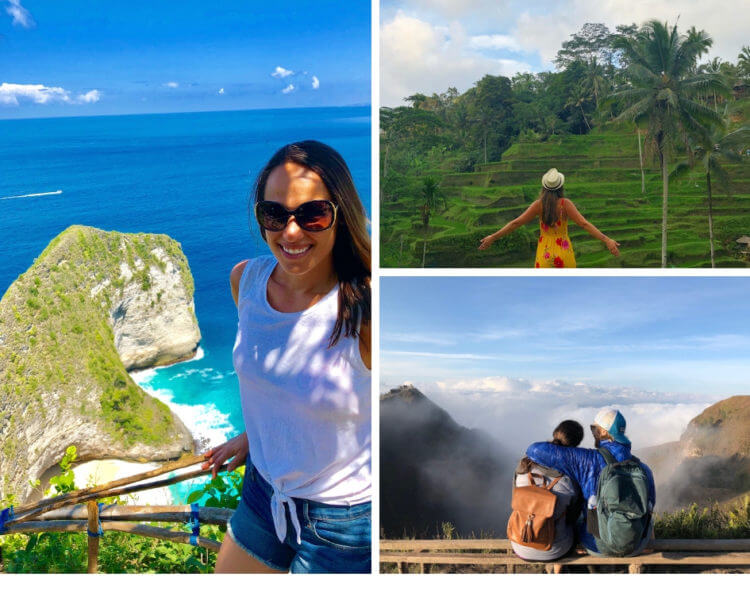 Step 4: Pack & Enjoy
The best part about doing all of your homework is that you've now planned an amazing vacation so just go relax and enjoy your time! Feel free to check my Bali packing list so that you aren't stuck with too much or lost with too little. Bali is an incredibly special, spiritual place that is truly one of a kind. I am so honored to have been there and, while it's likely a once-in-a-lifetime kind of trip, I hope that I am lucky enough to go back one day.