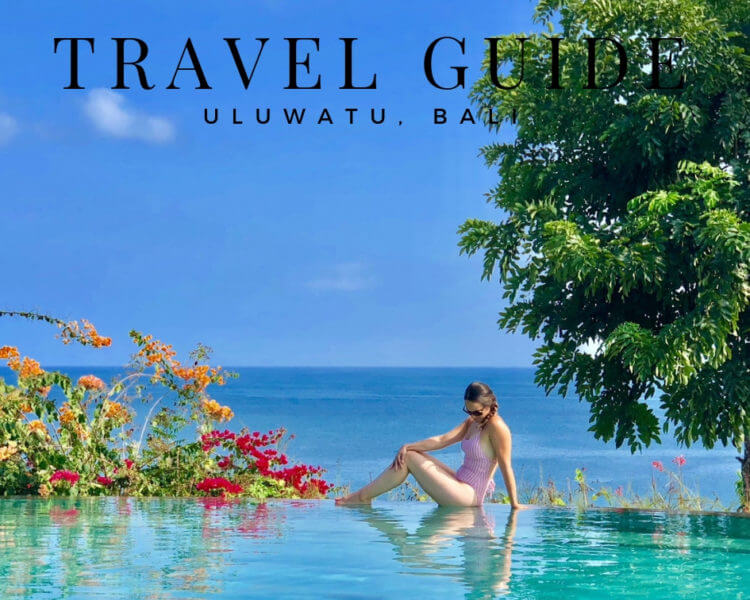 I am so excited to be sharing many travel guides with you from our two week stay in Bali, Indonesia. Uluwatu was our first stop in Bali and we were thrilled to land in this chill surfer town after flying for almost 24 hours straight. Located on the south-western tip of the Bukit Peninsula, Uluwatu is known for surf breaks, cliffside sunset views and the low-key vibe. It was the perfect place to start our trip as we were able to catch up on sleep, get adjusted to the local time and ease into it all.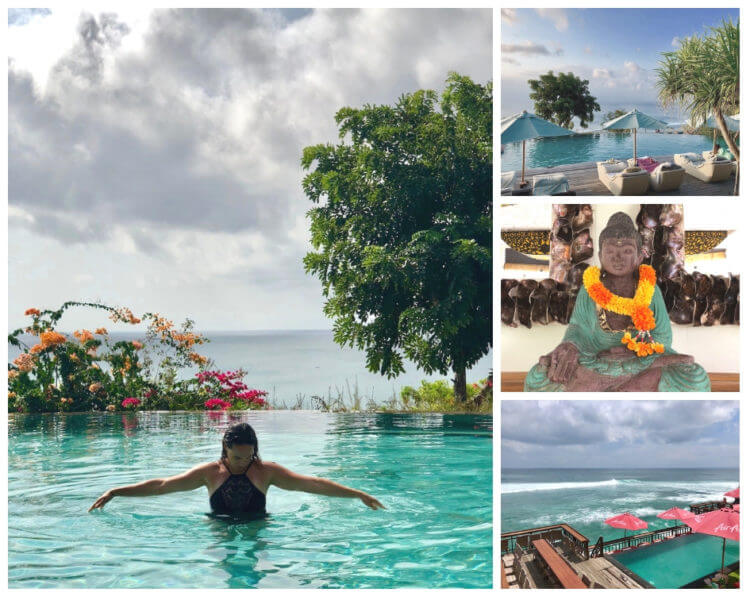 Where To Stay
+ Boho Bingin Beach: set down a dirt road, this property is quiet and serene. It's very Balinese feeling with an infinity pool, sunken in lounge area and hammocks all around. Our room was pretty bare bones (concrete floor, platform bed, basic toilet/shower) but was quiet and comfortable. It's mid-range price ($100/night) and comes with complimentary breakfast, which is served at a huge 14 person table outside by the pool. Everything included bread, choose of fruit drink and entrees such as eggs and bacon, pancakes and dragonfruit bowl. This delicious, fresh, serene breakfast was an ideal way to start every day in Uluwatu.
+ Suarga Resort: Located on Padang Padang Beach (south of our first hotel), this was much more of a splurge ($300/night). This hotel blows you away from the moment you walk into the huge entrance. It is a bamboo elevated open-air walkway which leads to the most beautiful infinity pool overlooking the beach. These views never got old. The hotel is totally sustainable, all hand built with materials from the nearby island of Sumba. There was always light music in background, which helped us to relax all day long. This place truly was paradise with service to match. We had breakfast (included) in the gazebo and lunch by the pool – both of which were outstanding. If you want to splurge, this is your spot!
Traveler Tip: It's helpful to know that most people get around by scooter in Uluwatu as things are spread out and there is minimal traffic. Make sure your accommodations are either within walking distance of the area you want to be in or plan on renting a scooter.
What To Do
+ Bingin Beach: This is rocky, cliffside surfers beach, but it wasn't the best for laying out. There are plenty of surf school and warungs to grab a bite after you paddle out.
+ Balangan Beach: This was about twenty minute drive, but worth it. There is a big surf school here, along with various beach clubs. This was my favorite beach in Bali because Terry was able to surf, while I was lounging on the sand, under an umbrella (it only cost me $3 to rent 2 loungers and an umbrella). This beach is a bit more touristy so you will get people selling sarongs, bracelets, etc. but it was still so beautiful and relaxing. Apparently this is a local hot spot for wedding photos, and I can see why.
+ Padang Padang Beach: This is another great beach for surfing and it has a wide beach at low tide, but it's not the best for swimming because the bottom is lined with coral.
+ Cave Beach: This is a semi-secret beach, accessed via foot only. You get dropped off at Single Fin and then walk down the stairs until you hit the cove. From there, surfers paddle out (no novices here – waves are huge and the water is very rough). At high tide there is no beach so for non-surfers it is best to hit one of the beach clubs and lay by the pool. I paid $15 for all day access, including chairs, towels, pool, etc. The pool overlooks the ocean and has incredible views. They have food + beverage service and it was the ideal place to spend an afternoon.
+ Drifters Surf Shop: This world famous surf shop in located in town with a great coffee spot and breakfast restaurant in the back.
+ Hire a Driver: If you want to venture outside of your immediate area or visit various beaches, I recommend hiring a driver. We paid 300,000IDR ($18) for four hours, which led us to Bingin Beach > Drifters surf shop >  Uluwatu Temple > Padang Padang Beach and Single Fin (Cave Beach). This is the best way to explore the area.
What To Eat + Drink
+ Rock Bar at the Ayana Bali: Technically in Jimbaran, but a short drive from Uluwatu. Think candle-lit tables, comfy lounges, signature cocktails, and a backdrop of waves crashing, and splashing, around you as you watch a firey sunset.
+ Cashew Tree: A great dinner spot near Bingin Beach. They have live music, a big bar and the entire place is outside (thatched roofs only). The food is mainly organic with many gluten free and vegan options. They serve various bowls, salads, sandwiches (entrees were around $7 each). The vibe is super chill and low key, with people wearing everything from bathing suits to maxi dresses. Note: this is cash only.
+ Sea Bourn: A casual sports bar type with televisions and indoor / outdoor seating. Serves non-Indonesian food like coffee & pancakes, hamburgers & pizza, etc.
+ Single Fin: The "go to" place to watch the sunset in Uluwatu. They have a huge deck built into the side of a cliff, directly overlooking the ocean. It's recommended that you arrive a few hours prior to sunset to snag a seat on the deck. We stayed for about four hours, eating, drinking and meeting new friends. This was our favorite place in town and an absolute must visit!
+ Bingin Family Cafe: A great outdoor patio with zen music. Popular breakfast spot.
+ Bukit Cafe: An Australian favorite, it has chill music and a big deck. They serve items like fresh fish, burgers, mix of Indonesian / western. We heard the brunch was amazing, but we were only able to go for dinner – to be honest, it was just okay.
+ Kelly's Warung: Right on Bingin Beach, this place is popular for surfers as you can grab a fresh breakfast or lunch and a Bintang when you're doing surfing.