We spent a wonderful few days in Sedona, Arizona soaking up all that this lush, hidden gem of a town has to offer. Sedona is a small town located in the middle of the desert (close to Flagstaff) that's surrounded by red-rock buttes, steep canyon walls and pine trees. It truly has a special aura to it – the entire time we were there we both felt very zen and at ease. Whether you're into hiking or not, you will love Sedona. The mild weather & insane views will steal your heart. Sedona has so many wonderful things to do and we can't wait to return.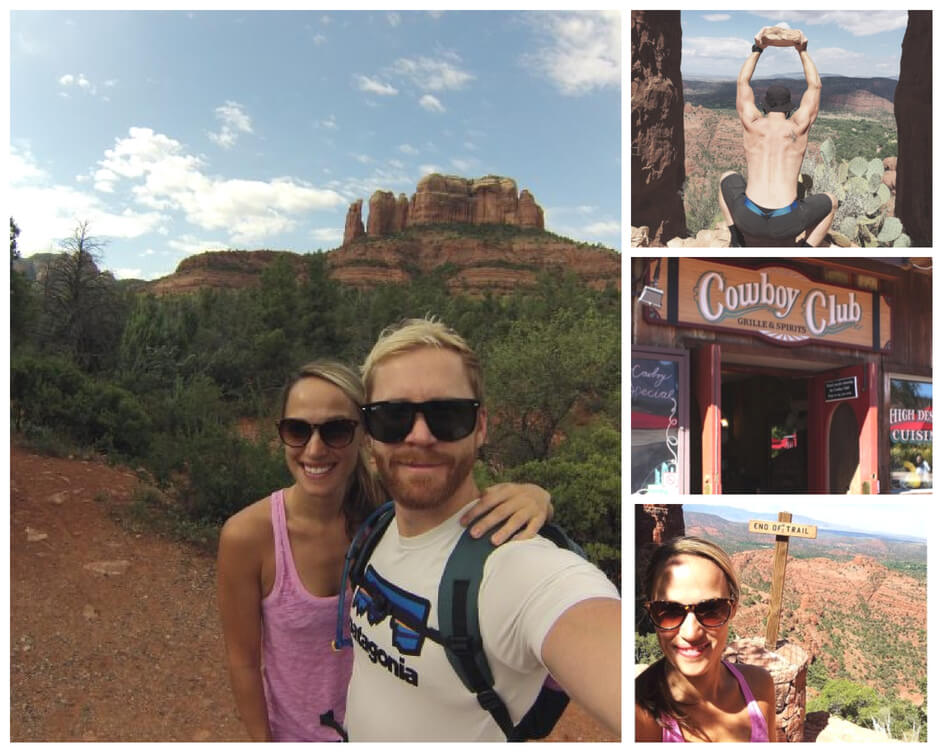 What To Do
+ Cathedral Rock: One of the most famous hikes in all of Sedona, this is a beautiful trail that is do-able for all experience levels. We chose to go all the way to the top – while challenging, I definitely recommend it!
+ Devil's Bridge: This is another famous hike with a great photo opp (very insta-worthy).
+ Bell Rock & Rock Dome: Two other great hiking trails that we did not have time to do but would add to our list for next time.
Insider tip: When hiking be sure to start early in the day to beat the heat & allow at least an hour at the top to take in the breathtaking views.
Where To Stay
+ L'Auberge Resort: We stayed here and I can't recommend it enough. You can read my full hotel review here – anywhere in this location is perfect really, walkable to everything.
What To Eat + Drink
+ Cowboy Club: A fun local spot in downtown Sedona, we had drinks here and saw an actual real life cowboy, chaps and all!
+ Silver Saddle: This restaurant is attached to the Cowboy Club. It is touristy but fun. The entire place is, of course, Western themed. They have local favorites such as buffalo, cactus and rattlesnake on the menu.
+ Oak Creek Brewery: This local brewery has great beer on tap (brewed in house) and great bar food to go with it. The environment is low key and all of the bartenders were very friendly.