If you have been following along with my blog or on my Instagram, you saw that we spent a week in beautiful Ireland last month. We rented a car and drove around the Wild Atlantic Way, which led us around Ireland to explore all that this beautiful country has to offer. Since Ireland is divided by counties (26 total) and we visited a handful of them, I will be putting together a travel guide for each county that we visited. Ireland is small but spread out and each area has its unique features so this will be a good guide to help determine which is the best fit for you.

Our trip started in Galway as we chose to drive our route East to West and then North to South. I recommend starting here as it's quite easy to rent a car, get out of Dublin and drive two hours straight west into Galway. This road is mainly highway so it makes it much easier adjusting to driving on the other side of the road (likely in a stick shift). We made a pit stop about halfway in the town of Althone (thanks to the recommendation of our B&B hosts, who emailed me prior to our trip). The town itself is pretty small and was quite empty (school day) but we scored an amazing find with lunch at Bastion Kitchen. Obviously a local favorite, this mom & pop restaurant was a healthy, organic choice with various sandwiches, salads and soup (get the split pea coconut soup – sounds odd but it was to die for!).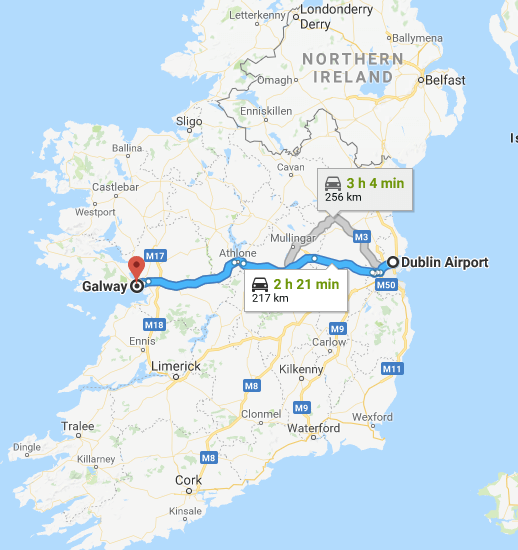 Travel Tip: Do your homework prior to renting a car in Ireland. Call your credit card company to see if they provide CDW coverage; otherwise, expect to pay $20-$50/day on this non-negotiable insurance. Ours did not. We also upgraded to a more comfortable sedan, which I strongly recommend as you'll be in the car a lot during this trip.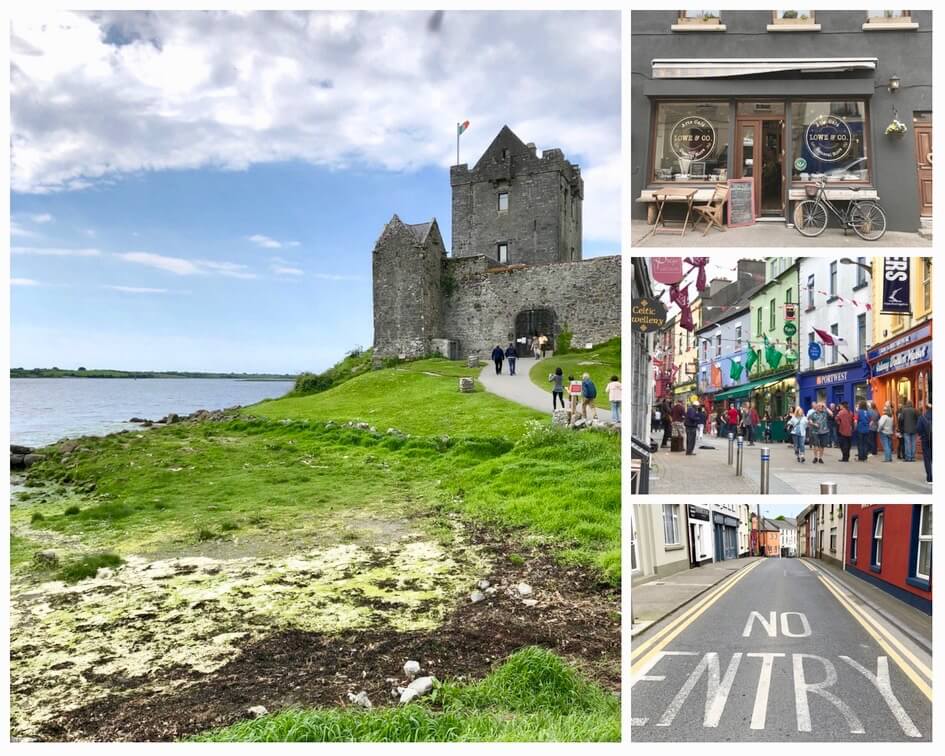 What To Do
+ Connemara National Park: you can ride horses on the beach here
+ Kylemore Abbey, Connemara
+ Sky Road Drive, Clifden
+ N67 Highway: beautiful drive South, turns into Wild Atlantic Way
+ Dunguaire Castle, Kinvara
+ Galway City: known for great restaurants, bars and nightlife
+ Aran Islands: an easy day trip via ferry from Galway City
Where To Stay
+ Glenlo Abbey, Galway City
What To Eat + Drink
+ Bastion Kitchen, Althone: an organic lunch spot with salads, sandwiches and soup
+ The Quay St. Kitchen, Galway: European meets Irish on the best street in town
+ Sonny Molly's, Galway: on Quay St. / great spot to have a drink outdoors
+ Dail Bar & Restaurant, Galway: traditional Irish pub food
+ The Dough Bros, Galway: known as the best pizza in town
+ Moran's Oyster Cottage,
Kilcolgan

: we didn't eat here but heard great reviews