When we went to South Africa in our honeymoon, we did not allow enough time to pop over to island off the coast – though Mauritius was our first choice. This time around we knew that we wanted to end our thrilling week-long safari excursion with a few relaxing days by the beach. A coworker of mine had recently gone to Zanzibar and raved about the resort so we did a little research on the island. We were immediately drawn in to the beautiful scenery, the rich culture and the incredible history of the island. Though we were only there for four incredible nights, we would happily have stayed longer! As with any foreign destination, I like to share my tips, tricks and best practices to hopefully make your trip even more enjoyable!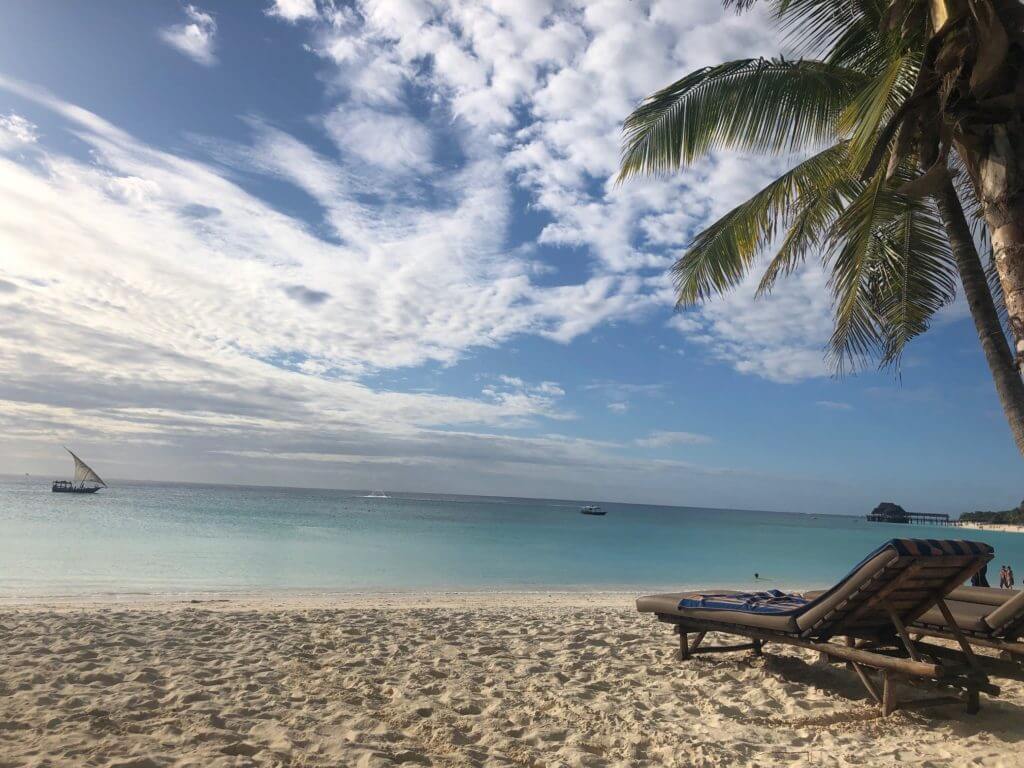 the stunning beach of Nungwi
the most intricate doors with the most beautiful ocean view
an entrance to the public beach in Stone Town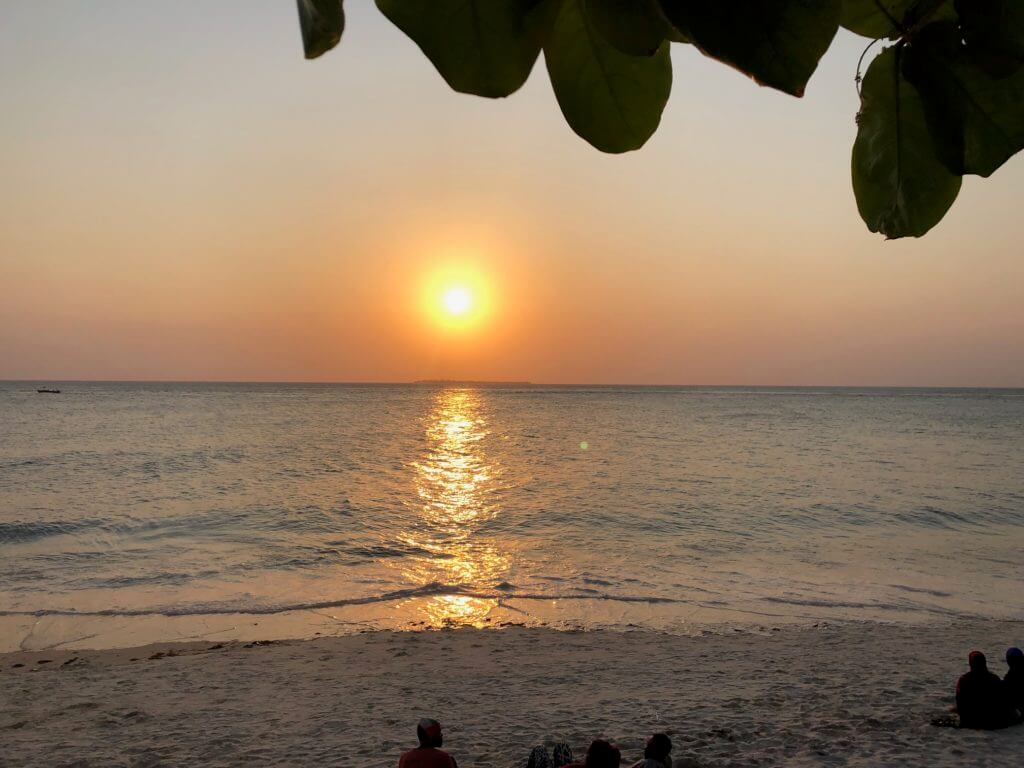 The most vibrant sunset over the Indian Ocean
the streets of Stone Town – minutes from Freddie Mercury's home
Our resort in Kwenda Beach being guarded by the Masai Mara 24/7
Zanzibar: 10 Things to Know Before You Go
1. It's size: The population of the island is actually quite large! There are over 1.3 million people that live in Zanzibar, which is more than reside in Boston proper. Let that soak in for a minute. Even though that sounds like a huge number, the region is actually composed of an archipelago of islands, with over half of the people living on Unguja (Zanzibar Island).
2. The island is safe: Many people are surprised to find out that Zanzibar has a very low crime rate and is quite safe for tourists. Of course, you'll want to follow general precaution (i.e. no walking alone on a dark beach at night) but there is minimal crime. We walked around during the day and at night with no issue or concern.
3. Get out of the city: We spent one night in Stone Town (at the Park Hyatt) which was interesting to see but I wouldn't spend much time there. The city consists of narrow streets, white buildings, bars on windows and some great street vendors for shopping. We enjoyed the historical aspect that came with the city of Stone Town but even more so enjoyed exploring the outskirts of the island. The drive can be difficult to get to the North, South or East coast of the island – due to many unpaved streets and slow speed limits – so it is worth picking a destination and staying for a few days. We chose the Kendwa area and it was spectacular.
4. Pole Pole is the motto: We always try to immerse ourselves in the local culture and that starts with picking up a few key words of the local language. Pole-Pole ("pole-ay, pole-ay") is Swahili for "very slowly" and let me confirm – things move very slowly here. I felt like we were on the island time of island times. Does that even make sense? Just think about how slowly things move on island time – this is slower. Example: we had one dinner that took 1.5 hours to get a drink and an appetizer. The bad news? You could get hangry real fast. The good news? You'll be looking at the most beautiful sunset while doing it. So embrace the slowness and enjoy your time!
5. The majority is Muslim: This is important to note when planning a trip to Zanzibar as you'll want to make sure you are respecting any Muslim traditions or adherence's (ex. Ramadan). Given that roughly 98% of the population is Muslim, it's a good idea to dress accordingly (bring a cover up and modest clothing), especially if visiting a mosque. The people of Zanzibar are incredibly kind, gentle and generous – a nod to their religion.
6. Beach Bum it out: The island brings no shortage of stunning beaches! If only we had time to visit them all (see #3 and 4 above). Honestly, we had a really tough time deciding on which beach to spend the majority of our time. Though I recommend doing your homework on which beach best suits you, here's a quick breakdown:
Pongwe Beach – A remote place to relax and unwind. Plan to stay on the resort as there's not much else here.
Nungwi Beach – Voted a top 25 beach in the world, it is known for vibrant colors. It's also near coral reefs and ideal for those wanting to scuba dive or snorkel.
Kendwa Beach – A bit more laid back then Nungwi; think white sand beaches, crystal clear turquoise water and minimal foot traffic. Great for swimming and catching a sunset. Our #1 choice.
Matemwe Beach – This traditional fishing villages offers a wonderful cultural experience. Also the top place for scuba divers, as it's near Matemwe Atoll.
Paje Beach – Known for its long, windy beaches with tall palm trees, this beach is ideal for those looking to do kite surfing & water sports.
Bwejuu Beach – An ideal beach for relaxation, peace and privacy. It's home to high end resorts like Baraza and Breezes, which makes it perfect for honeymooners.
7. Spice up your Life: Aside from tourism, the island's economy is driven from spices. Years and year ago, Zanzibar was an important part of the spice trade; hence why it's often referred to as "The Spice Island". From its Middle Eastern and Asian influence, it produces saffron, cardamom, ginger, cloves, and nutmeg, to name a few. When staying in Stone Town, you can venture on a spice tour or visit a local spice farm.
8. Queen is King: One of the most famous previous residents of the island is none other than Freddie Mercury, lead singer of Queen. Born in 1946, his childhood home is in the heart of Stone Town and now on display to the public. Having watched 'Bohemian Rhapsody' recently, it was such a crazy feeling to see his home and to imagine how huge he became after coming from such a small place in the world. Truly remarkable.
9. Plan transportation ahead: We did our research and knew that we would need reliable (and safe) transportation from the airport to Stone Town, then to Zuri Zanzibar then back to the airport. We found that by booking through Zanzitaxi, a well-known taxi service (before our trip), we were able to save about half of the cost which ended up being hundreds of dollars. The taxi service was incredibly professional, reliable, clean and safe.
10. It's Scuba Diving Central: Zanzibar may be a hop, skip and jump away from Tanzania and the Great Serengeti; however, there are no lions, rhinos or giraffes on the island. There are, however, an incredible amount of aquatic gems to be seen! In fact, Zanzibar is a top destination for water activities, including snorkeling and diving. There are day trips from Stone Town to Prison island for snorkeling and countless shipwreck and coral locations around the islands for diving – Mnemba Atoll, Leven Bank, Boribu Reef, Kizimkazi and Mafia Marine Park, to name a few.