One of the biggest challenges when traveling to Iceland is knowing what to pack. I mean, let's be honest…when you think of Iceland you think freezing / snow / cold / ice. Am I right?! Well, interestingly enough, it can also be warm / sun / green / heat. If I can give you one piece of advice when packing for Iceland, it is pack all of the layers. This is the one thing I kept reading and let me tell you, this is the best packing advice one can give for Iceland. Thank goodness we listened!
— WHAT I PACKED —

For excursions

: Various tops (sleeveless, short sleeved, long sleeved), base layers (tops & bottoms – similar to the ones we take skiing), rain shell, down jacket, puffy vest, beanies, scarves, boots & lots of socks (more than you think you'll need!)
For the Blue Lagoo

n: bathing suit, flip flops, cover up.
Extras

: Small backpack (to pack on excursions), sunglasses, hats, eye mask (to sleep as there is sun 24 hours), camera, go pro, chargers, refillable water bottles, protein bars, beef jerky, nuts & chocolate. (<–spoiler alert: we went through all of the snacks!)
— WHAT I ACTUALLY WORE —

Day 1: The Golden Circle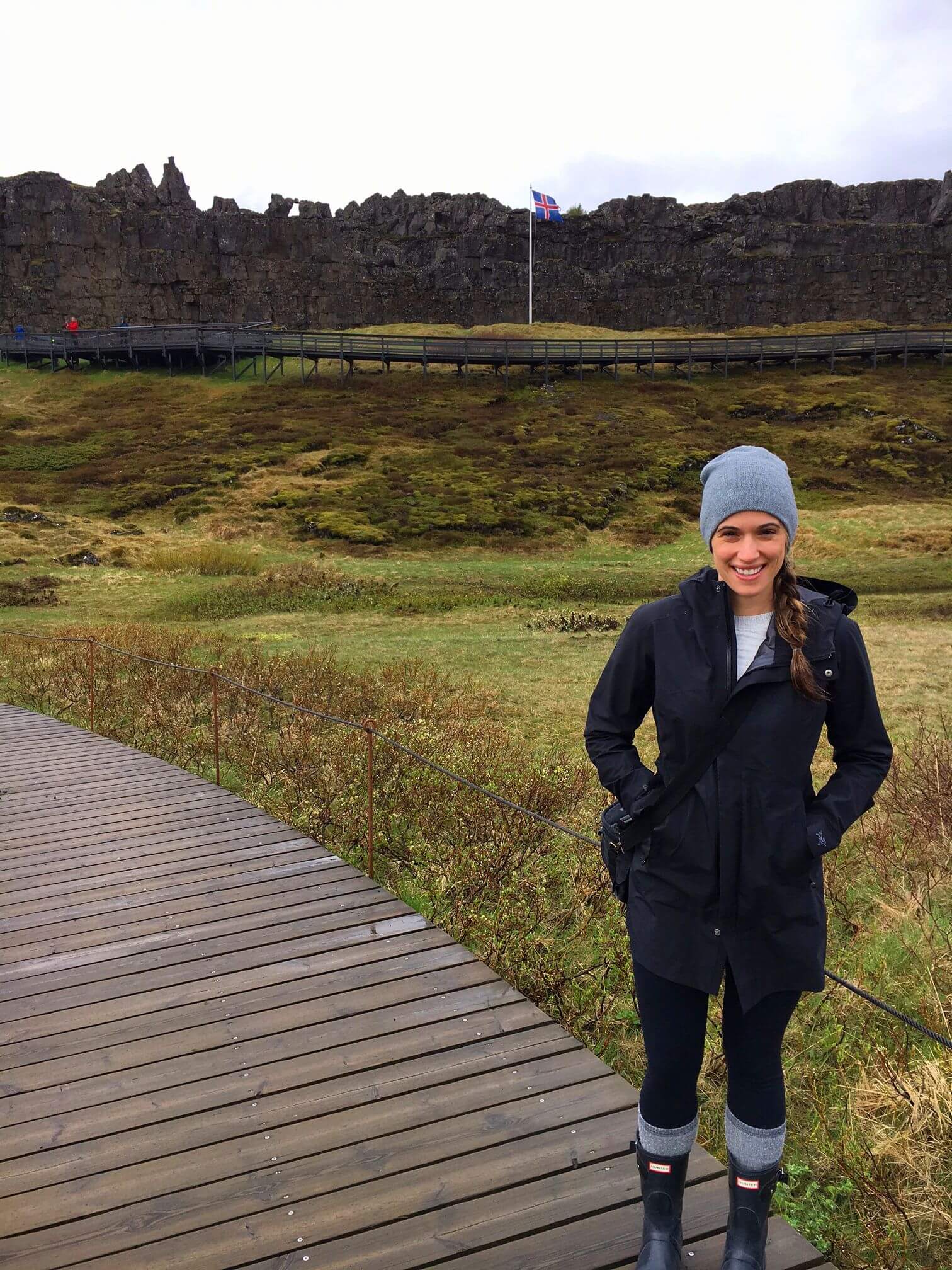 Weather

: 50s, mostly sunny, occasional drizzle in the am.
Outfit

: Zella black leggings, black tank, gray LS longer shirt, black Patagonia down jacket, hiking socks, short hunter boots.
Packed

: Arcteryx rain coat (only used once), gloves & extra socks
Should have packed

: scarf (it was pretty windy)
Had to buy

: nothing
…because there was minimal precipitation this day, I was dry & warm. I had an extra jacket that rarely got used but it was worth having. Read about our day here & here.
Day 2: Southern Iceland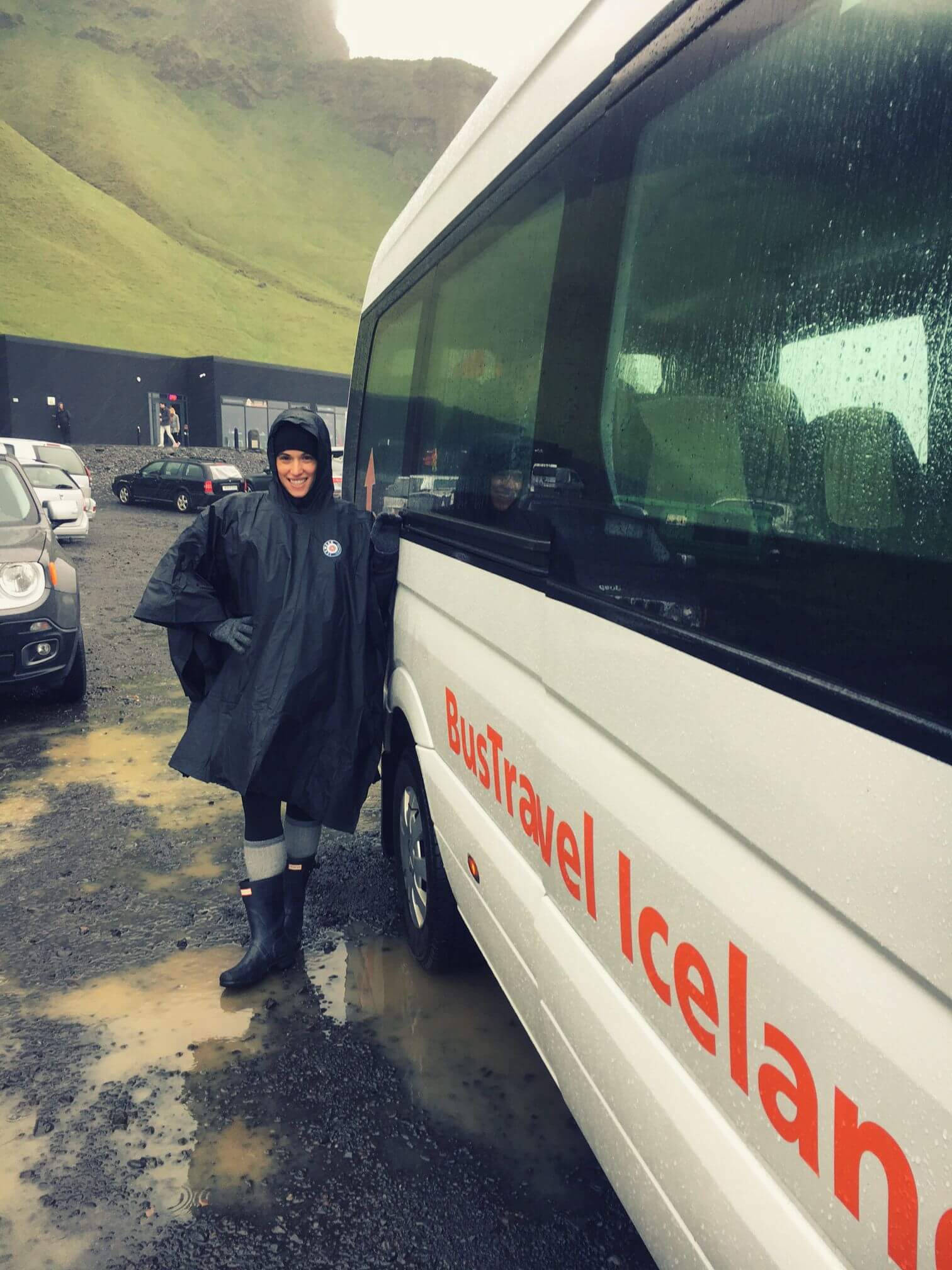 Weather

: 40s, heavy rain off & on
Outfit

: old navy black leggings, base layer Patagonia half zip, Burberry scarf, puffy vest, Arcteryx rain coat, beanie, hiking socks, short hunter boots.
Packed

: gloves, extra socks (used both pairs!)
Should have packed

: waterproof rain pants, another pair of socks.
Had to bu

y: poncho because I was soaked
…even though we packed many layers and backup gear, we both got soaked. I really should have packed water-resistant pants (or ski pants) because once my base layer pants got wet, it was game over. Lesson learned! Read about our day here.
Day 3: Reykjavik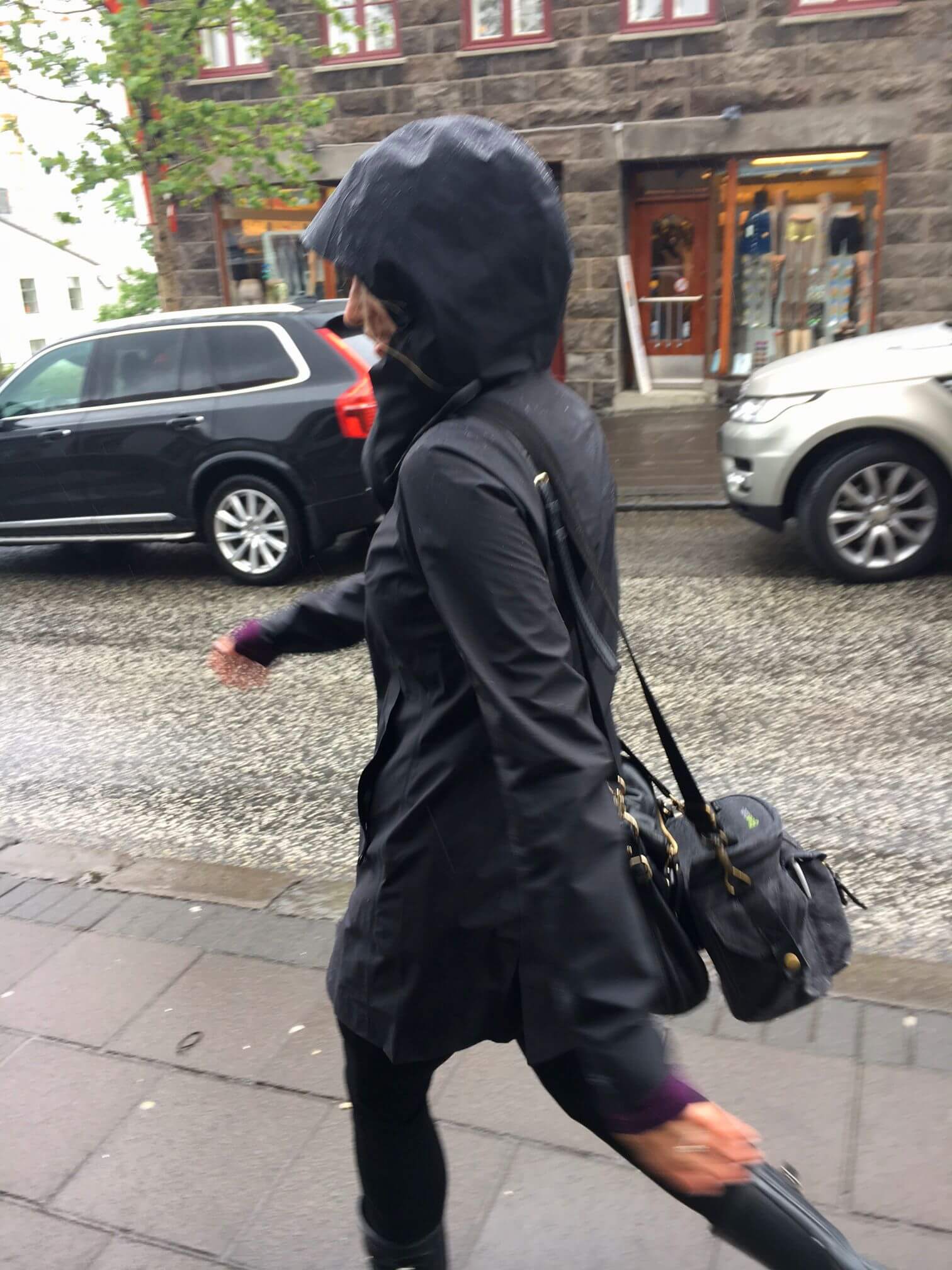 Weather

: 50s, sunny with clouds, no precipitation
Outfit

: black jeans, long sleeved shirt, arcteryx rain jacket, thick-ish socks, short hunter boots, crossbody purse
Packed

: a beanie & scarf in my purse
Had to buy

: nothing
…while walking around Reykjavik the main thing is to have comfy shoes and a raincoat (it can seriously start/stop raining at any moment). Also be sure to bring your camera as the city is very picturesque! Read about our day here.
Bottom Line: you literally need it all. One minute it's raining, the next it's not! As you can see, I pretty much lived in black leggings, long sleeved tops with sweaters layered over, a shell (either wet or dry, depending on the weather) and thick socks with boots. Aside from the hellish rainy day, I was comfy, warm & dry!