One of the best things about moving away from home is that all of your friends and family want to come visit! Over the past (almost) six years, I have had countless visitors come to Boston. I think that between the four places I have lived (one with a roommate, one alone, one with my then-fiancee, and our current place), I have tailored to every single kind of guest there is. I've had parents, siblings, cousins and in-laws staying in nearby hotels. I've had best friends from home sleeping on my sofa. I've had friends and their husbands/wives staying in our small guest bedroom. I've had co-workers in town for week-long conferences. Point being, I have a lot of experience hosting here in Boston. In fact, I feel more comfortable showing people around Boston than my home town of Atlanta!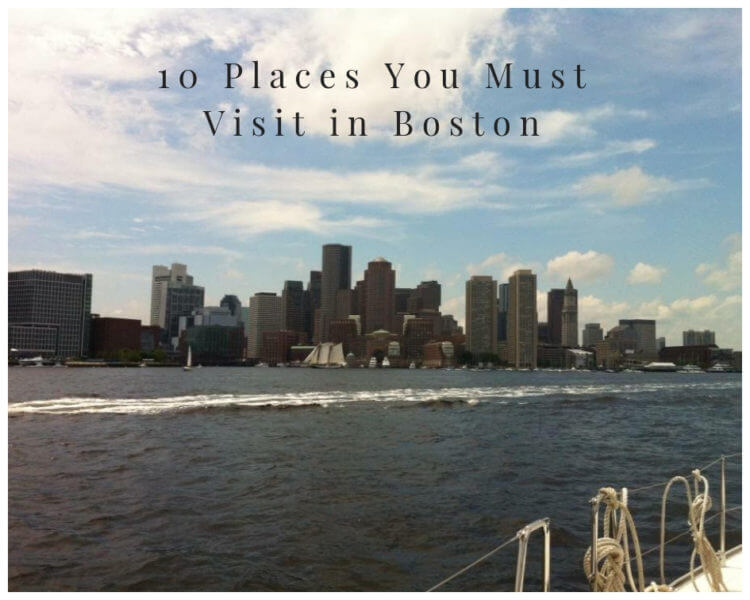 1. Fenway Park: Arguably the most famous spot in Boston, no trip to Bean Town is complete without a visit to Fenway Park. If I have visitors that are coming during baseball season, I always make sure that we time their visit with a home game. Fenway truly does have a nostalgic, unique feel – from the sausage vendors to the Green Monstah to singing "Sweet Caroline", it is an absolute must when visiting Boston. If out of town guests happen to come in off season, I always recommend that they take the $20 Fenway Park tour. Even though it's not technically attending a game, it's still worth doing.
 2. Isabella Stewart Gardner Museum: Now I'll be the first to admit, I am not a huge museum buff. In fact, I often skip them when visiting major cities like London, Paris or Rome; however, the ISG is different. First, it's a small, inexpensive museum to visit so there is no daunting feeling of needing to spend hours and hours there. Second, the entire museum is built around the most beautiful, lush courtyard that I have ever seen. The awe-inspiring colors and plants that are in here are reason enough to visit the museum. Plus, this museum is home to the infamous art heist of 1990 – over $500 million worth of art was stolen and the pieces have never been recovered.
3. The North End: The authentic Italian neighborhood of Boston, the North End is an absolute must-visit when coming to Boston. I always have at least one dinner planned here for my guests. There are countless Italian restaurants with the best pizza, pasta, fish and gelato in town. The streets are small, the smells are divine and the vibe is pretty darn close to that of Italy. With quite a few famous landmarks, such as the Old North Church and Mike's Pastry (for cannolis), the North End is worth going to more than one and spending some time exploring the area.
4. SoWa Market: There are two main parts to the SoWa Market – the year-round, indoor art/antique market and the Summer, outdoor art/crafts/food market. The latter is my favorite, especially to take friends and family to see when they're in town. Every Sunday from May to October, there are hundreds of vendors that attend, including local farm stands, food trucks, jewelry/clothing shops, artists and more. It is a fun Sunday morning tradition and a great way to find new and support favorite local companies.
5. Boston Commons: Similar to Central Park, the Boston Commons and Boston Public Gardens is a 24 acre park that is in the center of Boston Proper. Most of the neighborhoods touch the park and it is walkable from pretty much any home or hotel. The Public Gardens are known for the beautiful bridge, the large pond and the swan boats and is decorated seasonally with the most stunning landscape. The Boston Commons is home to various public concerts, plays and intramural sports teams. The two are divided by only a small street and both are ideal for wandering around, taking pictures and exploring Boston.
6. Regina Pizzeria: There isn't a visitor that comes in town to visit me that isn't taken to Regina's. It happens to be my favorite pizza place in town and considering the line that is always outside, many others agree! This old school pizzeria is a simple menu with 20+ pies, draft beer and an authentic feel. The North End location is the original one and the only one worth going to (in my opinion). The pizza is consistently delicious and the experience always a treat. Plus, you can grab some cannolis at Mike's Pastry for dessert (cash only)!
7. Beacon Hill: This charming, old-school wealthy neighborhood of Boston is wedged between Back Bay, the Charles River and the Boston Commons. The streets of Beacon Hill, specifically Acorn Street, are among the most photographed in the country…and for good reason. With 5 story brownstones meeting cobblestone streets, the area is everything you dream of when you imagine Boston. The area is my favorite during the holiday season as most people decorate their home exteriors to the nines for Halloween, Thanksgiving and Christmas. A visit to Beacon Hill isn't complete without a stroll down Charles Street, which houses some of the city's best boutiques, restaurants, coffee shops and stores.
8. Charles River: The Charles River is a beautiful river that divides Cambridge (where Harvard and MIT are) from Boston and is connected by quite a few historic, intricate bridges. In Summer, there are always people kayaking and sailing on the river, while year-round there are people walking, running and biking along the various river-front paths. The river is incredibly picturesque and typically has events or concerts going on along the bank. This is an iconic piece of Boston and worth going to see, in one way or another!
9. Harvard Square: Just a hop, skip and jump across the Charles River is beautiful Harvard Square. Obviously Harvard is famous because…well, it's Harvard! The campus is absolutely beautiful, with historical buildings, large trees and sprawling green lawns. It's always nice to walk around the campus and explore the different areas. In Harvard Square, there are various clothing/home stores, great bars and outstanding restaurants. It is the perfect place to spend a nice afternoon.
10. Duck Boat Tour: Call me a mega-cheese tourist, but I just love the duck boat tours! They are not only fun for all ages, but they are historically informative and interesting. I remember going on a duck boat tour my first month in Boston and it really helped me have a better understanding for the layout of the city as well as get my bearings for each neighborhood. For anyone who has never visited Boston, I think this is worth doing!