As you all know by now, I absolutely love to travel. Always have, (hopefully) always will. Luckily, I have never had any sort of motion sickness or fear of flying either as this sort of goes along with the territory. Given that I fly at least 20+ times per year – and majority are short(er) flights under 5 hours – I have totally perfected how to have a wonderful experience on a domestic flight.
Long-haul flights, however, are a different animal. There is so much strategy and preparedness that goes into the flight – from selecting flight times to picking airplane models (yup, it's a thing) to choosing your seat – there is a lot that goes into it. When I am going to be flying 8-15 hours in an airplane, you can guaran-damn-tee that I will do everything in my power to make sure that my experience is as flawless and enjoyable as humanly possible. Now, in a perfect world I would fly business or first…but since I am not loaded with millions of dollars or millions of points, I typically sit in economy with the rest of the normal folks.
In the last 10 years I have flown round trip to Asia once, Africa once, South America 2 times and Europe at least 15 times. Though I have learned many things the hard way, I have only had one or two really poor experiences. Over the years I have done endless amounts of research (both first and second hand). At this point, I feel very confident in my traveling skills and sharing my top 10 tips for surviving a long haul with you. Though to be honest, tip #1 should be, save up all of your points and splurge on first class lay-flat beds. They're worth every single cent!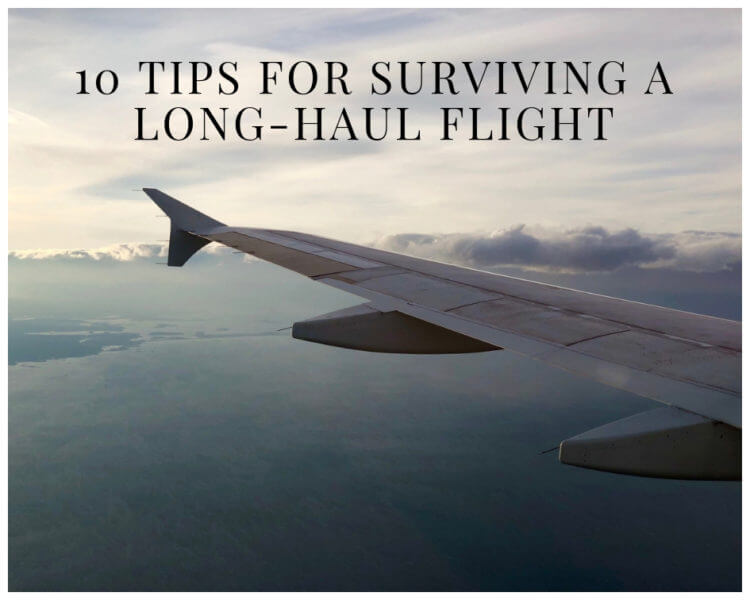 1. Be Strategic When Booking
So, I totally understand that this takes both a lot of strategy and patience, but I think it absolutely pays off. First, can you use points? Check resources like The Points Guy and One Mile at a Time to learn about redemption strategies. Second, be strategic with your time. Do you want a red-eye? Would you rather have shorter or longer layovers? What works best for you? All things to consider prior to actually booking your long-haul flight.
2. Mind Your Pre-Flight Health
I always start preparing 48 hours ahead of time for any big flight. This means increasing my water intake (hydration is absolutely key for any flight), avoiding any dairy or greasy food that could upset my stomach and minimizing heavy weight-lifting sessions pre-flight (<– I made this mistake once and was so sore the entire flight, it was a nightmare!). You know your body so be sure to keep within your everyday routine and don't do anything too out of the norm. I like to bring Liquid IV (for hydration) and probiotics (for digestion) on every flight just to have as a back up. I swear by both of these!
3. Check Your Bag
Now, I am typically the queen of carry on – I can go at least one week in Atlanta with 1 carry on and can fit an insane amount of clothes into my trusty spinner bag. However, and trust me on this, you're not a hero for packing carry on for this flight. Minimize the stress of lugging around heavy suitcases all throughout the airport and check that sucker right away. Not to mention, can you even imagine the horror of being stuck with a huge piece of luggage if you have a long layover or super close connection? No thanks!
Travel Tip: Make sure to pack all of your medicine in your carry-on piece!
4. Edit Down Your Carry-On
Speaking of…while I definitely recommend that you check your main piece(s) of luggage, we all need to have some form of a carry-on. If I am going away for under 1 week, I can typically just use a backpack or my Longchamp; however, if this is a multi-city or 10+ day trip, I'll usually pack my small spinner and my shoulder bag. I sort of work backwards here when packing. First, I pack my in-flight essentials in my shoulder bag, including my wallet, computer, ipad, water bottle, book, mini toiletries and eye mask. Then in my small carry-on, I pack extra snacks, books, medication, heavier small items (to help keep the weight down for the checked piece) and any jewelry or more expensive items. Anything that is packed in your checked bag should be something that you could survive forever without / that is replaceable, in case of lost luggage.
5. Over-Pack Entertainment
I cannot even tell you how many times I have been on a plane where the WiFi didn't work or my movie screen was broken or the entire entertainment system was down. In this day and age, it's very easy to pack an excess of in-flight entertainment for ourselves without taking up too much space. Examples include downloading movies on your iPad, pre-purchasing e-books, various podcasts, crossword books and physical magazines. Don't forget to pack a pen, both earbud connectors and your charger. Better safe than sorry!
6. Dress Appropriately
Being comfortable is probably one of the most important things that you can do for yourself to have a positive long-haul flight experience. That said, I am also a firm believer of looking presentable at an airport. You will never, ever find me wearing sweatpants and a t-shirt on a flight. Nope, never. If it's summer, I typically fly in my go-to black maxi (seriously it feels like a mumu) and if it's winter, I'll wear my black Zella leggings, a cute tee and an open sweater. No matter the season, I always bring a warm pair of socks, a scarf and an extra long sleeved shirt.
Traveler Tip: If you have a long-haul overnight flight, wear your "arrival" outfit to the airport and change into comfy, sleep-able clothes once on the plane. That way, you will not only be comfortable while on the flight, but you can change upon arrival into fresh, new clothes.
7. Have your electronics fully charged
Don't make an amateur mistake – come with your electronics charge and chargers! Better yet, check ahead of time to see if your flight has WiFi, a USB outlet and/or a power outlet. This will eliminate any surprises and help you best plan ahead.
8. Strategize Your Layover
On short flights, I will always pay more to have a nonstop flight; however, on a real long flight (like to Africa or Asia), having a layover allows you to get off of the plane, stretch your legs and feel human again. I recommend either having a short layover (2 hours max) or a long layover (10+ hours) so that you can either get a bite and get back on the plane or have enough time to leave the airport and explore the city. Some of my favorite cities, like Munich and Zurich, were visited during planned long-layovers.
Travel Tip: Check your credit card to see if you are granted complimentary access to a lounge (ex. priority pass or AmEx Centurion). If so, check to see if they have showers (a God send on a long layover). If not, check the price to determine if access is worth buying. 
9. Pack Your Own Snacks
I seriously can't say this enough times. When you are on a flight for 8+ hours, you need to be realistic with how much food and drink you will need. Sure, most airplanes serve meals, but we all know these are mediocre at best. It seriously blows my mind when I fly with people who are ill prepared in this category. I always assume the more, the better. I typically pack PB&J sandwiches, apples, nuts, protein bars and some snack food (boredom = hunger). Remember, you can always eat the leftovers during your vacation (money saver) or use them for the return flight home.
10. Know Your Airplane
With technology these days, we can minimize the amount of surprises when flying. I like to use SeatGuru to read plane reviews, learn about layouts and identify which seats are the best. You can also look ahead of time on the company's website to know various things, such as if there is WiFi, what meals will be served, what movies will be shown and which seats are taken. Knowledge is power, people!
Bottom line is this – be prepared, in every which way possible. Flying can be a hectic, stressful experience but it doesn't have to be! The more I fly and the more I feel prepared, the more enjoyable the experience. I think that you will find this to be even truer on a long flight. Trust me!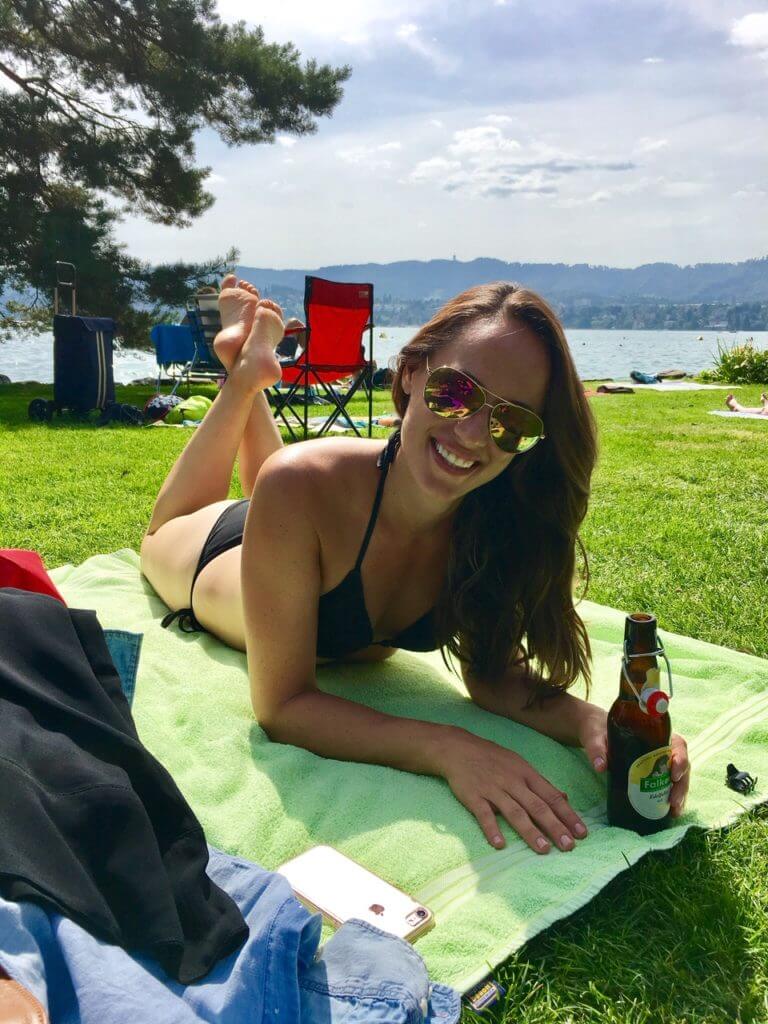 Fresh off an 8-hour flight to Zurich AND on a 12 hour layover. We prepared ahead and found this awesome lake-front pay-per-day resort, equipped with showers and lockers.