London was a quick, but action packed filled week for me in mid April. I shared my travel guide for food + drink, my neighborhood guide and my hotel reviews. Now I'm wrapping up the trip ith my "10 Things to Know Before You Go", which is a fun series that I started with my trips to Iceland and Cape Town. These travel tips have been so well received that I plan on continuing each place I visit with this type of post. I hope you find this useful for your travel planning.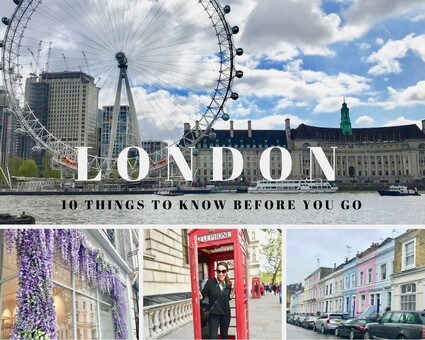 The city is very spread out. It's walkable, but only to a certain degree. Your best bet is to plan out your days per neighborhood so you aren't losing time trying to figure out logistics.
2. The famous tube is so easy! I asked a station worker and he helped guide me in the right direction. Everything is clearly labeled and within 15 minutes, I had changed lines once, taken two trains & arrived at my destination in about half of the time that it would have taken for an Uber (and at a fraction of the price).
3. The weather is fickle. One minute it's sunny and warm, the next it's drizzling and overcast. Don't even think about going to London without packing a jacket and small umbrella – mine fit in my purse and I used it for at least 10 minutes every day.
4. Like most of Europe, the standard tip is 10-15% so don't feel like el cheapo if you're not shelling out 20% like we do over here. You won't be causing any faux pas by tipping less than you're used to.
5. Also like most of Europe, everyone smoke. And I mean everyone. It is pretty gross and you're going to have to walk around the town dodging some smoke clouds, so may as well be prepared!
6. Remember now that London (all of the UK) is on the Great Britain Pound, not the Euro. Silly me – I totally forgot this and didn't have any GBP to pay my car service tip in. Lucky for me, the tipping rate is 15% and I had some US currency that he was pleased to take (be sure to take into consideration the exchange rate if paying someone in cash). About 99% of places take credit card so it's not an issue, just something to note!
7. Bring your walking shoes! I mentioned above that London is not a major "walking city" because there is so much easy public transportation – however, I averaged about 12,000 steps per day. This would have been at least 25% higher if the skies were clear all day long. You'll notice that most women actually wear a nice dress / pants + top with a stylish pair of comfy shoes. You won't stick out like a tourist, I promise!
8. Ok, this may just be a general travel tip but consider your phone options. I use my google maps and my tube app A LOT in London. In fact, I cannot even imagine how I would have gotten around without these two apps. Most cell phone plans offer $10/day or a flat monthly rate for data and texting. These days, it's critical to stay connected while traveling. London proved to be no different.
9. The culinary will surprise you…in the best way. London gets a bad rap for their breakfast of beans and dinner of only fish and chips. While we found traditional fares available, we were blown away by the ethnic choices – Italian, Mexican, Asian, Indian…London has it all. And it is good.
10. Perhaps the most critical thing to know before you go: look both ways before crossing the street! In fact, if you just look down before crossing, there are painted signs telling you "look right", "look left", or "look both ways"- it's really confusing & scary.
So there you have it, my 10 tips for London. All in all, it is an easy trip across the pond (especially for us East Coasters) and a thriving, diverse city worth visiting. There are endless options for museums, sites, restaurants and shops to keep you busy. The only question is – when are you going?!