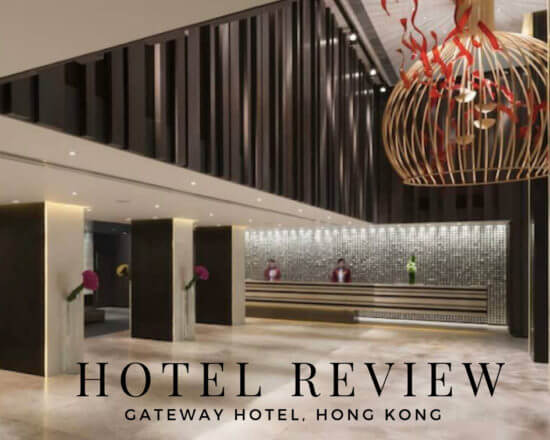 how stunning is this lobby? that chandelier has won design awards!
Hong Kong is a fascinating and huge city to visit. We only had about 24 hours in the city (thanks to a few flight delays) but made the most of it. To be honest, there was a lot on my list that we did not have time to see which was a bit disappointing. Luckily, we stayed in the best location in a beautiful luxury hotel, which allowed us to feel well rested and ready to take on the day. My only regret is that we did not have more time to explore all that the The Gateway Hotel, and Hong Kong, have to offer. Hopefully we will be back in the near future to experience more of this cultural, diverse and vibrant city!
Location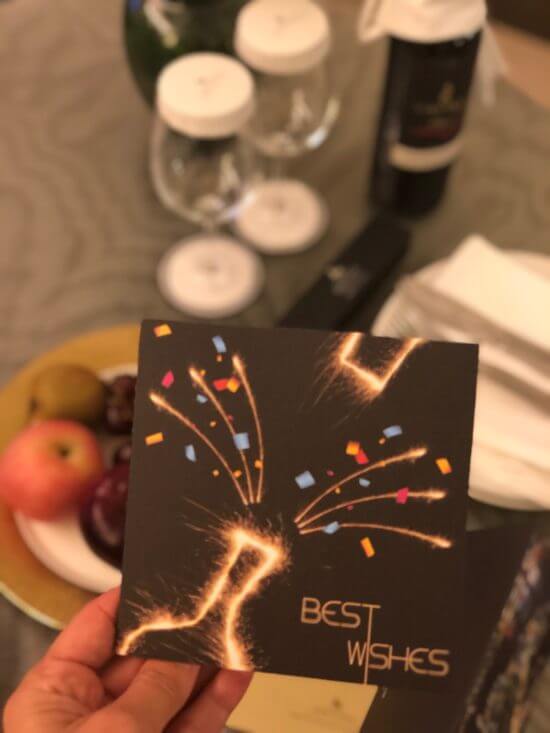 the sweet welcome gift waiting for us in our room
The Gateway Hotel is in the ideal location for those of you looking to explore Hong Kong for the first time or looking to maximize a short amount of time in the city. It's on the Kowloon Island side of Hong Kong, which means you get skyline view of Hong Kong from across the Victoria Harbor. The hotel is within close proximity to various sites, such as the Star Ferry, Temple St. Night Market, Kowloon Park and Ozone Bar to name a few. The neighborhood, called Tsim Sha Tsui, is home to many of the popular bars, restaurants, shopping areas and stores. We felt safe and comfortable walking around at all times. For extra convenience (especially during monsoon season), the hotel is connected to Harbour City, Hong Kong's largest shopping complex, which makes maneuvering around the city easy without being exposed to the outside elements.
Accommodations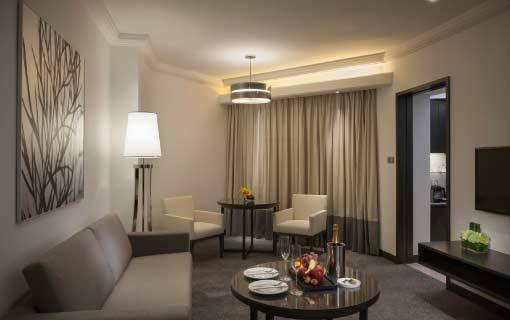 The hotel itself is beautiful with a sleek, posh feel. Our room was super spacious with lush, rich textiles and felt like an upscale New York condo. It was designed with a lot of mirrors, black lacquer and deep purple color. We lucked out with a corner room so we had two walls of windows. Though the room was bright during the day, we had no light or noise distractions at night.
We were upgraded to a room on the Continental Club level which I would recommend anyone upgrade to when staying here. Why you ask? This is more than just your standard club-level lounge. They offered a huge, diverse breakfast spread with everything from authentic Chinese options (noodles, sushi, dumplings, etc) to European style options (croissants, fruit, meat). There were also made-to-order breakfast entrees at no additional charge. Additionally, the Continental Club offered beverages and snacks throughout the day, including fruit and sandwiches to go (so convenient when traveling), evening cocktails and butler service. This really was next level.
There is also a signature restaurant, Three on Canton, which serves to both hotel guests and outside patrons. They have an al fresco dining area which was quite lovely. We only had drinks here but I must say – their wine and spirits list is quite impressive.
Overall Experience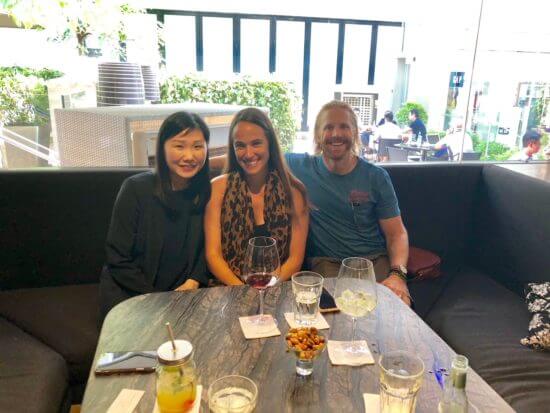 with our gracious, sweet, informative host (and Sr. Communications Officer) Kacey
The Gateway Hotel really thinks of every last detail to make their guests feel comfortable and welcome. Traveling to a foreign country can be stressful, but having a comfortable bed, a stocked (free) minibar, a restaurant on site and high-end Western amenities like a fitness center / pool / free WiFi / 24-hour room service made all of the difference. One thing that I have never seen before was the complimentary local smart phone, via Handy, that was given to each room. This cell phone was free to make calls, use the internet, book excursions and search for sites. We found this to be such a genius, practical idea – one that I hope to see more often in hotels abroad.
Our hosts were so kind and accommodating, even though we arrived hours later than planned due to flight delays. We had fresh flowers, a fruit basket and wine waiting for us upon arrival – such a lovely and thoughtful touch after a long day of travel. We took advantage of the 24-hour room service and had a light dinner before crashing on a very comfortable king bed for the night.
Overall, we greatly enjoyed the Gateway Hotel and cannot recommend this enough. In fact, if we return to Hong Kong (which we hope to do at some point), I would not even think twice about booking here again – and I'd make sure to stay on the Club level as well!
Thank you to the Gateway Hotel for sponsoring this post. Though our stay was complimentary, thoughts and opinions are my own.