Now I know that saying "big trip" means different things to many people. For one it may mean a week at the beach, while for another it may mean a month backpacking around Europe. To me, a "big trip" is anything out of the ordinary. Out of my comfort zone. Out of my standard realm of planning. This means taking a trip to somewhere for one week or more and likely to a new-to-me destination, or to somewhere I haven't been in quite a while. It also means planning a trip with many moving parts.
Some recent trips that come to mind are our two week honeymoon in South Africa, 10 days in Paris, Amsterdam & Switzerland, my two week vacation to Italy & Greece, my 10-day vacation to Sicily + Venice or our 14-day friend trip to Chile. All of these destinations required purchasing advanced tickets, planning out logistics, arranging various hotel accommodations, organizing excursions and adapting to local culture / language / currency. Like I said, it's a lot!
Given that I have done the vast majority of the planning in these vacations (like 99%), I feel like I have a good understanding of what it takes to successfully plan a big trip. I also have learned from a lot of mistakes along the way and today I am going to share these with you.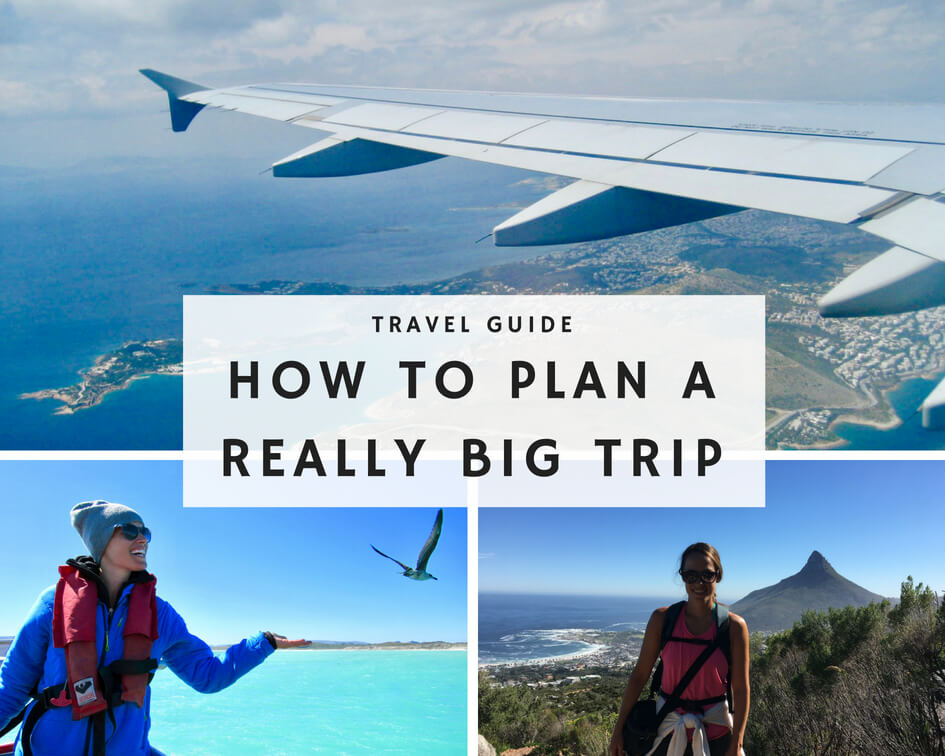 1. Do Your Research
Good research is the key to any big trip. This means reading travel blogs, reputable travel sites and travel magazines. I also like to search Pinterest, Trip Advisor and ask around on my social media channels. I like to learn about the local safety, the hotels, the food, the people, how to get around, what time of year is best to go, how many days we need, etc. Will I need to use cash or my credit card? Do I need a universal charger? Will I have access to internet? There really are so many questions that you may not even think of until you begin researching.
It's also important to find out what vaccines or visas you may need, and make sure that you have all of your document ducks in a row before you go. I recommend making copies of all passports and keeping the local US consulate's information on hand as well, in case of emergency. Of course, I always make sure at least 1-2 people back home have my full itinerary in case I need to be contacted.
The bottom line here is: the more information, the better. I typically have a running google doc that I add things to, so whenever I hear about a great restaurant or read about a fun excursion, I add it to the list. This initial phase of "research" truly lasts until the trip is over.
Travel Tip: if you're going abroad for 7+ days or going to a foreign country, I highly encourage you to get travel insurance. We typically use World Nomads as they have stellar reviews. Spending $150 on an insurance plan that could protect a trip costing 10x that should something go wrong is a no brainer.
2. Stick to Your Budget
Budgeting can be tough; however, it is necessary to both have a realistic budget and to stick with it. During the initial research phase I try to get an idea for what everything costs. In South Africa, for example, I knew that while the international flights and the safari itself were very expensive, everything else would be drastically less expensive than the US. Since the currency was $13-$1 when we were there, we felt confident that our 5 nights in Cape Town and our 2 in wine country would be where we could "save" on this trip. We had a budget range that we felt comfortable with and I'm pleased to share that we ended up on the lower side.
I typically start researching at least 6-8 months out so that I can be strategic with my spending during the follow months leading up to the trip. I've mentioned it before, but I'm big on using points where it makes sense, and to me it's usually on the most expensive piece of the trip. Example: in Europe, the hotels are the priciest piece, while in Asia the flight is the priciest. This allows me to use points where possible and to save a huge chunk of the budget.
3. Logistics are Key
This holds true for every vacation but especially one in a foreign country where you're wanting to move around a lot. If you're just planning on spending 1 week at the same beach in Italy then you probably don't need to know much. However, if you're spending two weeks in Italy and visiting 7 different cities, you'll need to know the best route, the best method of transportation & more. Knowing logistics not only plays into cost, but also time and sanity! For me, I would rather pay $100 and fly somewhere in 1 hour versus paying $50 and taking a 7 hour car ride. Your preferred method of transportation / list of travel priorities may be different than mine, however, so it's important to discuss this with your travel partner(s). Logistics can be one of the main causes of frustration while on a big trip abroad, so it is important to prepare best we can.
Traveler Tip: In many foreign countries, trains are an easy, efficient way to get around. Don't be scared away from public transportation just because you don't speak the local language.
4. Get Familiar with Local Culture
This is huge for so many reasons! I mean, who wants to walk into a place where they feel uneasy or uneducated in the local culture? You want to be prepared so that you can best adapt to your surroundings. Some areas of culture that I like to make sure I am aware of are language, currency (and exchange rate), basic etiquette (i.e. in many countries you'll need to travel with a scarf to cover your shoulders in a church), local demographic (ethnicity, socioeconomic class, etc), climate / topography and overall "vibe" of the area. One of the absolute best parts about traveling to new places is getting acclimated with the local culture so we can feel more like a local than a tourist. This starts with knowing what this destination is all about.
Traveler Tip: engage with the locals. We have learned so much about everything from politics to favorite restaurants from speaking with our tour guides or uber drivers.
5. Know Your Audience
And by audience I mean know who you are traveling with. A trip for college spring breakers is going to have a much different itinerary than a couple on their honeymoon or a family with adult children. Is the group your traveling with adventurers or wine-lovers or foodies or bookworms? Would they prefer an outdoor excursion to a day at the spa? Do they want a five-star resort or a local b&b? Are they perfectly content reading by the pool or do they need constant stimulation? These are all things that you must consider when planning a large trip.
When there is a lot of time, money and energy spent both planning and attending the vacation, you want to make sure everyone is having the best possible time. This will help you plan which accommodations to stay in, what excursions to sign up for and the overall vibe that you should aim for.
6. Know that you can't control everything
Weather happens. People get sick. You can't plan everything. All you can do is be prepared, but go with the flow if something doesn't go as planned. After all, sometimes the best memories come from random, unexpected experiences that happen while on vacation.
Prime example: we have been planning our trip to Bali for 6+ months now and we were beyond excited to finally visit the Gili Islands. Well, it appears that Mother Nature had different plans for us. One week ago the Gili's and Lombok experienced a devastating 7.0 earthquake which wreaked havoc on their islands. Of course, we were incredibly sad to know that this part of our trip was no longer happening. More importantly, we were saddened for the locals who lost everything in this event. We can always find a different island to visit…and we did! It's important to take a step back and look at the bigger picture in instances like this.
Be sure to read my other travel tips:
7 Tips for Staying Well Rested While Traveling
10 Tips for Flying International