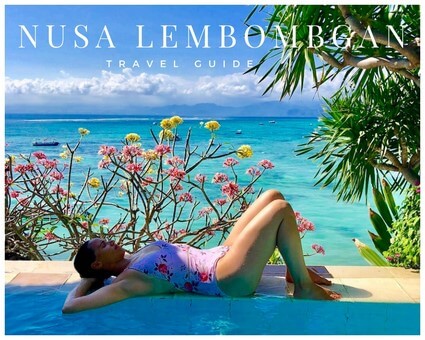 Oh my gosh y'all…this place is F-A-B-U-L-O-U-S! If you are ever in Bali and want to experience a relaxing, beautiful, tropical paradise…Nusa Lembongan is for you. This island was the best surprise of our whole trip. From the moment we stepped off of the boat onto the island, we automatically felt zen and in awe. As in all of Bali, the people are what made this island even more special. The kindness and hospitality that we experienced was unlike any other island that I have ever been to. We spent three days / two nights here but easily could have spend a few more – there was surprisingly a lot to do on Nusa Lembongan and the other two nearby Nusa islands. We had three action packed days and still feel like we could have enjoyed more time here.
It is important to know how to get to the island. There are quite a few different ferry companies that leave from Sanur (each offer about 4 trips per day) and we used Rocky Fast Cruise, which I definitely recommend. I liked them because not only did they have high safety ratings, but they set us up in a driver who picked us up from our hotel in Uluwatu and drove us to Sanur. He then stayed with us and helped us pick up our tickets, drop our luggage and find the boat. It's a pretty chaotic scene so having someone lead us who knew exactly where to go was very helpful. For reference, it's around $35/per person round trip and the boats hold roughly 75 people. You will want to bring your own water and snacks and wear a bathing suit or shorts as you'll be wading in the water to/from the boat and will definitely get wet.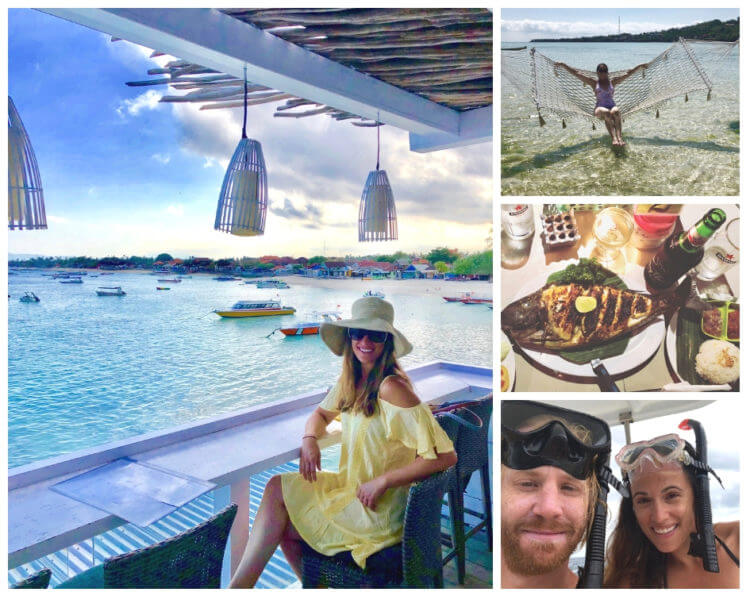 Where To Stay
+ The Villas on Lembongan: We stayed in Villa Damai which we found to be wonderful. It is less than a five minute walk from the beach where the boat dropped us off and was walkable to countless restaurants. The villa itself was beautiful – it had a bedroom, living space, kitchen, bathroom and outdoor space with a private plunge pool, cabana and loungers. The entire wall was folding doors so we left them open for a total indoor-outdoor feel. We were elevated and overlooked the ocean so our view was incredible. Perhaps the best part of the villa was the two staff that it came with. Our guys, Endra and Kecho, were by our side from the moment we arrived. They unloaded our luggage from the boat, showed us around the villa, provided us with a local cell phone, cleaned the villa daily and arranged various excursions and reservations for us. Safe to say we miss them!
+ Bay Shore Huts: Located on Tamarind Beach, this is a two-minute walk from the beach and is basically a grouping of high end huts with a huge pool in the middle. It's set on one of the best swimming beaches in the area. We didn't stay here but it was high on our list and we have heard great reviews.
+ Lembongan Beach Club: If you want a nice room with resort style amenities (like a restaurant and water sport rental company on site), then this is the spot for you. We almost stayed here also but it was all booked. The beach club is located off of the same road as a lot of popular restaurants so its walkable to a lot of places.
Traveler Tip: My biggest recommendation with accommodations in Nusa Lembongan is to find the area of the island that you want to stay in. There area three main parts – Jungut Batu Beach, Mushroom Bay & Sandy Beach. Each area has its perks and its own set of restaurants and bars. We walked most places so it's worth staying close to the beach you want to be in.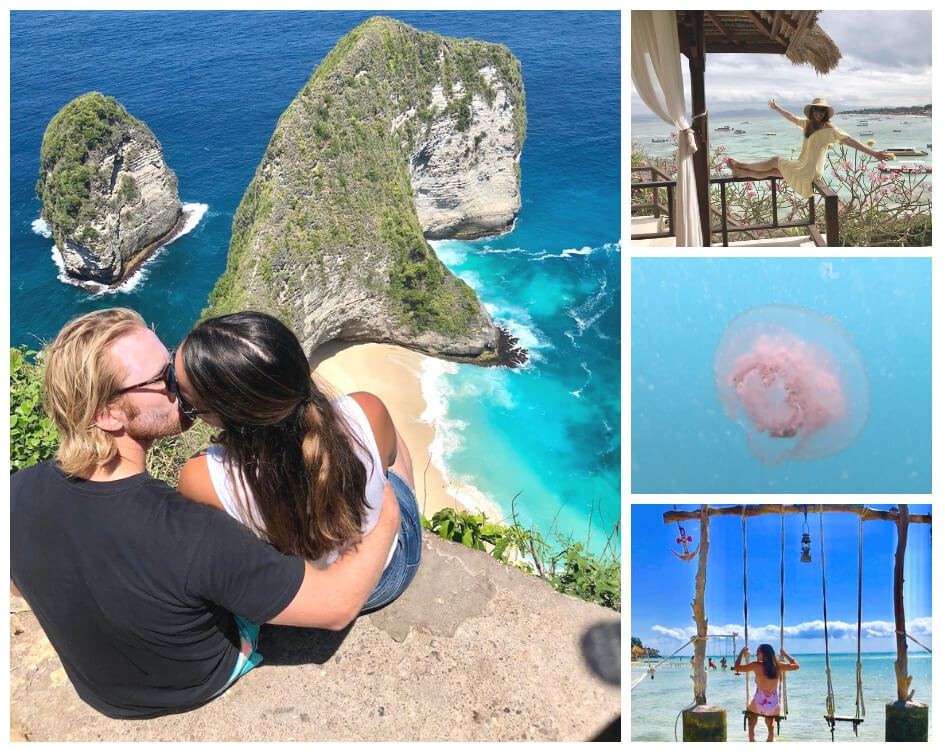 What To Do
+ Rent a boat: In Bali, they have traditional boats known as "jukung", which are basically looks like a canoe with two outriggers and one sail. They're primarily used for fishing and surfing / scuba diving transfers. We found a local (shout out to Pinky) who took us to a few of the popular nearby surf breaks. We spent about two hours on the boat – Terry would surf and I would sunbathe. It was a very fun, inexpensive way to see the island Cost = 200K IDR (~$15).
+ Day trip to Nusa Penida: This was definitely the most touristy thing we did in all of Bali, but looking back I think it was worth it. NP is a huge island and there is just no easy way to get around.  You have to take a scooter from Nusa Lembongan over the Nusa Cennigan Bridge, then a boat over from Cennigan to Penida then a car once on Penida. The car ride was slow and bumpy (like, insanely bumpy) and took a long time but it is the only way to see the awesome natural wonders, like Angels Billabong (the natural tide pool where waves come in), Broken Beach (a beach under the stone bridge), Kelingking (the Trex looking peninsula) and their Blue Lagoon. Cost = 1.2M IDR (~$80).
+ Scooter over to Nusa Cennigan: Instead of renting scooters, we opted to hop on the back of locals and rent scooters as the rider. You'll scooter over the famous yellow bridge to Nusa Cennigan. The beaches here are the made up of the whitest sand and most crystal clear water that I have ever seen in my life! There are various beach clubs with pools, beach access, swings and hammocks in the water. We only spent a few hours here but could have easily spent the entire day. It's a must see!
+ Get a massage: Like in all of Bali, the massages are dirt cheap. This lovely woman came to my villa and gave me an hour massage under the cabana by our pool. It was pretty much the most relaxed I was the entire trip. Total = 150K IDR ($10).
+ Swim with the manta rays: Let me start by saying this is not your average snorkeling excursion! The first stop is in a rough, choppy area of the ocean, near the cliffs and it's pretty chaotic. Here you are in search of manta rays. Our excursion came with a boat captain and an in-water guide. He basically gave us fins and a snorkel, threw us in the water and led us to the manta rays. These were absolutely unbelievable and huge – they range from 18-23 feet wide and can reach up to 3,000 pounds. We were shocked how close they get to humans. The water is clear but was churned up from all of the boats, so we would see a shadow and then all of the sudden a huge manta ray would appear directly underneath us. It was scary and exciting at the same time, but a must do!
+ Snorkel in Crystal Bay: A more traditional type of snorkeling event, Crystal Bay is known for being, you guessed it, crystal clear. The bay is thriving with coral, fish, turtles and all sorts of marine life. The reef was just spectacular – the colors, the texture, the wildlife. It's pretty shallow so you can get really close to see everything in great detail. We stayed here for at least an hour, filming on our Go Pro.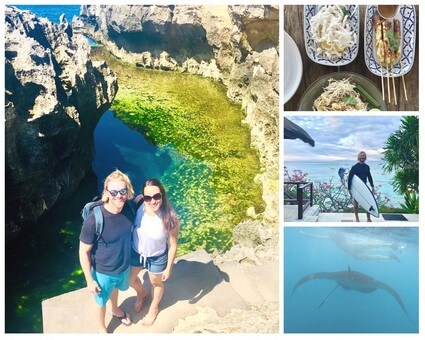 Where To Eat + Drink
+ Warung Bambu: This is the place for freshly grilled seafood. It's on the water, there is sand on the floors and they've got Bob Marley music playing. The menu is whatever fish was freshly caught that day and its served grilled (whole) with rice and vegetables. We shared an entire jackelfish with sides and a couple of Bin Tangs. Total = 473K IDR (~$32).
+ Thai Pantry: A huge deck on the water with amazing views. We shared tofu Pad Thai, vegetarian spring rolls and chicken satay. It was delicious though small servings so good for a light meal. Total = 400K IDR (~$26).
+ Bali Eco Deli: Came recommended as a small & cozy café located near Jungut Batu Beach. Known for its healthy breakfast and lunch options.
+ Ginger & Jamu: Another healthy, vegetarian cafe that we heard rave reviews about. This is located right on the beach.
+ The Deck: Known for the best views in town, this restaurant is literally on top of the water. You can see Playground surf break and the boats arriving. We had breakfast here once (still dreaming of the avocado toast) and happy hour drinks another time. Highly recommend!
+ Lemongrass: This can be hard to get into, but is consistently voted one of the best restaurants on the island. We showed up and waited at the bar – it was only about 30 minutes until we got a table. It's Indonesian style and pretty darn good.  Total = 420K IDR (~$28)
+ Hai Bar: Located in Mushroom Bay; we didn't make it but came recommended.
Traveler Tip: All restaurants have free pickup and return because there is little public transportation on the island. They all drive a flatbed truck with flat-bench seats added to the bed. It's open air and easy – we did this for almost every place we dined!
Overall, I cannot recommend Nusa Lembongan enough. This island has everything you could possibly need on a vacation – adventurous excursions, luxurious accommodations, stunning views, stellar service, beautiful beaches and delicious culinary. Enjoy your trip!