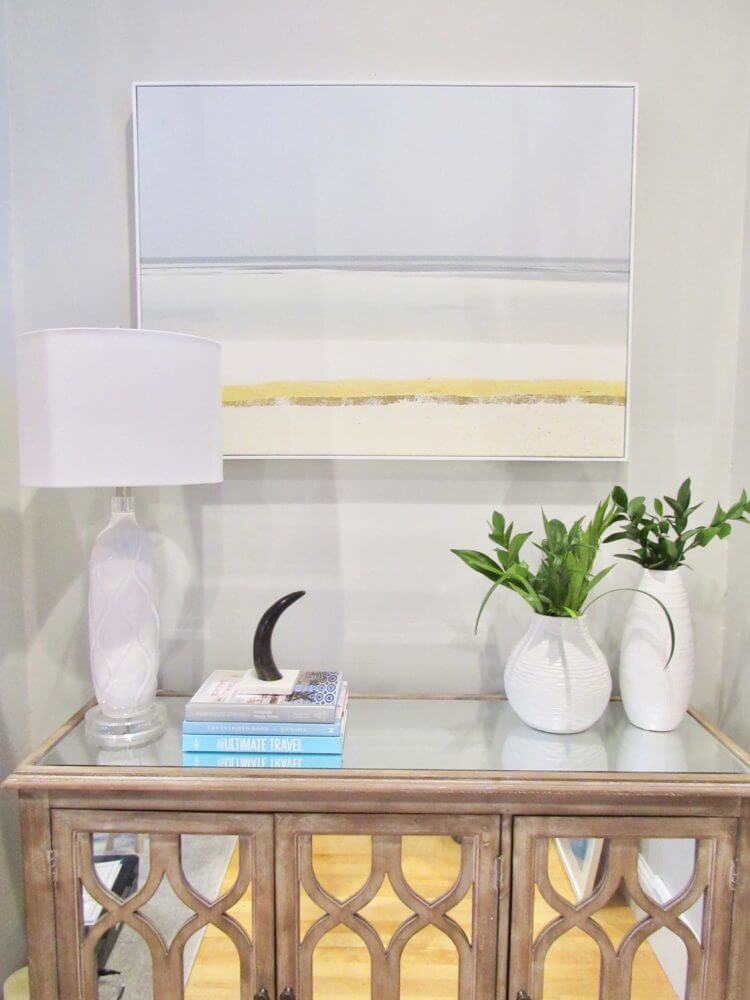 our cabinet plays triple duty as a wine storage cabinet / decorative vignette / buffet for entertaining
Maybe you live in Boston or New York or another big city with small spaces and sky high prices. Or maybe you just want to minimize your monthly rent cost. There are plenty of reason why you could be looking into a studio apartment. While studio style living certainly has its challenges (mainly space), there are plenty of advantages such as an open floorplan, a lower rent and utilities cost and a cozier feel. A few months ago I was helping some friends here who were having major challenges figure out how to layout the furniture in their studio and how to make the room feel as large as possible. I'm going to share with you what I shared with them – 5 "rules" to live by when furnishing your studio apartment and two layout options:
1. Make a layout plan: I believe that this is key in any new room but it is critical in a space-sensitive space where every inch counts. You'll see two layout options below that both follow all of these rules. The key to creating a layout for your studio is to create various rooms within your room (ex. dining, sleeping, living) in order to make it feel larger. Another key is to make sure and buy furniture to scale. An oversized sectional that takes up half of the room probably isn't the best idea. Be thoughtful with your choices!
2. Go vertical: A design trick in any small space, but especially in a studio apartment. You want to use the vertical space to your advantage – this means tall shelving, designing "up", hanging plants from the ceiling (in the corner by a window – how cute!), creating tall gallery walls or floating shelves that go vertical instead of wide. When you're designing for a small space, height is your friend!
3. Pick multipurpose furniture: Finding items and pieces that work as double duty is critical to keeping clutter to a minimal and functionality to a maximum. For example, you could use this as a coffee table and a dining table or you could use this as additional storage and a room divider. There are so many creative ways to find pieces that work in multiple ways – I like to search Pinterest and DIY blogs for ideas on this!
4. Be wise with lights & mirrors: Whether you have ample natural light or not, lighting and mirrors are your friend. If you do have large windows to the outside, be sure to hang mirrors on opposing walls so that the light bounces off of it to give your home more light. Also, these mirrors will give the appearance of a larger space. Lighting can be a bit trickier – a tip I like to offer is to use overhead lighting and wall sconces when possible. Not only will this make the home feel a bit more custom, but it will free up surface area (something you'll want to savor where you can). Overhead arc lamps are a great way to define a living space in a studio without having to hire an electrician.
5. Keep it light: Dark furniture, heavy fabrics and deep hued walls are just not going to be your friend when decorating a studio apartment. That's not to say that you can't have a dark accent wall or rich, heavy drapes or pillows…but for the most part, you want to keep the color scheme neutral and similar to create a lighter, more fluid feel.
Here are two layouts that I designed for our friends here: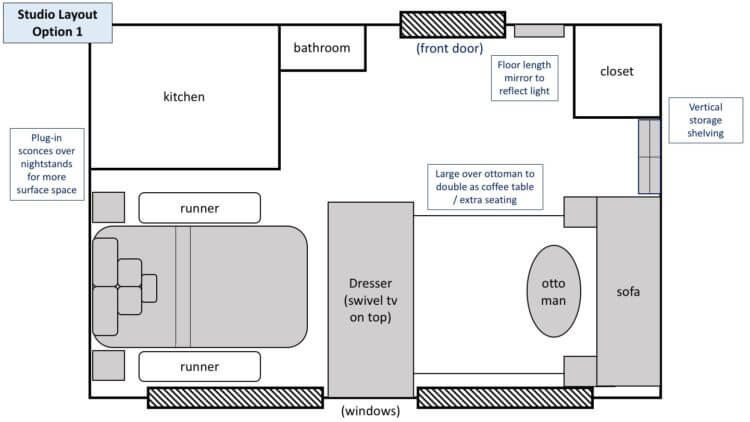 OR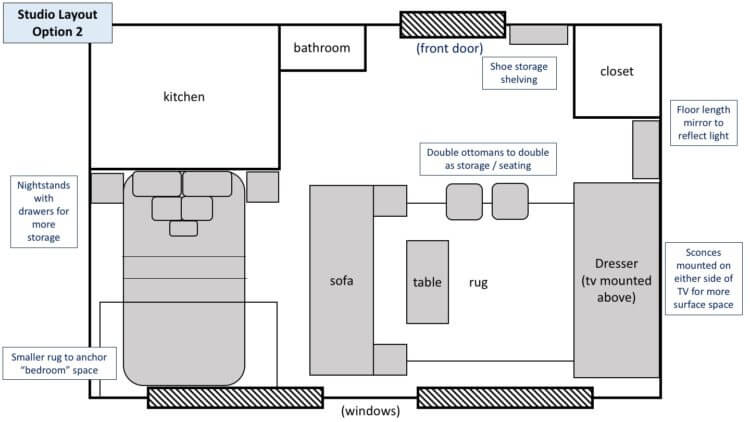 As you can see, both layout options have a clearly defined "bedroom" and "living room". They use the same key layout features, such as rugs to anchor the space, wall sconces, mirrors, double duty furniture pieces, but offer two different feels. You could even start with one and switch things up when you get bored and need a change (anyone else do that periodically?). Here are 3 studio apartments in real-life that I think did an outstanding job decorating: