We're in full demo mode down in Atlanta at #proejctwatershineway. The homeowners move in about mid-September and in the mean time we are replacing flooring, adding a mudroom, renovating the master bath, painting the entire interior/exterior and getting the nursery ready for child #3, due a mere 6 weeks post-move in. Are we crazy yet?! HA!
This lovely family has two beautiful girls, ages 3 & 5. As most sisters that age are, they are the best of friends and want to do everything together. They are also in the stage of "I want what she's having" so when one says she wants pink walls, the other wants more pink walls…you get what I'm saying. So in order to keep the rooms "separate yet equal", we've decided to not have any overlapping colors. This way there is no room for comparison and they can each have a darling space, individual to them.
Additionally, the parents wanted a space that the girls could grow into a little bit. You'll notice that neither is overly-girly or overly-baby. They've got some key pieces that can be mixed & matched in between the two rooms, as well as bedding & art that can be updated as the girls grow. All in all, I'm really pleased with how these design plans turned out and I can't wait until 6 short weeks from now when it's all installed!
Sloan, Age 5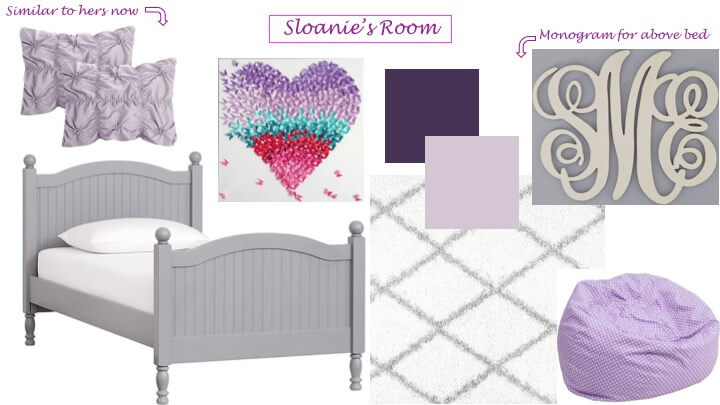 We decided on a gray/white/purple theme here in the 5 year old's room. She's getting a "big girl bed" so this adorable gray wooden full bed from PB Kids did the trick (comes in 4 colors!). Her walls will be a light purple with a deep purple accent wall where the bed is. She's got fun, ruffled purple & silver bedding and a giant polka dotted bean bag to round out the space.
Brooklyn, Age 3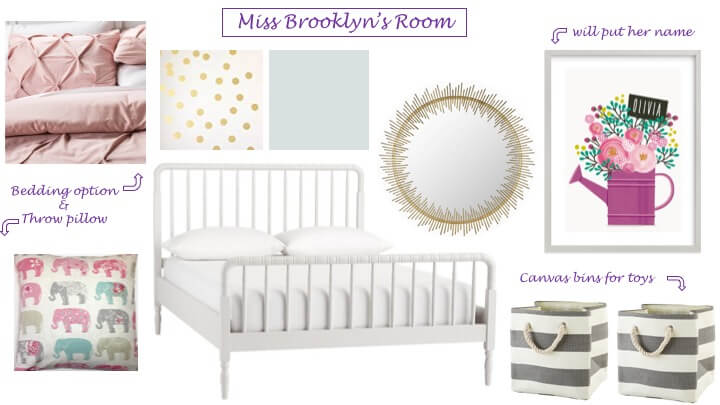 The 3 year old's room is a little more playful & girly. We're opting for a very, very light blue on the walls (almost a faint robin's egg blue) with an accent wall of fun gold polka dots. Her ivory bed will be covered with a pinch pleat blush comforter and some cute elephant print accent pillows in blue & pink (mama is an Alabama fan, after all!). She'll have some cute canvas bins for her toys and some cute, personalized art on the wall.
Since the two share a Jack & Jill style bathroom in between their bedrooms, we'll be sure to incorporate pink and purple into it so that it really feels like a mix of the two.
What do you think?!