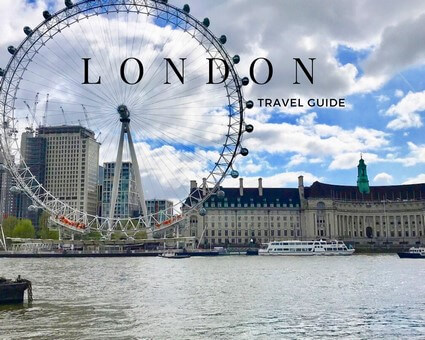 Oh London, how pleasantly surprised I was by you! Last week I spent five days in London with a girlfriend and we just had the best time. I had been to London twice before, but this time was the best yet! I must admit, London was much more cultural, charming and friendly than I ever remembered. It has the architectural charm of old world Europe but the variety and plethora of cultural places as New York City. The culinary was especially a surprise to me – London is notorious for having terrible food; however, we couldn't have disagreed more.
Here's a list of some of the top places I would suggest for dining, drinking and exploring all of the culinary deliciousness that London has to offer!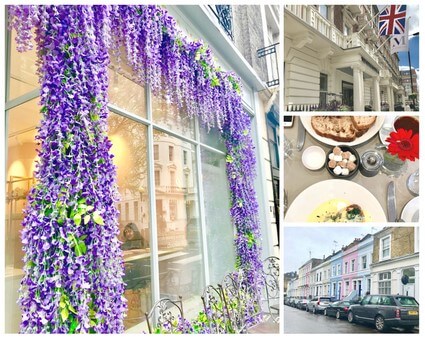 What To Do

+ High Tea: My favorite activity in London! A few notable places to visit:
The Goring Hotel: If you do one thing in London, this should be it. Fabulous, fabulous, fabulous.  The tea is a two-hour experience that started with Bolly champagne, followed by English tea and a variety of snacks – tea cookies, cakes, crumpets, mini sandwiches and scones with clotted cream and jam. A true British experience that everyone should have! (Westminster)

The Rosebury Lounge: We did not make it here; however, we heard that the Mandarin Oriental Hotel's high tea is fabulous. The room is super posh and designed beautifully and if we had time, we would have definitely gone here. The whole tea has a very nature and organic feel – it's high on my list. (Knightsbridge)

The Orangery: Located on the grounds of the stunning Kensington Gardens, The Orangery overlooks The Sunken Garden, and there truly couldn't be a more beautiful background. The room has a larger, more spacious feel so it's not as intimate as others, but there's something special about having tea on the property where all of the princes and princesses live. (Kensington)
+ Museums: There are many museums in London and most are free. A few notable ones are the Victoria & Albert, Tate Modern and National Gallery.
+ Broadway: One of my favorite things to also do in New York, this was just as fun in London. Actually, the theaters are much smaller and tickets less expensive.
+ Neighborhood Hop: London, similar to most big cities, has many different neighborhoods that each have so much to offer. The city is quite spread out so it's best to explore per neighborhood. You can read my neighborhood guide here.
Where To Stay
+ Marriott Park Lane: This hotel's location is in the heart of Mayfair, which is one of the best neighborhoods in London. This five-star hotel is a splurge that I found to be worth it. You can read my hotel review here.
+ The Mandeville: Set in the charming neighborhood of Marleybone, this hotel really makes you feel like a local. The rooms are small but its in such a great location that you won't spend much time at the hotel. You can read my hotel review here.
+ The Goring: We had afternoon tea at this hotel and I would just love to stay at it next time I go. This privately-owned hotel is charming, sophisticated and classic London. The same hotel that Kate Middleton got ready in for her wedding, this place screams high class. The hotel itself is lavishly decorated with luxurious fabrics, beautiful wallpaper, gold plated ceilings and crystal chandeliers.
What To Eat + Drink
+ Ole & Steen: Another local spot, this is best to grab a coffee and pastry. The coffee shop is perfect for getting some computer work done or grabbing a delicious brownie on the go. (Marylebone) 
+ Sourced Market: A local organic shop with salads, sandwiches, quiches and sandwiches. This is a quick and easy lunch spot, filled with many locals during the work week. I stopped in on my first day and had a slice of quiche and side salad for under 10GBP. (Marylebone)
+ 108 Brasserie: A posh bar / restaurant attached to The Marylebone Hotel, we came here for after dinner drinks. With their oversized bar and velvet chairs, this has a lounge feel but a laid-back atmosphere. (Marylebone)
+ Coco Momo: We unexpectedly popped in here during a brief rainstorm and it was the perfect spot to grab a midday glass of wine (under $10) and enjoy some people watching through their large glass front. (Kensington)
+ The Blind Pig: This eclectic bar is a hidden gem on the third floor of the Social Eating House. It is unmarked from the street but worth visiting. Their specialty cocktails are to die for and it's got a sultry, sexy vibe. The perfect spot for a first date or a friends' drink. (SoHo)
+ Sketch: Oh Sketch, one of the trendiest places in town! Known for their colored, themed dining rooms and futuristic bathrooms, Sketch came recommended by everyone – for tea, for drinks, for a meal. It's one of "those places" that you just have to check out. (Mayfair)
+ Chiltern Firehouse: Apparently the celebrity hot spot (spoiler: we didn't see anyone), this restaurant is fabulous. It's got a garden cottage feel with a twist of sophistication. The cocktail list, raw beer and food menu is outstanding. We shared fresh crudo, crab meal donuts (incredible) and the chicken with panzanella for an entrée. Can't recommend this place enough! (Marylebone)
+ Locanda Locatelli: We found this authentic Italian restaurant via Yelp and it was a hit. While it's a bit pricey, the white tablecloth atmosphere (a bit stuffy) provided excellent service and delicious food. The bread basket itself was enough to fill you up; however, we saved space for the authentic Italian pasta and wine blend. Hint: don't order dessert because they'll bring you a post-dinner chocolate and macaroon. (Marylebone)
+ The Providores: A must for brunch! This came highly recommended by a co-worker, specifically for their Turkish eggs. This neighborhood joint is casual and perfect for a quick brunch with friends. The hardest part will be deciding what to order, as everything looks delicious. (Marylebone).
+ Dean Street Townhouse: A local friend recommended that we head here for a traditional British dinner. Naturally, we had fish and chips! The food was delicious, prices affordable and a comfortable, upbeat vibe. After a long day of walking around this is the perfect spot to pop in and grab an easy dinner. (Westminster)
+ Delfino: A family friendly, casual Italian spot, Delfino is perfect for grabbing a quick plate of pasta or a wood fire pizza. It's on the most charming street, surrounded by high end shopping stores and close to Hyde Park.  (Mayfair)
+ Granger and Co: One of the best meals of the trip, this is THE spot for weekend brunch. Set in adorable, colorful Notting Hill, this place was slammed for hours and rightfully so. With an extensive menu, it was hard to choose between sweets or savory, breakfast or lunch. We opted to split a shrimp burger and a quinoa zuchinni salad. Both to die for. A top recommendation for sure! (Notting Hill)
+ Dishoom: With five locations and thousands of five-star reviews, this is one of the most frequently recommended restaurants in London. I am not the biggest Indian food lover but this place is worth trying. (Covent Garden) 
See my other European city guides and travel recommendations here.