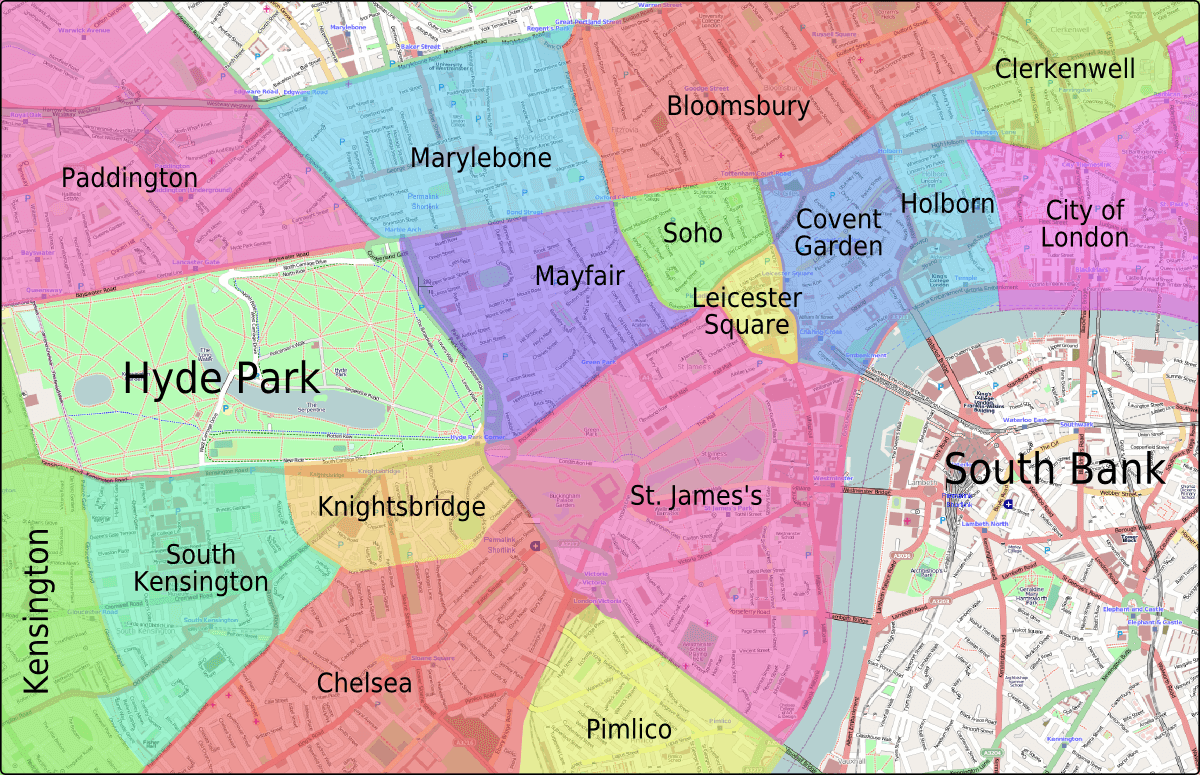 {via}
If you've been following along, you've read my London Travel Guide and my London Hotel Reviews posts. London is an incredible city with so much to offer, but it is not as walkable as I thought it would be. It is similar to New York in that London has a very "neighborhoody" feel, but it is much more charming and architecturally interesting! Once you have your hotel and you know which neighborhood you're staying in, you can plan your days by which areas you want to go to. For example, our first hotel was in Marylebone so we spent that time exploring more of NorthWest London – Kensington, Notting Hill, etc. Since the second hotel was a bit south, in Mayfair, I used that time to explore more of Hyde Park and head South of the river. London has a well run and intuitive metro system and I found it to be very easy to get around by train. The traffic is pretty bad and cabs are expensive so transit was the cheaper, quicker way to get around. Plus, riding the local metro in any city is fun and you get much more of a local feel!
MARYLEBONE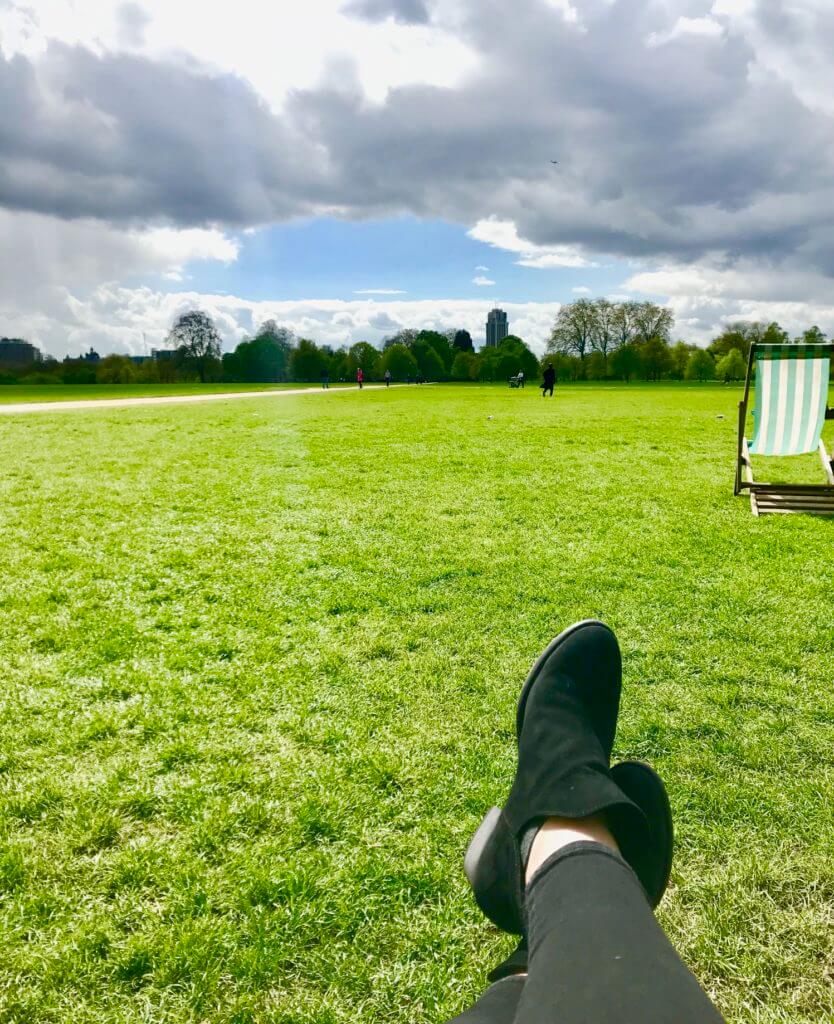 Enjoying an afternoon snack in Hyde Park
Chalk full of restaurants, bars and shops, Marylebone is a darling neighborhood tucked between Hyde Park and Regents Park. It is a great place to stay that is away from the tourist spots, yet walkable to most. Here you are within a half a mile from Hyde Park / The Marble Arch where you can enjoy a picnic lunch outside. Be sure to head to Psycle for a local spin class experience (shout out to our instructor, Louis!) and enjoy any of the local coffee shops for a post-workout treat. This area reminds me a lot of the village in NYC – smaller buildings, charming window boxes and locals all around. If you want an authentic London experience, I would recommend that you stay in this area – there's honestly so much to do here that you may never leave this neighborhood!
MAYFAIR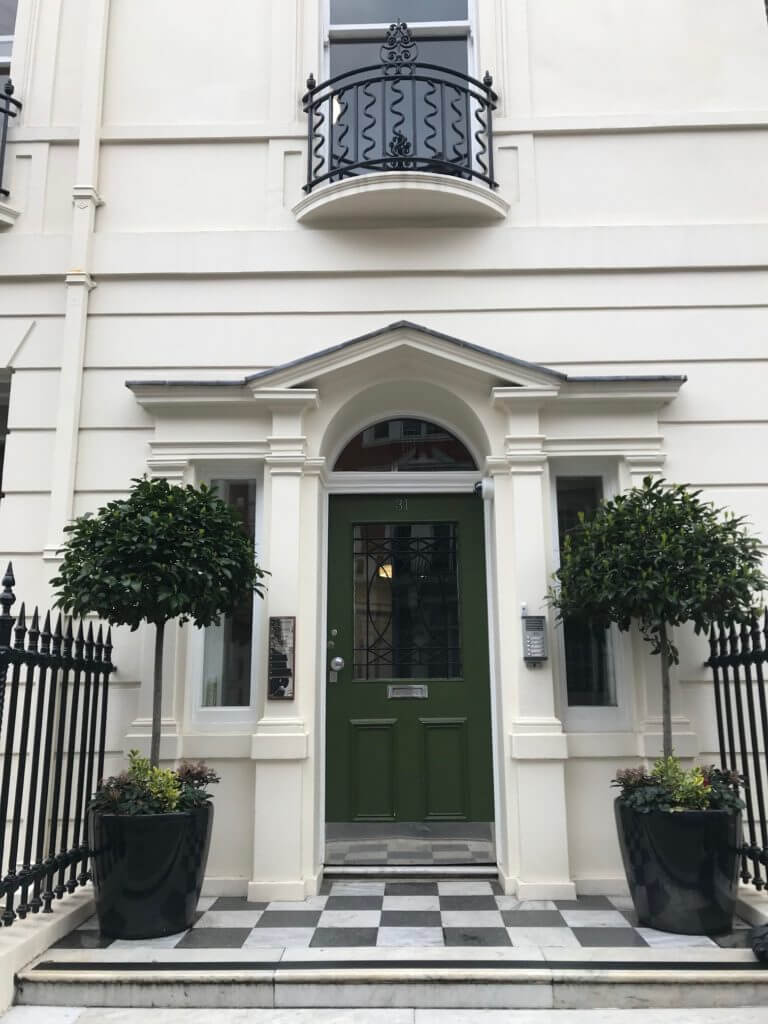 One charming front door after the other in Mayfair…
Probably my favorite neighborhood in London, Mayfair is smack dab in the middle of everything and feels super posh. The streets remind me a lot of Back Bay, with the clean sidewalks, high end stores and stunning brownstones (or "flats", as they call them!). In fact, on my three block stroll to dinner I passed Goyard, Celine and Jenny Packham. There are also various private, "member only" restaurants and clubs so the whole area felt super exclusive and safe. While it is a stunning area it is also quite expensive; however, it's worth walking through and window shopping or grabbing afternoon tea at Sketch, the hot spot in town.
KENSINGTON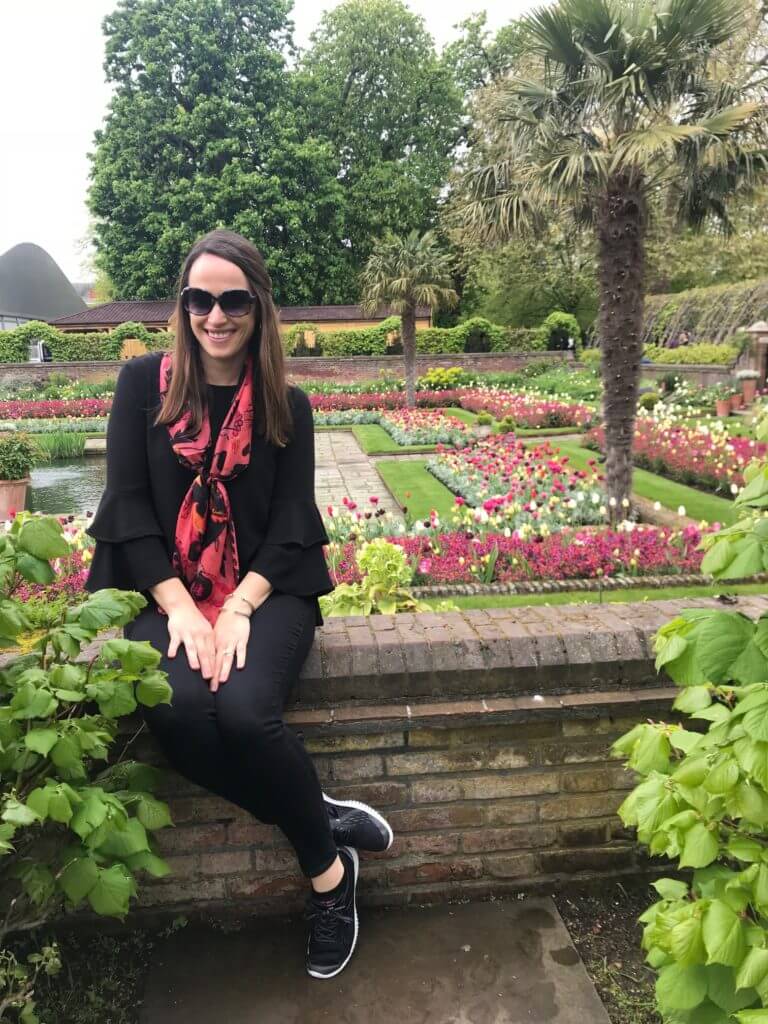 The stunning Kensington Gardens
Most famously known for Kensington Palace where the royals live, Kensington is a beautiful neighborhood. We spent most of our time at Kensington Gardens – a massive property with stunning landscape, endless flower gardens and huge mansions. The rest of Kensington is mainly residential with some shopping and restaurants / tea spots. The Gardens are free so it is worth going to see for sure. We also heard wonderful things about tea at The Orangery so if you are in the area and have time, be sure to reserve this!
NOTTING HILL
Even the rain doesn't damper the beauty of Notting Hill
Thanks to Hugh Grant, I think everyone in America has heard of Notting Hill. Known for their colored homes, this area did not disappoint. Each street is more stunning than the next – the colors, the flowers, the cars. It was one of my favorite places to aimlessly wander. Plus, we had our favorite meal of the trip here at Granger & Co. This charming neighborhood is full of shopping! There was literally boutique after boutique after boutique! Most of it was quite expensive but the styles were great and the stores are pretty. If you are looking for some antique or unique shopping, be sure to head to Portobello Market, just up the road. It is a large street market and on Saturdays they have even more vendors come in for the day.
WESTMINSTER /ST JAMES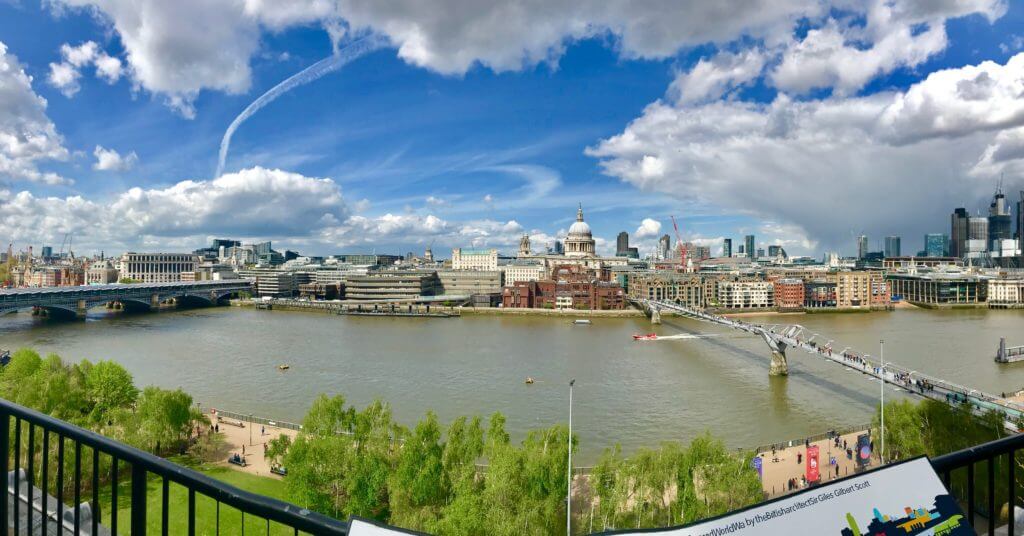 An aerial view from the members' lounge at The Tate Modern
The massive Buckhingham Palace, Green Park and St. James Park sit between St. James and Westminster – in fact, they're practically one big neighborhood, separated by the parks. This area feels the most "royal"  to me and what you would expect for London – we've got Trafalgar Square, Piccadilly Circus, Westminster Abby, Buckingham Palace, Big Ben, and the House of Parliament to name a few. A few main sites to note here are  I recommend starting your day with a late morning river cruise (an excellent way to see the city and learn about its history), followed by an hour or so at the Tate Modern (go with a local so you can get the rooftop lounge view) and then ending with late afternoon tea at The Goring Hotel (my #1 suggestion for London).
So, this is pretty much tourist central but it is definitely a neighborhood where you will spend some time, especially if you are new to London. The museums are free so definitely worth going to Tate Modern (where I saw Picasso) and the National Gallery (where I saw Monet & Van Gogh). This area would be best to visit mid week or early morning, before the crowds set in. Don't forget that the changing of the guards at Buckingham Palace happens daily around 11:00am – an experience worth seeing!
COVENT GARDEN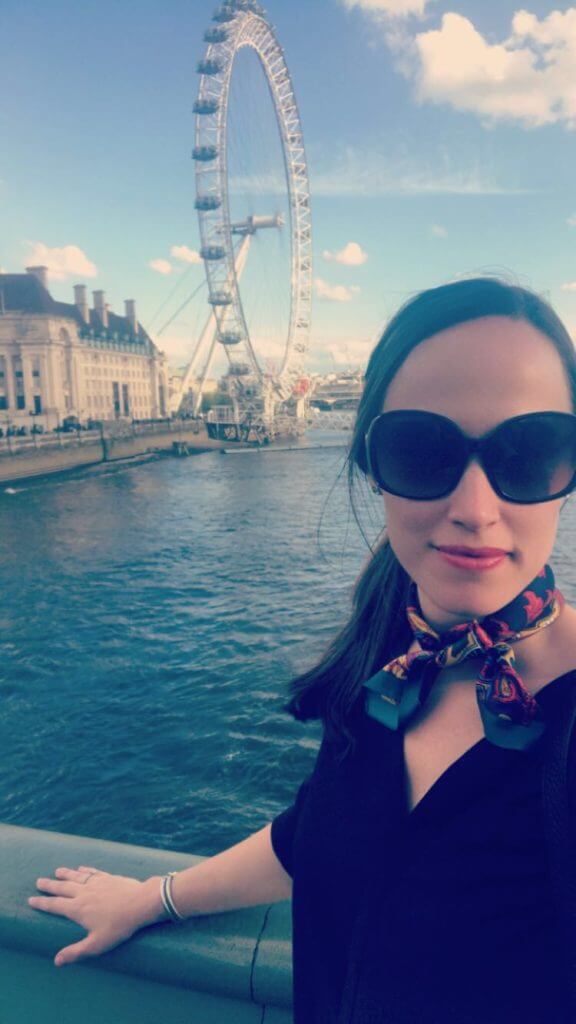 Had to sneak in a view of the London Eye from across the river! ps. I wore this scarf nonstop
Part of the theater district, I spent some time here when I went to see a Broadway show – a "must do" while in London. Many people think of New York as the start to Broadway, but London claims this as their creation! I really enjoyed the London theater as the seats were easy to get, relatively inexpensive and the theater itself was small and comfortable. I opted to see Kinky Boots at The Adelphi Theatre and finding a ticket an hour prior to the matinee show was simple. One place I did not try was Dishoom, a very popular Indian restaurant, but I can't even tell you how many people recommended this. Next time for sure.
KNIGHTSBRIDGE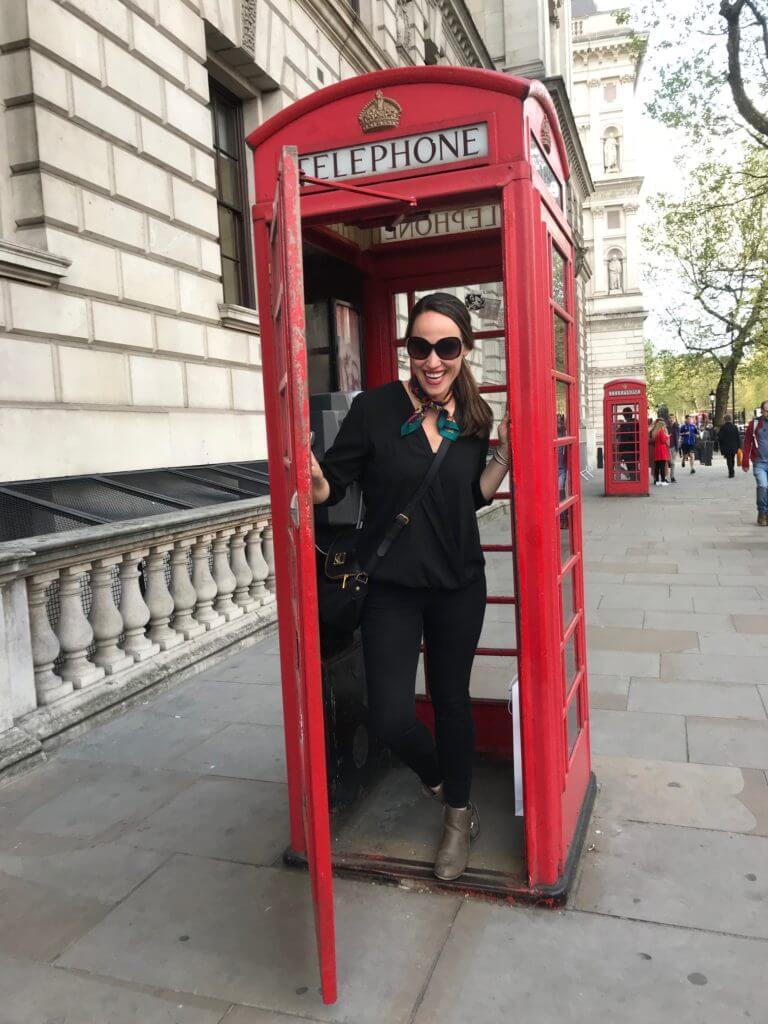 Playing tourist hard here – but how cute are these iconic red phone booths?!
If you've been to London (or read about London), you have probably heard of Harrods. Well, this is where the giant department store is located. This is another touristy spot, south of Hyde Park, with various shopping including Burberry, Reiss, Topshop and LK Bennett. If you want to shop big stores, this is the area for you.
As you can see, London has SO much to offer! I spent most of my time in West London, though I would love to go back and explore other areas, including Southwark. Here is a cute tourist guide showing the different attractions of London…