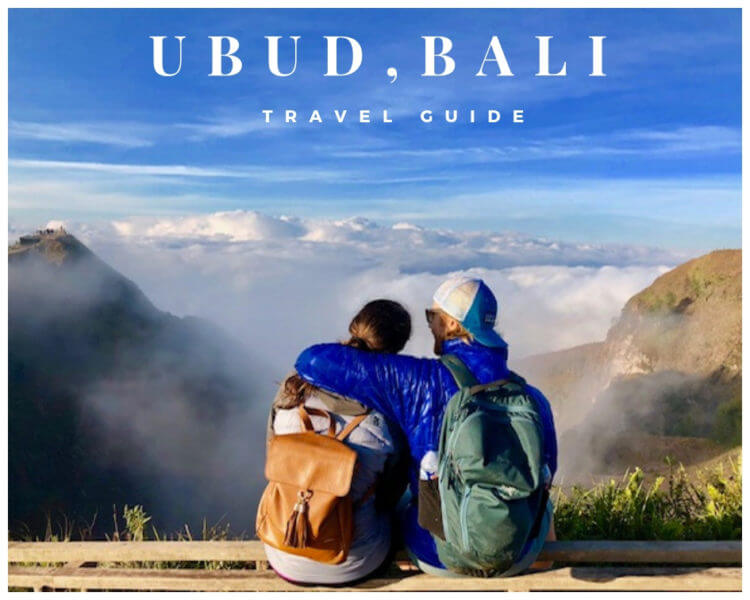 Ubud is the cultural epicenter of Indonesia, located among the rice paddies in the middle of Bali. Surrounded by cool mountains and lush foothills, Ubud is not to be missed when visiting Bali. In fact, Ubud was surprisingly one of our favorite places that we visited. Something about being tucked away in the middle of the country, surrounded by rich culture, ancient temples and roaming monkeys made this town even more magical. While Ubud feels populated compared to other places we visited, there are only 30,000 people residing here, but the city thrives off of tourism. There is so much to do and see in Ubud that we enjoyed four action-packed days here. From visiting the Monkey Forest to watching ritualistic Balinese dances to hiking nearby Mt. Batur at sunrise to enjoying an afternoon at the spa, Ubud truly offers it all. I suggest that you hit Ubud during the middle of your Bali trip, breaking up the various beach towns (since it's the only non-beach town we visited) and soak it all in. It's busy, spiritual and definitely worth visiting.
Where To Stay
+ Element Hotel: This brand new hotel is the perfect mix of American modern meets Bali zen. It is not as minimalist as the Element Hotels that I have stayed in the US.  Our room was very spacious with in-room safe, balcony, room service, etc. The amenities are endless, including a free shuttle to/from the city center all day, complimentary breakfast, daily sunrise yoga, a 24 hour workout center, a huge pool (with poolside beverage + food service) and a spa that did not disappoint. We were very comfortable here and highly recommend that you stay here for an affordable, surprisingly semi-luxury stay.
+ Four Seasons Sayan: We considered staying here as this just won the "best hotel in the world 2018". It is a bit more remote but absolutely stunning and we heard that the service, accommodation and restaurant were top notch. If you are looking to splurge, I recommend this hotel.
+ Villas: Ubud is a great place to rent a villa with a private pool. We found many available online that were not only in great locations but were also quite affordable.
Traveler Tip: Most places in Ubud are walkable; however, we enjoyed staying in a hotel just on the outskirts of town to avoid the loud noise and traffic. Most hotels offer shuttles and taxis are inexpensive.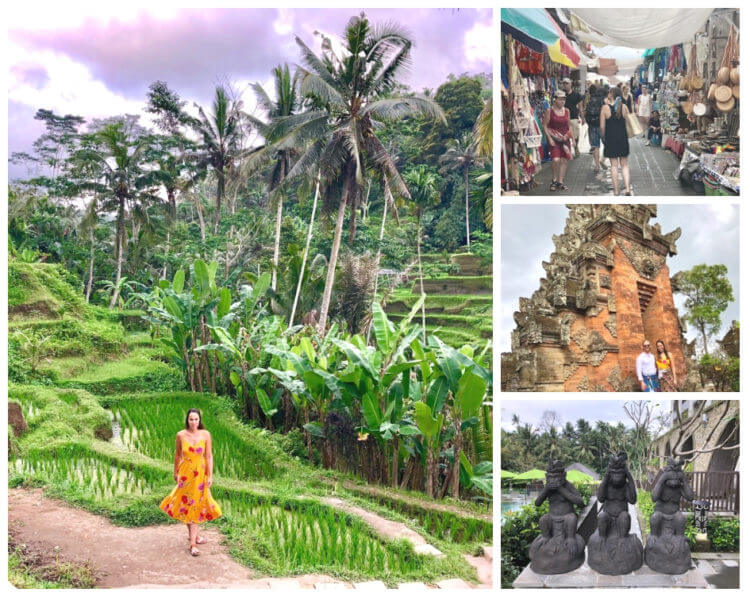 What To Do
+ Sacred Monkey Forest: Probably the most tourist spot in Ubud, but it is absolutely incredible and you must go! With over 600 monkeys living here, this place is huge. I expected a zoo-like setup where the monkeys are in specific areas, but it is nothing like that. The monkeys roam free and you are in their world. We saw monkeys fighting, eating, mating, swimming, swinging, nursing babies and more. It is so fascinating to see them and a fun way to spend an afternoon. Careful though – they will steal your sunglasses, water bottles and personal belongings. We saw it happen more than once!
+ Yoga Barn: We didn't make it but we heard this is the place to go for yoga. They offer 15+ classes a day and is a very well respected establishment.
+ Tegalalang Rice Terrace: This was hands down my favorite thing that we saw – the rice fields are huge and so impressive. We went around 5:30 pm and it was perfect lighting and less crowded. Definitely recommend going off-peak hours.
+ Tegenguan Waterfall: A bit tourist but it's pretty large with a lot to do. This is a massive, powerful waterfall and the surrounding are is built up with swings, nests, pools, cafes, etc.
+ Bali Swing: Probably the #1 tourist trap in Ubud. It is a $35 entry fee which includes buffet lunch (yikes), various swings, waterfalls, nests….it almost felt like an amusement park. To be honest, we left right away because it was way too crowded and touristy for our liking.
+ Visit a Coffee Plantation: We visited Merta Haram Agroo and received a tour of the plantation. The property was very lush with various plants and herbs growing around. The tour itself was informative and interactive. We learned how they make various teas and coffees. Then we sampled 14 different ones (similar to a beer flight) while relaxing at a picnic table on the property. Our favorite flavors included cinnamon, lemongrass, coconut coffee and ginger coffee. So fun!
+ Visit a Traditional Balinese Home: This was a very insightful activity to do as Balinese homes are nothing like we are used to. The home that we saw was essentially a big property with many small open air huts (probably 6-7) – the kitchen, bedrooms, and living room were each in separate huts but connected by stone floors.
+ Batuan Temple: This is not a practicing temple anymore, but it is a beautiful property with various structures, statues and stories.
+ Ubud Palace: Locate in the heart of the downtown area, this palace offers a traditional dance every evening at 7:30pm. It's 100,000IDR to attend and there are drinks for purchase. We did this on night one in Ubud and it was an exciting way to kick off our visit to the town. There were over 100 people in attendance and the dance lasted about an hour – there were intricate costumes, live Balinese music and a it was a great story to watch.
+ Ubud Art Market / Ubud Traditional Market: Between 4-9am, many of the locals head here to purchase produce, rice, meat etc. After 9am it becomes more of a tourist market, filled with bags, bowls, baskets, apparel, etc. Bring cash and prepare to barter – everything is negotiable.
+ Spas: I have never seen more day spas or reflexology places as in Ubud. Almost every street block has at least one or two. They are all relatively the same price and most are open until 10pm. We didn't try any downtown ones but did opt for a couples massage in our hotel spa, which was in an open-air room overlooking a creek. It was one of the best massages of my life and the total was $30USD.
+ Folk Pool & Gardens: Located near the Sacred Monkey Forest, this is a pool are open to the public. You can swim, drink or eat by dining in the garden area or renting a poolside cabana. It's about $17USD to reserve daybed and you'll want to book ahead.
+ Campuhan Ridge Walk: A beautiful walking path in the grassy, non-commercial area of town, this trek is best taken in early morning or in evening to avoid both the crowds and the hot sun (there is no shade). The entire walk takes about two hours and be sure to bring water with you.
+ White Water Rafting: We did not do this; however, we have heard great reviews about white water rafting on the Ayung River; recommended company here.
+ Take a Cooking Class: Many hotels and companies offer this and most include a trip to the market to pick up fresh produce and supplies.
+ Sunrise Trek Up Mt. Batur: One of the most beautiful ways to experience Bali is by seeing the sunrise. This trek is offered by various companies (we used Bali Hai) and is a fantastic way to get some exercise in while experiencing the beauty of nature.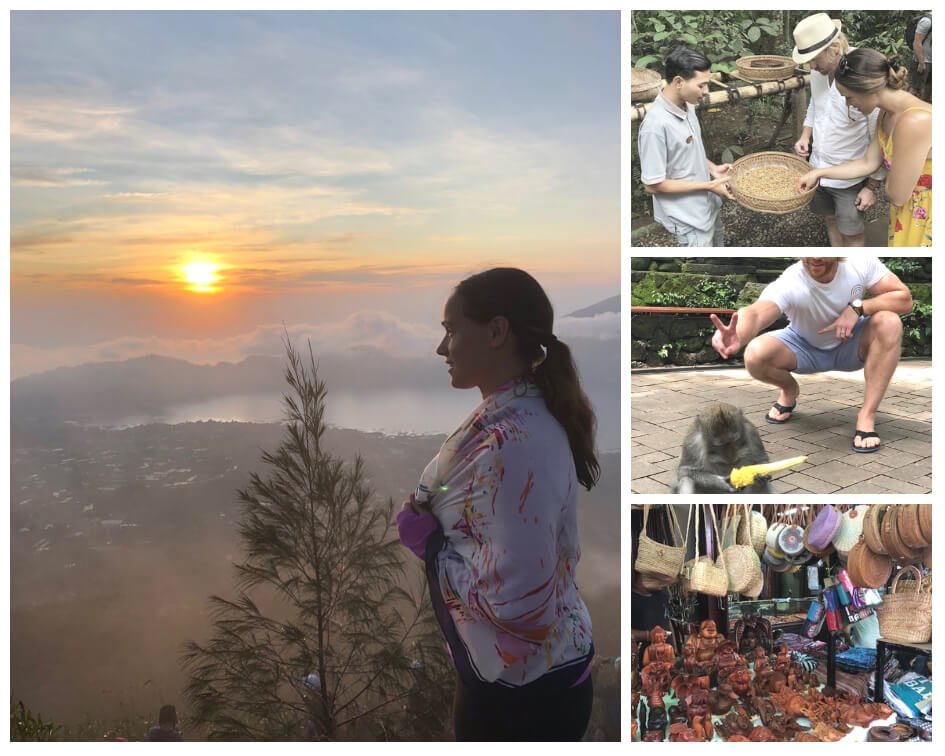 Where To Eat + Drink
+ Alchemy: Vegetarian items, sushi, noodles, bowls, juice, etc. / casual, great for lunch
+ Kimset: Highly rated vegan spot, great for breakfast or lunch (open 9am-12am)
+ Gangga Coffee: known for breakfast / sweet treat**
+ Roots: Korean family style, great for lunch
+ Ibu oka Warung: well known lunch spot; only open 10:30am until food is gone (typically about 4 hours); traditional Balinese pig roast; upstairs for traditional style seating
+ La Pacha Mama: Located in the bottom floor of Penestanan's La Cevicheria. The menu is full of delicious vegetarian Mexican food that even meat-eaters will be craving.
+ Tukies Coconut Shop:  known for coconut ice cream – so great, served with a variety of delicious toppings
+ Sayan House: Known for the best sunset in Ubud – make a reservation
+ The Fair Warung Bale: Indonesian style food, great indoor-outdoor feel upstairs

+ Hujan Locale:  Asian fine dining; one of the pricier spots in town and has an option for 2 different seating times

+ Oops Cafe: located in downtown, this place is low key with live acoustic music, indoor / outdoor and a lovely vibe. Mix of Eastern & Western food. We split a pea curry appetizer, mei goring (noodle dish), a large Bintang & a mineral water. Our total was 230,000IDR ($15).
+ Locavore: Fine dining, reservations needed. Highly recommended!
+ Soma Cafe: Organic, delicious wood fire pizza, juices / smoothies, salads, pasta. A lot of vegan options. We had a mushroom pizza (small), a rainbow salad (chopped raw veggies) and a pesto pasta. All so delicious and one of my favorite meals in Ubud. Ambiance really cool, outside.
+ Sambal Matah: Spanish style tapas meets Indonesian. Sounds weird but was so delicious. We shared roasted veggie salad, curry prawns & a falafel gyro. Everything was really delicious and so fresh.