During our two week trip to SouthEast Asia, we stayed in a mix of higher end hotels, boutique style hotels, affordable Air B&B's and private villas. When I was corresponding with the Hotel Tugu in Canggu, Bali, I knew that the hotel looked really nice and had amazing reviews, but we were by no means prepared for this. Y'all…this hotel…is STUNNING. Now I have stayed at a lot of really nice hotels and done a lot of hotel reviews. This hotel really stood out from moment one for two reasons – the uniqueness of the property and the overall vibe. To me, the immediately relaxing, inviting vibe is a result of incredible service and beautiful spaces. The fact that it's a huge property with only 21 rooms helped also – we hardly saw other guests and felt as though we had the place to ourselves. What a nice change from the typical, overcrowded hotels we're used to!
Location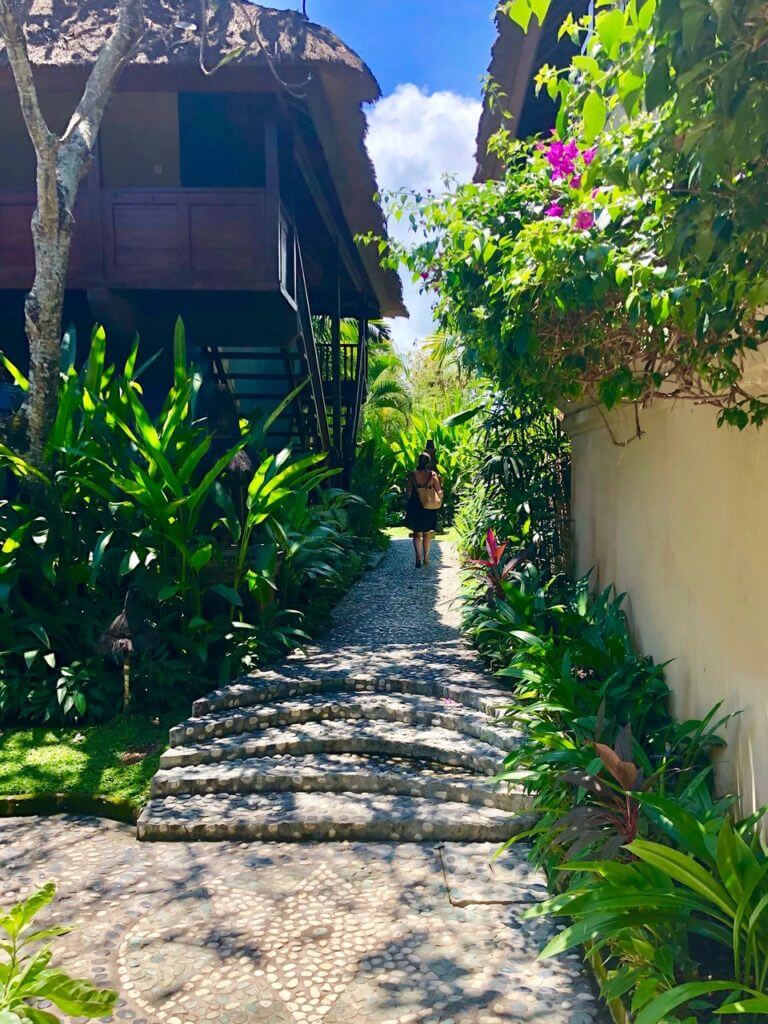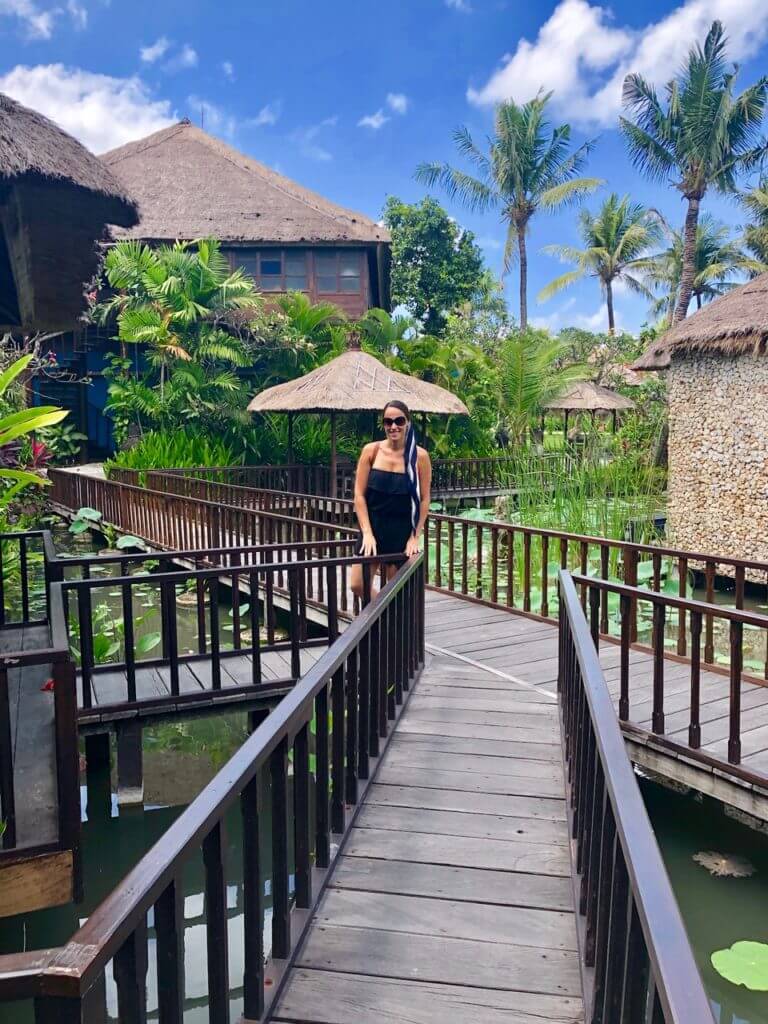 This hotel has hands-down the best location in Canggu, if you ask me. Now some will disagree since it's not beachfront with a private beach; however, it's about 100 yards from the beach. What I like about this is that it's not exposed to any passerby (as many Balinese beach hotels are). In fact, the hotel is set on a huge, lush, sprawling property. Everything is connected by intricate stone pathways and bridges that are elevated over the monstrous Koi Ponds. The landscape and architecture is simply stunning. It feels like you're walking through an ancient property mixed with the secret garden. I couldn't believe the abundance of flowers, plants and greenery!
The background of the hotel is interesting and will help paint a better picture of the vibe of the property. The owner is half Indonesian / half Chinese and is actually the largest private owner of antiques and art in Indonesia. The interior of every lobby, bar and room is built with dark mahogany wood and rich textiles. His personal collection is stored within the hotel so the decor is made up of everything from 200+ year old statues to restored Chinese temples. To put it lightly – it's mind-blowing.
Located on Batu Bolong beach, the Hotel Tugu is a stone's throw from both The Lawn and The Old Man's Bar, two of the best places to be in Canggu. We walked (literally 2 minutes) to the beach every day and spent time at both the hotel pool, The Lawn and Old Man's Bar. It's so safe and convenient, yet we didn't hear the noise of the late night parties. Plus, for the best sunset in town just walk up the tower stairs to the hotel's restaurant – we actually went back two nights in a row because the sushi, views, and cocktails were that good.
Accommodations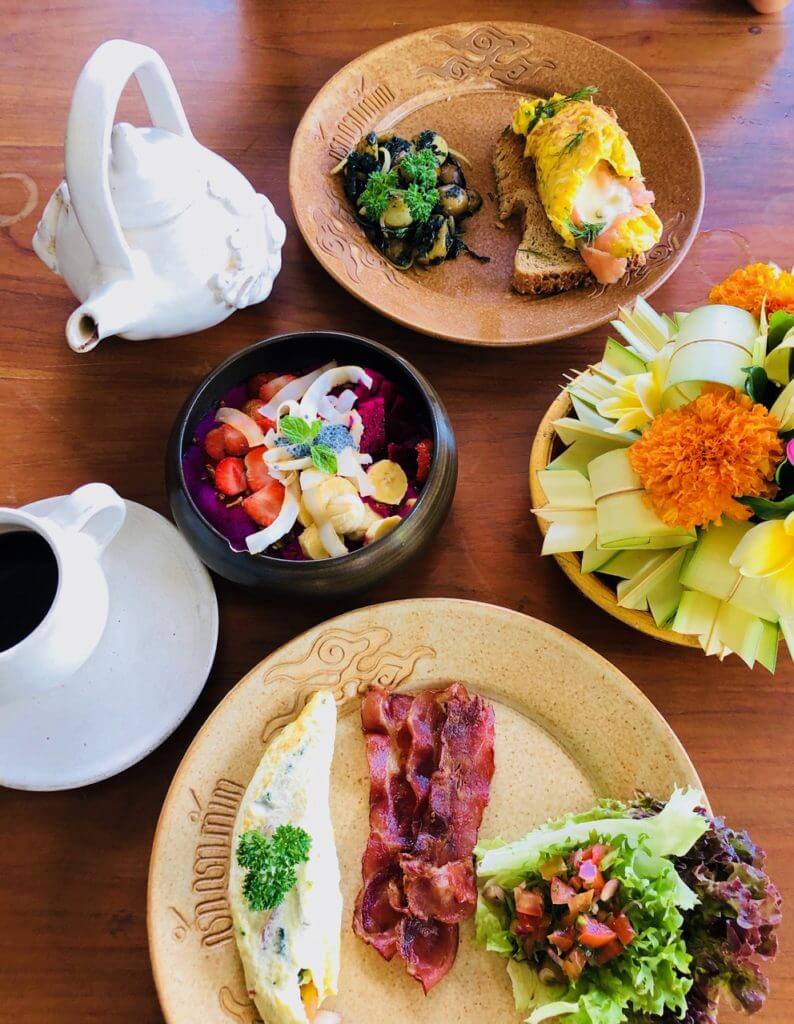 Each room in the hotel is set up in a villa, suite or bungalow style. What this means is that your room will be very large, feel very private and have a very nice view. We were given the option of a bungalow or upstairs suite and we ended up choosing the upstairs suite because of the stunning views. Three of the four walls were lined with windows so we could see the beach from almost every direction. The suite itself was huge – easily bigger than our apartment, it must have been over 1,000sq feet. There were two balconies, two screened in porches, two closets, a walk-in rain shower, a hot tub, a private massage table, an entire office and a monster four poster bed. The vaulted ceilings and walls of windows made it feel even bigger. The room was so intricately designed with moody, rich colors that it felt very sultry and Indonesian. Each room has a different design so I would have loved to see what some of the others looked like!
The hotel also offers two restaurants – the public one that we caught sunset in (and had the best truffle sushi roll of my life) and another that's specifically for hotel guests. Each stay comes with complimentary breakfast, as do most Balinese hotels, but they offer a really neat twist. You are allowed to take breakfast anytime, anywhere on the property. How fun! So whether you want a 7am poolside breakfast or a 3pm brunch on your balcony – either is fine! We opted for one earlier morning on the balcony and the next a bit later by the pool. They have various dining locations set up all over the property for this – including a private bridge above the largest Koi pond. The breakfast itself was to die for! It's way too much food but it's healthy, colorful and beautifully presented. We also took advantage of the daily high tea that is served poolside each afternoon. They offer a large spread of small bites along with afternoon tea or cocktail – again, we took this on our daybed by the pool. We felt so spoiled!
Overall Experience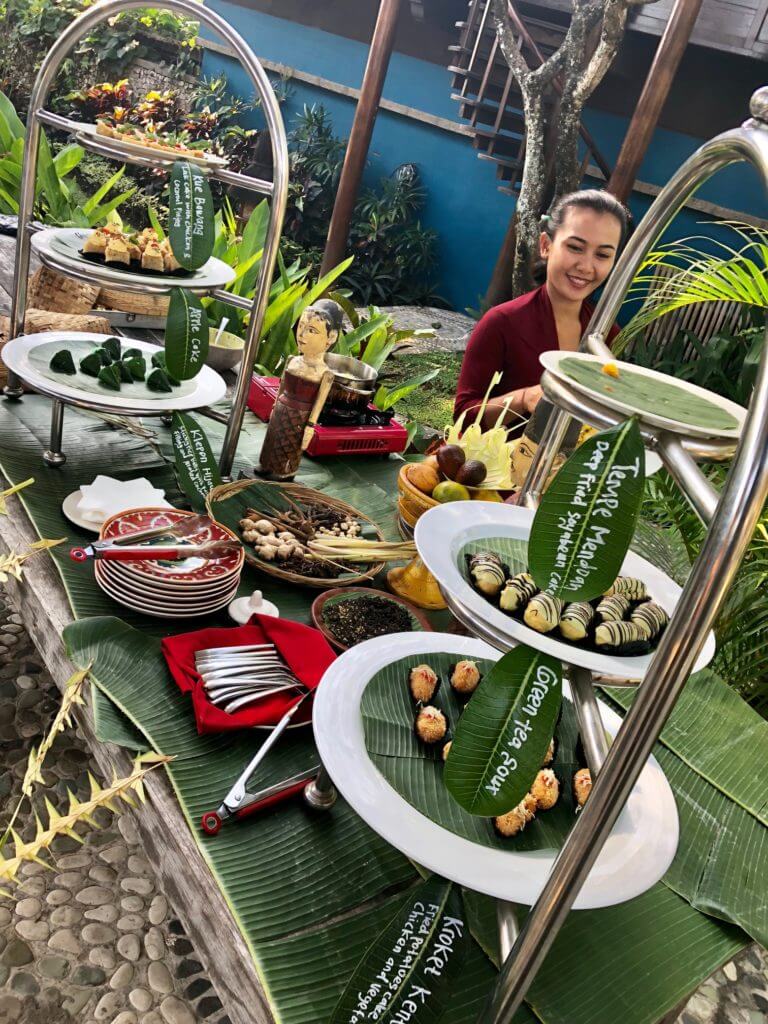 Let's start with the fact that there are only 21 rooms on the entire property so the ratio of staff: guests was already highly in our favor. Then, the service is on par with that of a Four Seasons property. We were greeting upon arrival with a fresh local cocktail and a private tour of the hotel while our bags were swept away to our room (surfboard and all). Once we were checked-in, we headed to our room only to find the most gorgeous bouquet of welcome flowers along with a basket of drinks and snacks. To say that we felt special and welcome would be an understatement. We ended our check-in experience with two in-room complimentary (for any guest) 30 minute massage. On the daybed…by our hot tub…on our screened in porch. Can y'all understand why I didn't ever want to leave?! The Hotel Tugu was hands down one of the top 5 hotels that I have ever stayed in (and I've stayed in some really nice hotels) and I would go back in a heart beat. Trust me – stay here!
Thank you to the Hotel Tugu for sponsoring this post. Though our stay was complimentary, thoughts and opinions are my own.