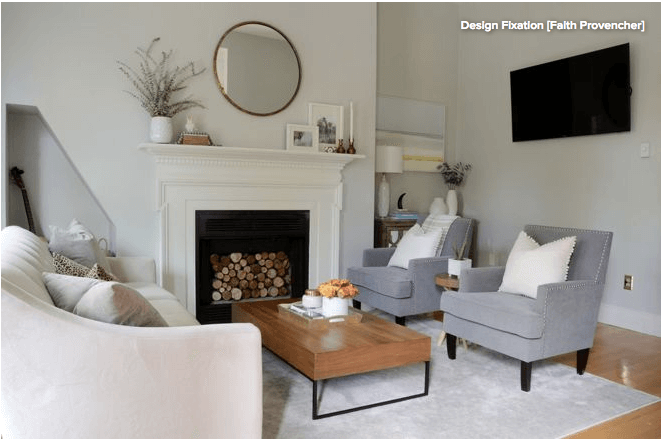 One interior design topic that I get asked about all of the time is how to best utilize small spaces. If you've read my blog before, you probably know that I live in a brownstone in Boston. While I absolutely love living in a location that allows me to walk to the best shops, restaurants and bars, with more convenience comes less space. Adjusting to living in an 800 square foot one bedroom home with two humans and one dog certainly has its challenges. Luckily we have a storage unit in our basement, which is filled to the brim with seasonal items, wedding gifts, moving boxes and our growing wine collection.
The biggest adjustment in going from a spacious home to a smaller brownstone has been editing down what's really needed. This includes furniture, wardrobe (the closet space is seriously sad), home decor pieces and kitchen items. The kitchen tends to be one place where things can get messy real easily and a lot of clutter can build. We pretty much only have what we need – 3 pots, 3 pans, one set of dishes / bowls / mugs and a small handful of everyday appliances that we use (i.e. our beloved Nespresso, Keurig and InstantPot).
For everything else, I have had really had to get creative with decorating and making sure that everything I buy has a dual purpose. As much as I love to peruse the aisles of Target and Homegoods, we simply do not have the space for the majority of things I want to purpose. Therefore, I try to make sure that everything I buy can be used at least two ways. Typically it's for every day usage and then again for entertaining. Though we have a small home, we have people over almost every week so I am constantly hosting and getting creative with how to display things.
Today I am going to share multiple ways to use a few key pieces in any small space. There are a million different ways to use the following 5 pieces, and I'm pretty sure most of you already have these in your home.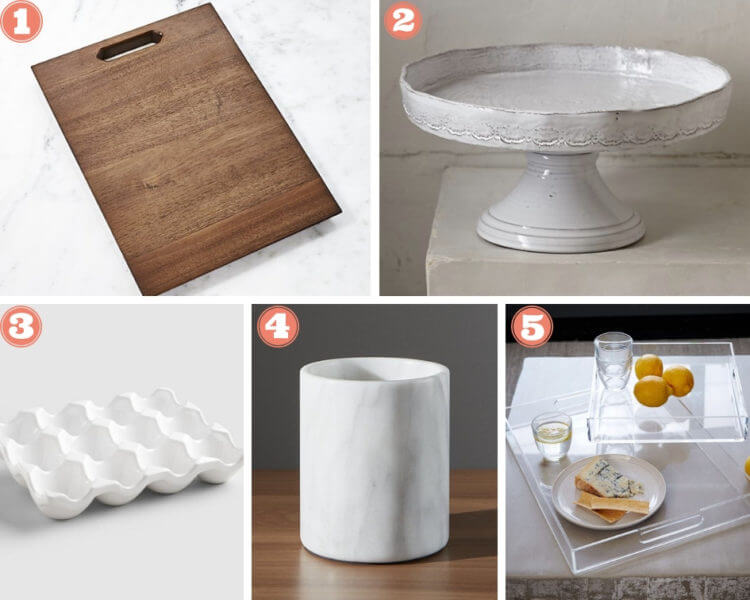 1. A basic wooden cutting board is one of the most versatile pieces you can have in your home. I'm pretty sure I have at least 10 right now – a round one that sits under our fruit bowl, two odd shaped ones that are displayed against our white subway tile for contrast / decor and an oversized one that houses both of our coffee makers (hint: putting them on a board allows them to slide in and out super easily). Not only are these perfect for (obviously) prepping food, but they are easily stored as display pieces and used for any sort of meat and cheese board. These are seriously the best kitchen piece one can have!
2. A cute cake stand serves many different purposes in my home. In fact, I think I have at least three. I have a cute glass one that I use to display sweets and fresh baked goods. My short white one is often used on either my coffee table or dining table to elevate a small house plant. I also have a pretty blue one that adds a pop of color to any tablescape and serves as a cute base to hold sugar / creamer / kcups for our coffee station when we have house guests.
3.  A classic crock holds multiple items for everyday use. I like to switch out my classic white ceramic one with my fancy marble one and my natural wooden one. They all are great for holding my cooking utensils, for storing wine (keep the marble one chilled!) and for a tall vase. I am always moving these around the house – that way I never get bored with them and they are keeping things interesting.
4. This ceramic egg crate is obviously the perfect way to keep your farmers market fresh egg looking chic and staying in tact. This piece (under $10 here) is also perfect for keeping your dainty jewelry organized and looks really pretty displayed on a dresser. Also, I have seen these used to help organize small things in a drawer, such as medicine, fasteners, screws, etc.
5. A basic acrylic tray is another super versatile piece for any home – I have 5 total, though 3 are acrylic and two are not. Basically, a tray is an organizers or small space resident's best friend! For starters, I use my two acrylic ones to easily store. My favorite muted gold tray (mine was an all-time favorite  Homegoods find) is used to help organize our coffee table and is home to a stack of books, a plant and a great smelling candle. You can also use these to display a "welcome goodie bag" for any house guest (sits on the bed without spilling over) or to keep sweet treats & water bottles on the guest dresser.
As you can see, there are so many objects – likely already in your home – that you can use in multiple ways. Getting creative with utilizing certain pieces not only saves money (duh…less purchase) and limits that excess items that we store in our home, but it allows us to buy more quality pieces that are versatile. The past few years I have been hyper-focused on quality over quantity and home decor pieces are certainly in that bucket. Plus, we all know how fun it is so shop your own home! Truly,the opportunities are endless.
What is the most versatile piece in your home?
Originally published in Nov, 2014 – this post has been updated!