Most people have an office in their home, whether it's a guest bedroom with a desk or an official designated office. The odds are that both spouses will need to use this office, so it's no surprise that I often get asked to help design gender neutral offices. First and foremost, the space needs to be functional. You obviously need a desk, a chair, ample lighting and a variety of storage (could be bookshelves, stylish cabinets or display storage) to start. Unfortunately, many people stop here. Don't let your home office get the shaft and fall short of beautiful design. Let's not forget about accent furniture, architectural details, window treatments and some plants to make the room feel like a place that you will actually want to work. Whether you are married, living together or just want a neutral space…I am here to help identify key ways to design the perfectly neutral office space.
 Keep the Colors Neutral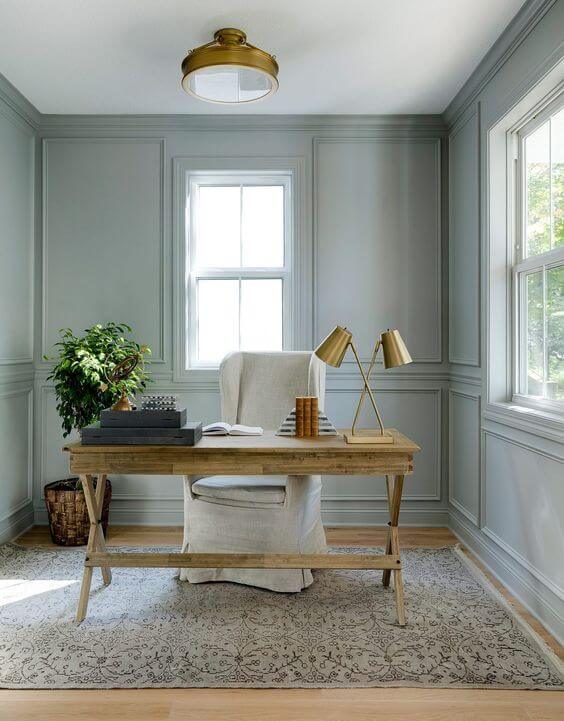 Neutral does not have to mean boring. When I think of an awesome gender neutral home office, I think of brown, ivory, gray and blue to name a few. In particular, I mean an office that isn't overly feminine or overly masculine. Treat this room as you would decorating a living room. Keep the color scheme of your home, use classic timeless pieces and bring in color with accessories.
Be Thoughtful with Lighting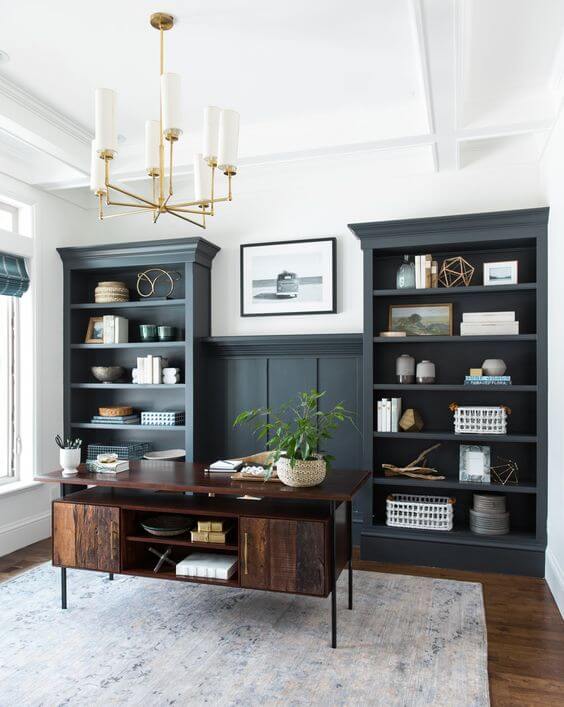 From a practical standpoint, you'll likely need overhead lighting (either recess or a hanging light) as well as floor and/or table lamps. There are so many neutral, contemporary, stunning lamps from retails stores such as Crate and Barrel, CB2, Rejuvenation that are appealing to all sexes and all styles. I think that lighting is a great way to mix styles as well. For example, if you have a more classic / plain setup, try a modern light fixture, light this modern 3-arm ceiling lamp, to provide interest and excitement to the room.
Experiment with Textures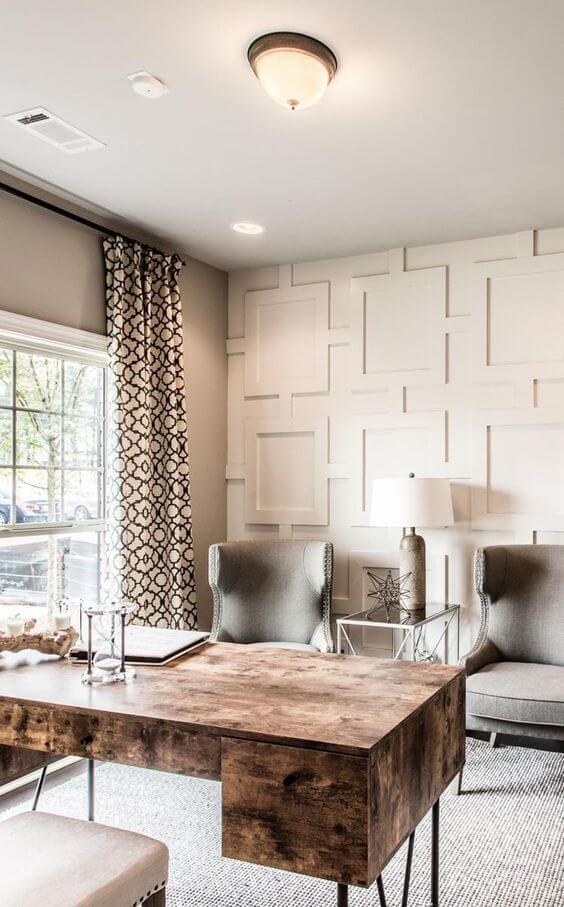 Add an oversized tree in the corner, accentuate the floor with a textured rug, layer in window treatments – there are multiple ways to add in texture into a home office simply with accessories. If you are feeling a bit more brave, why not get a show-stopper of a desk in a great wood texture, or balance the room with two beautiful leather club chairs? Texture is a great way to not only bring visual interest to the space, but also create a masculine – feminine balance (ex. leather club chairs = masculine, soft drapes = feminine).
Don't Be Afraid to Go Bold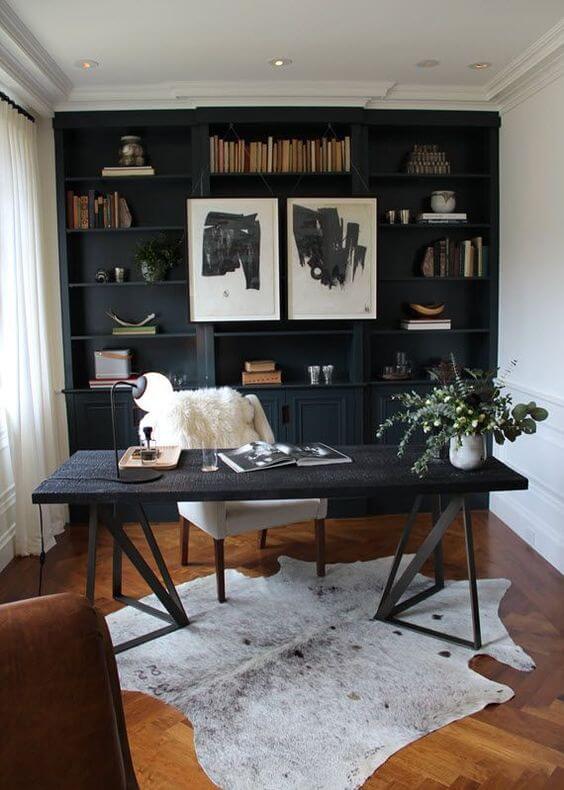 I am a huge fan of bold color, especially in a room like an office where it's not a focal point of the home. Currently, I'm super in love with deep blues, deep greens and even black paint. Whether it's the entire room, bookshelf backings or an accent wall – try to go bold! You can also add a little something extra with some board & batten on an accent wall or some shiplap and paint them the bold color of your choice.
Versatility is Key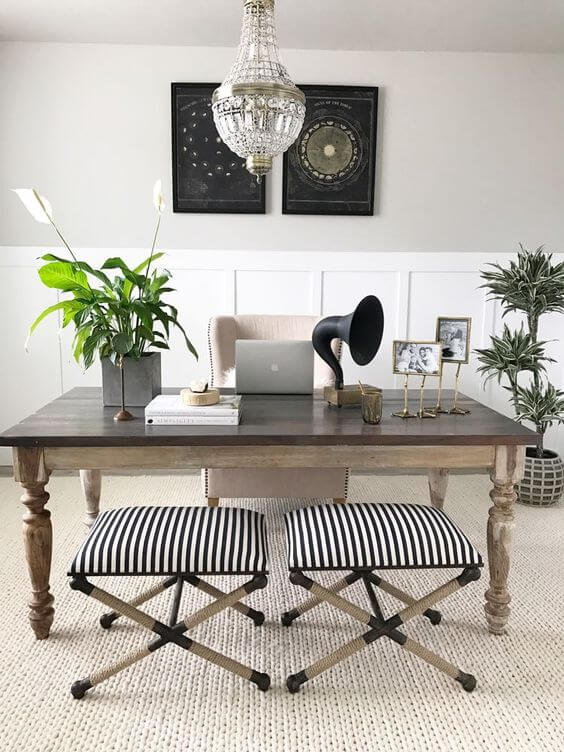 As with most things interior design, purchasing versatile pieces are a surefire way to create a look that is timeless and worth the money. I like to use ottomans, side tables, rugs, lamps and art that can easily be changed in other rooms of the home. It's no secret that I am a huge fan of shopping your own home, so this is why I push for (versatile) quality over uber-trendy, non-quality items. While I am all for saving money, it's important to purchase items that you can see yourself growing with or utilizing in other spaces. Good furniture and decor pieces are a great place to invest in your home.
Do you have a gender neutral office? What key pieces worked best for you?