This post was originally written in March 2015 but I decided to add to it as this is one of my top 5 most popular posts (of all)! It honestly doesn't surprise me, as most of my readers are ages 25-45 and located in Boston or New York City (with Atlanta coming in a close third). Given that most of us live in big cities and the majority of us have limited space, this is a challenge that we all come across daily. Even if you happen to live in a big home, I bet you still have certain rooms or areas that are spatially challenged and that you feel constricted in.
Contrary to popular belief, there are plenty of ways to maximize an area and decorate your small spaces that don't involve Ikea. Now, there's nothing wrong with Ikea – in fact, I have one or two pieces from there in my own home (particularly closets); however, many stores have items that fit into this category. To me, it's most important to have a plan when approaching a small space rather than trying to squeeze in "built for small space" items. Let me show you a few examples of ways that this can work and rooms that I have put these own ways into practice myself.
1. Go Vertical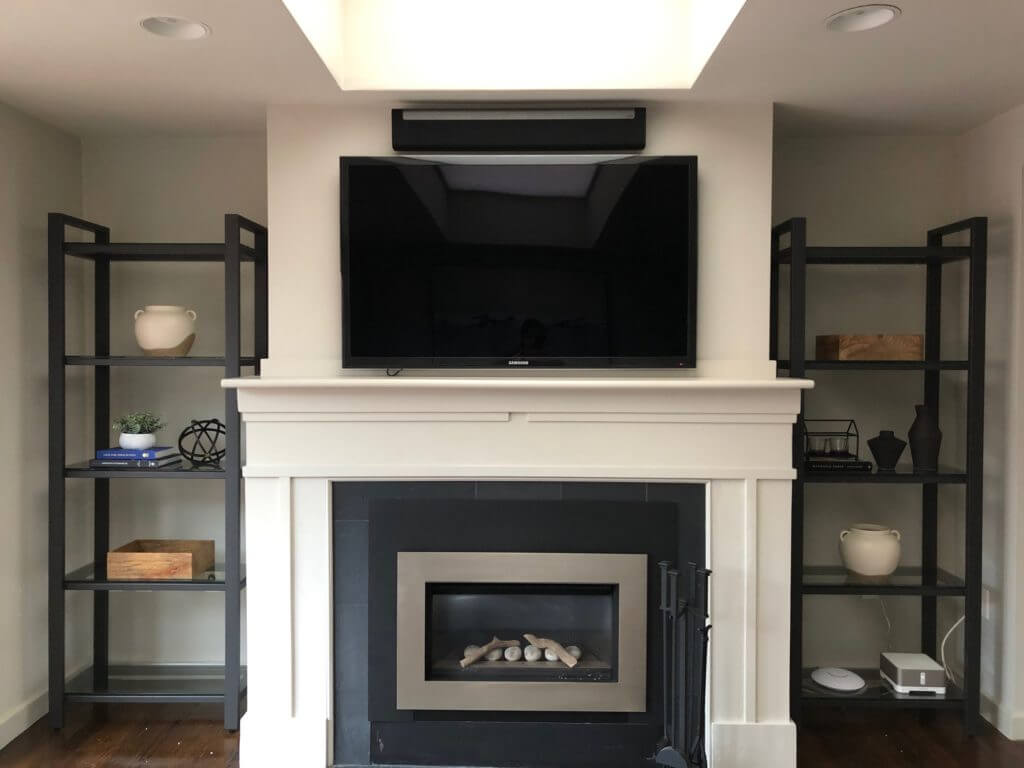 Using vertical space to your advantage is hand down the easiest way to maximize your space and to make your room appear larger than it is. Decorating vertical helps draw the eyes up and elongate any space. For example, when you are hanging drapes in a window, be sure to hang them higher than the window frame (a good bit higher, if possible) to give the appearance that the window is taller than it is. Emily Henderson has a helpful post about hanging curtains where you can see some examples.
Another way to decorate vertically is with wall art. Whether it is a gallery wall that goes up or a stacked set of framed art, these groupings will help to draw the eye up again. One last, easy way to maximize a small space is by using vertical bookshelves. The Crate + Barrel ones that I used in the above alcoves make the entire wall feel taller and wider. Plus, they provide an abundance of storage which helps the room feel neater, as there is less clutter around.
2. Keep it Clean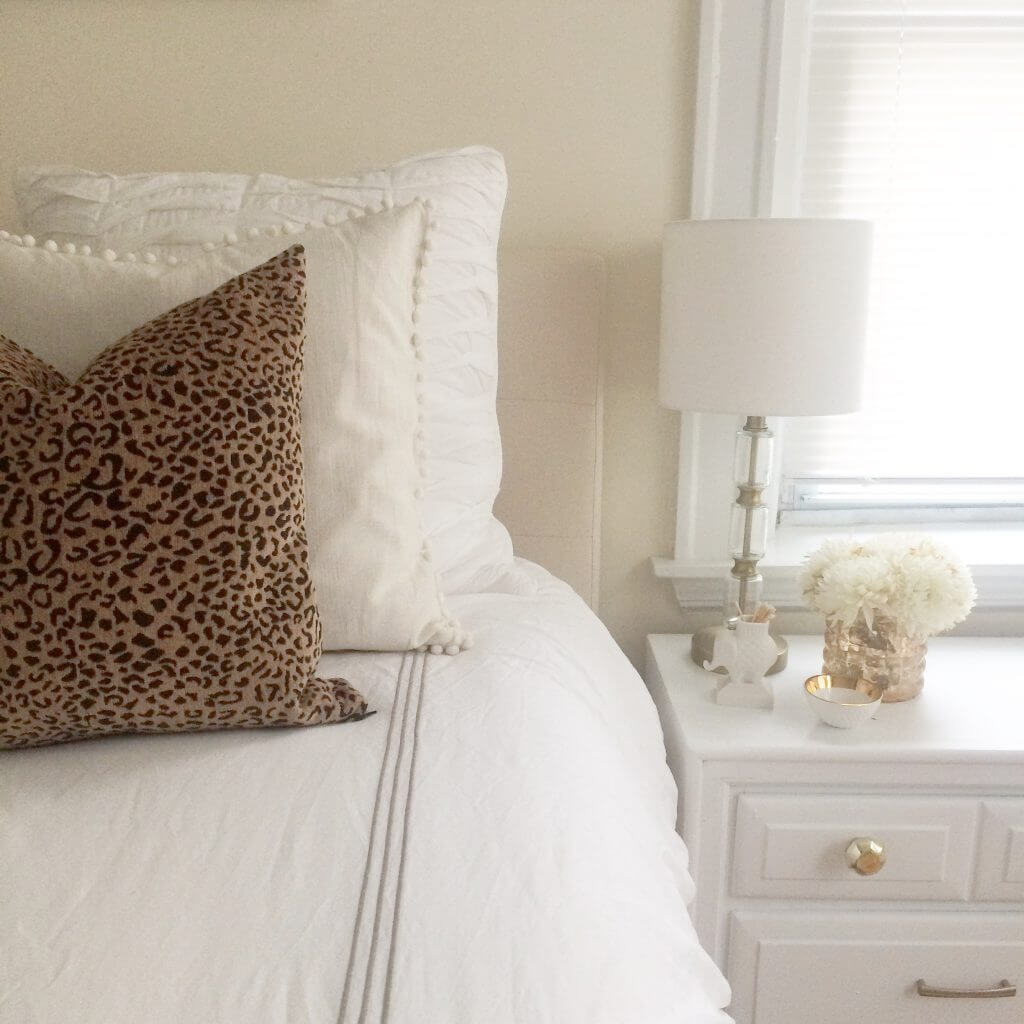 Now, this actually when I say "keep it clean", I mean this in a two-fold way. Firstly, it should go without saying that the easiest ways to make a small space feel smaller is to have it messy, disorganized & cluttered room. So if being neat and tidy isn't a strong suit of yours, I recommend that you get to know Marie Kondo and start purging unneeded items! In short, the less items that are on the floor, on the shelves or overflowing your closet, the larger your room will feel. I find that a curated space, decorated with intent, always looks the best.
The second way in which I say that it's important to keep it clean is by keeping your space streamlined and clean to the eye. If you've been following along on my blog (or my Instagram), you probably know that I am a huge advocate for neutral, monochromatic spaces. This doens't have to mean boring! In terms of a small space, you won't be doing yourself any favors by having multi colored walls, crazy patterned furniture or mismatched items. You can create a home that is eclectic or classic or modern – whatever your style may be – but keep it streamlined from a visual perspective.For more inspiration on neutral spaces, see this post.
 3. Maximize Natural Light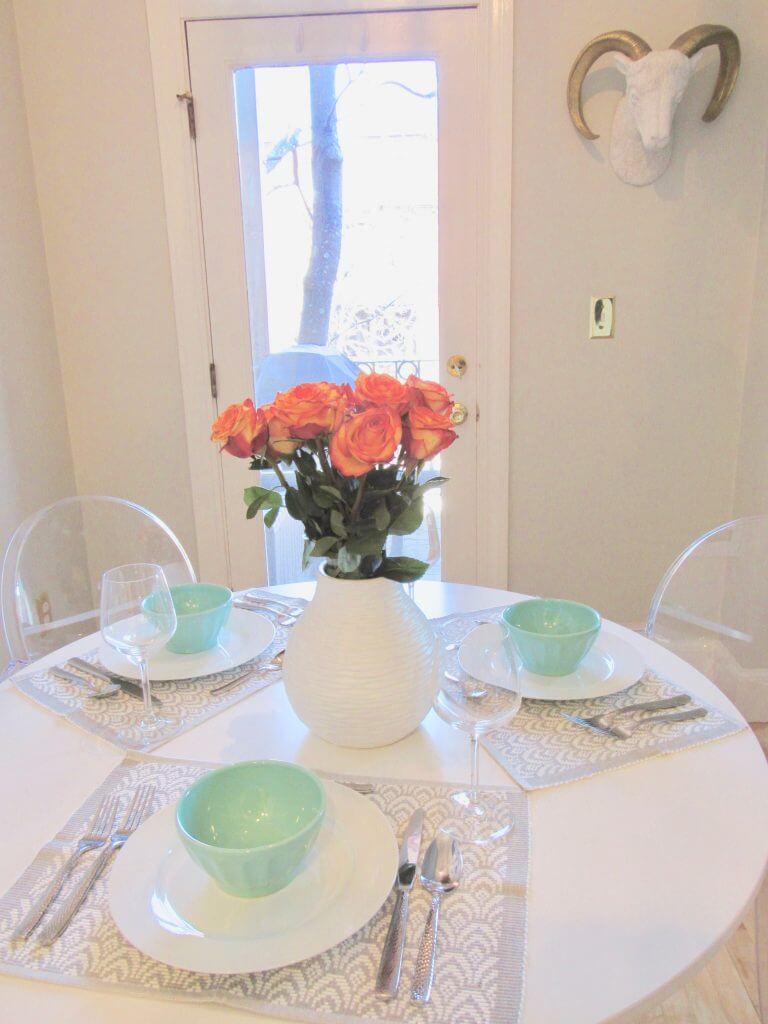 Don't we all wish we could live in a beautiful home with floor-to-ceiling windows & endless light?! Well, unless you're really super wealthy or super lucky, you probably have normal size windows and an average amount of daylight…which is especially tough when Winter comes around! First things first, use your home's windows to your advantage. Make them appear larger by hanging drapes appropriately, don't block the natural light with furniture and strategically place mirrors and frames by them to bounce off the light. Our current brownstone, for example, has huge windows but only one one side of the home. We kept the furniture very light in this room and have numerous mirrors, white frames and tend to keep the drapes pulled aside to keep the light in.
Another few tips to making a space feel brighter when you don't have an abundance of natural light is to stick to neutral wall colors (think whites/grays/tans/light blues), keep rugs on the lighter side and be sure to add enough table & floor lamps. It is amazing how much "faux lighting" you can create with the right tricks- and I promise, a bright, open space will make you feel more productive & cheerful each day!
 4. Utilize Wall Space
This one kind of goes alone with #1: go vertical. To take it a step further, use wall space in every which way- horizontal stripes on a wall make it feel wider, while vertical stripes make it feel taller (check out this before & after picture here). Also, consider adding a gallery wall, or create a hanging terrarium. Hanging pictures, mirrors, decorations and plants on the wall not only allow you to display more in your small space, but it frees up floor space, which gives the illusion that your space is bigger. This holds especially true in smaller rooms, such as closets, bathrooms and mudrooms.
 5. Double Duty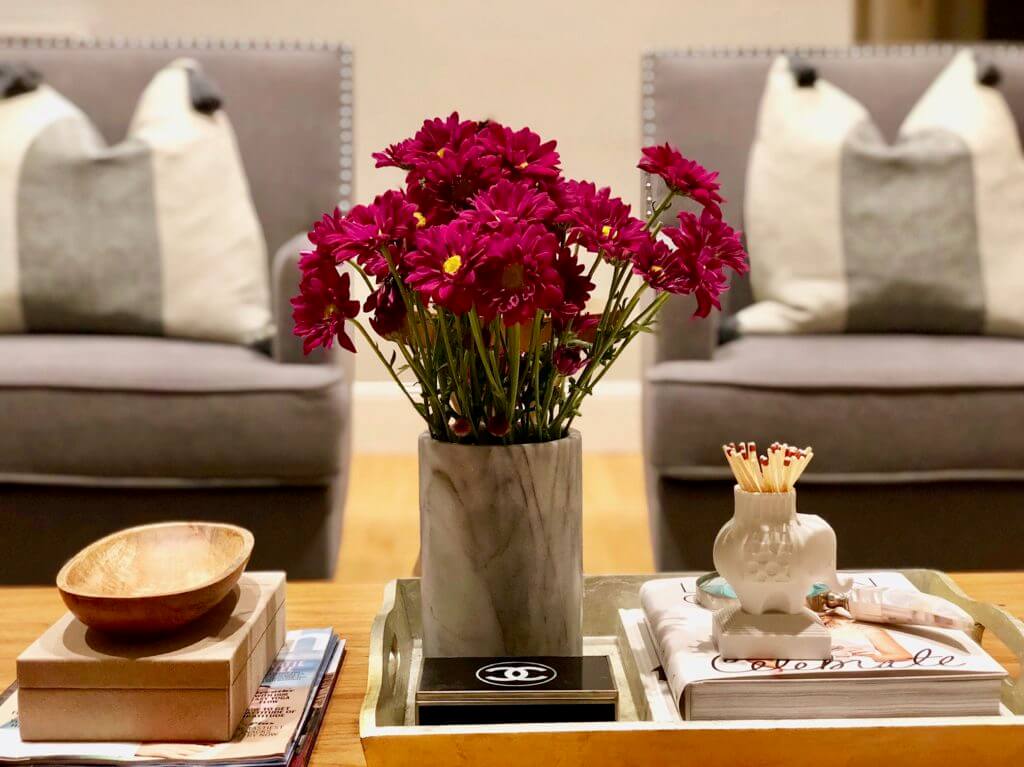 Remember this post I did last week on using items in a "double duty" way and maximizing small spaces? I am a huge proponent for purchasing items that can be used in at least two different ways in my home. This not only saves money and space, but allows me to purchase only what I really love. For example, the marble vase above serves as a beautiful centerpiece for flowers and also a wine chiller. It is incredibly versatile and has a classic design that I know I will love for years to come (bonus: I rarely have to store it in my kitchen since I typically have it on display).
So, next time you are buying something, or cleaning out your home, think "can I use this piece in multiple ways?". This mentality really triggers practical purchasing and promotes creativity when styling your home! Think of all the many ways you can use trays, cake stands, bar carts, vases, ottomans, baskets and more!