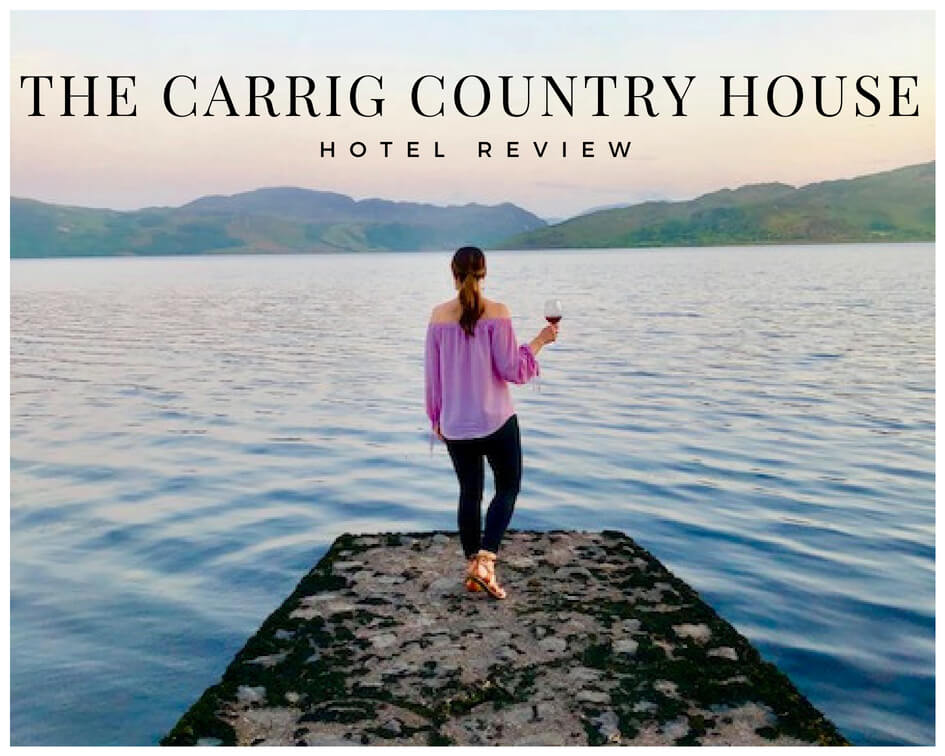 First things first…can we talk about this view? I mean…s-t-u-n-n-i-n-g! This picture was taken at about 9:30pm as we took a stroll around the Carrig Country House property, to take a break between our dinner and dessert course. Our server suggested that we head outside to the dock as the sunset views are the best around and you pretty much get a 180 view of the area – she wasn't kidding!
Location
The Carrig Country House is a beautiful, lakeside property located in Co. Kerry, Ireland on Caragh Lake. An hour to the West is the Dingle Peninsula and an hour to the East is Killarney. Set along the Ring of Kerry and Wild Atlantic Way, this house is an ideal place to stay when you want a night away from it all. The property lies at the foot of the northern lower slopes of the MacGillycuddy's Reeks at the head of the Caragh Valley. This restored Victorian residence is very remote and set back in the woods, giving guests a peaceful, serene feel from moment one. It really has a large cottage feel, with only 16 rooms, which we loved! The property is filled with lush gardens, beautiful flowers, local wildlife and, of course, stunning lakefront views.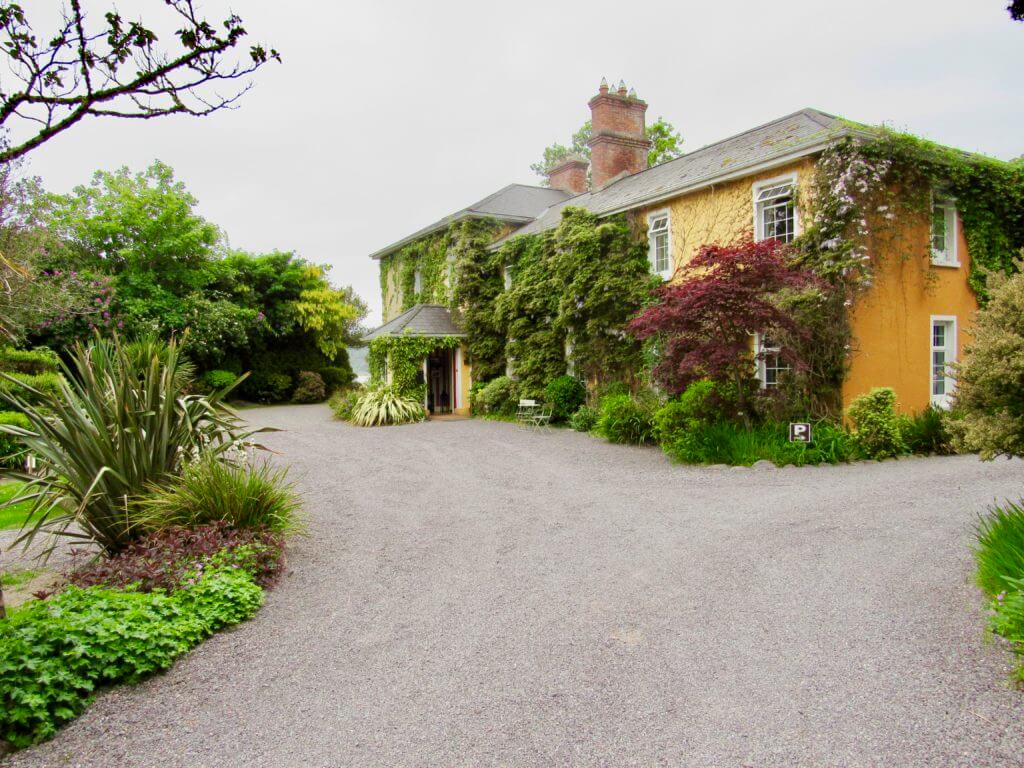 The entrance to Carrig House (the lake is behind)…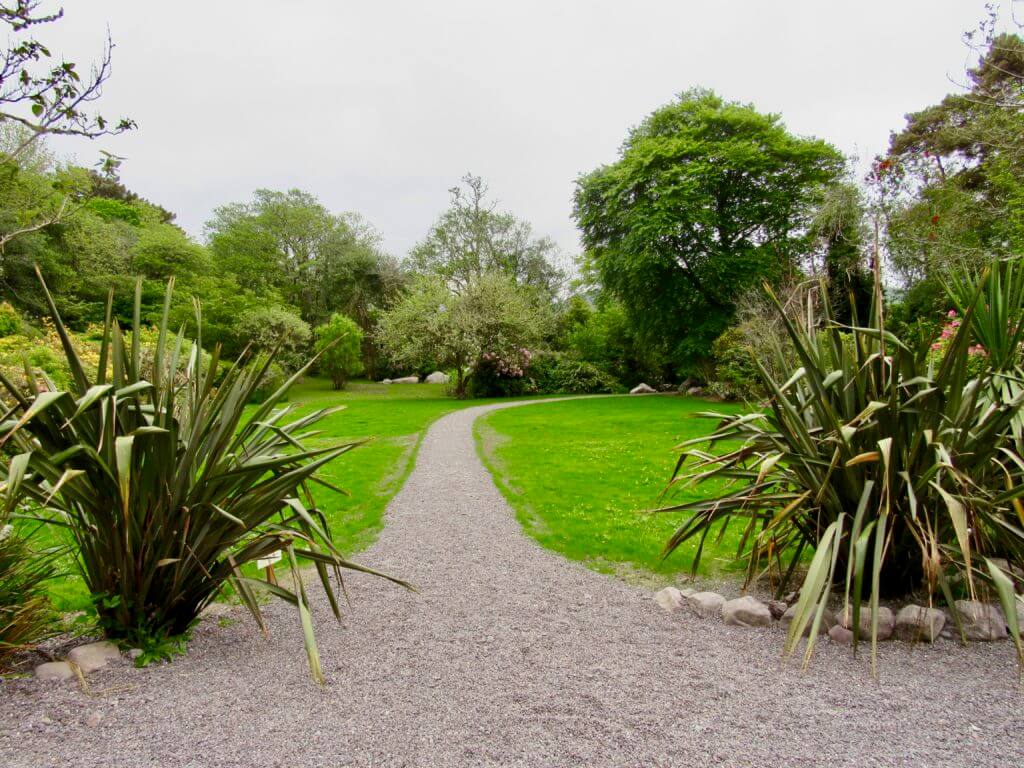 The path leading from the entry to the lakeside dock…
Accommodations
The location of the Carrig House may feel very tranquil but don't let that fool you. This house has the absolute highest level of service and amenities. Upon arrival, the staff checks you in while another member takes your luggage to your room. Our room was on the second floor, with an entire wall of windows overlooking the beautiful Caragh Lake. We had a massive king bed, a sitting area, a wardrobe area and a beautiful marble bathroom with a clawfoot tub. Talk about luxury! While the house has a posh, upscale feel, the vibe is also fun and upbeat. With music in every room and candles burning around, they really nailed the feeling of relaxing meets exciting. It's hard to describe but we just felt at ease…
Tip: Make sure to reserve a lakefront room, worth the upgrade for the views.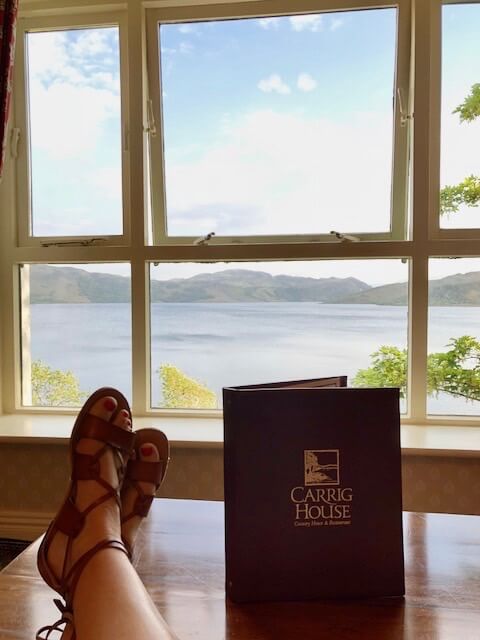 view from the sofa in our room…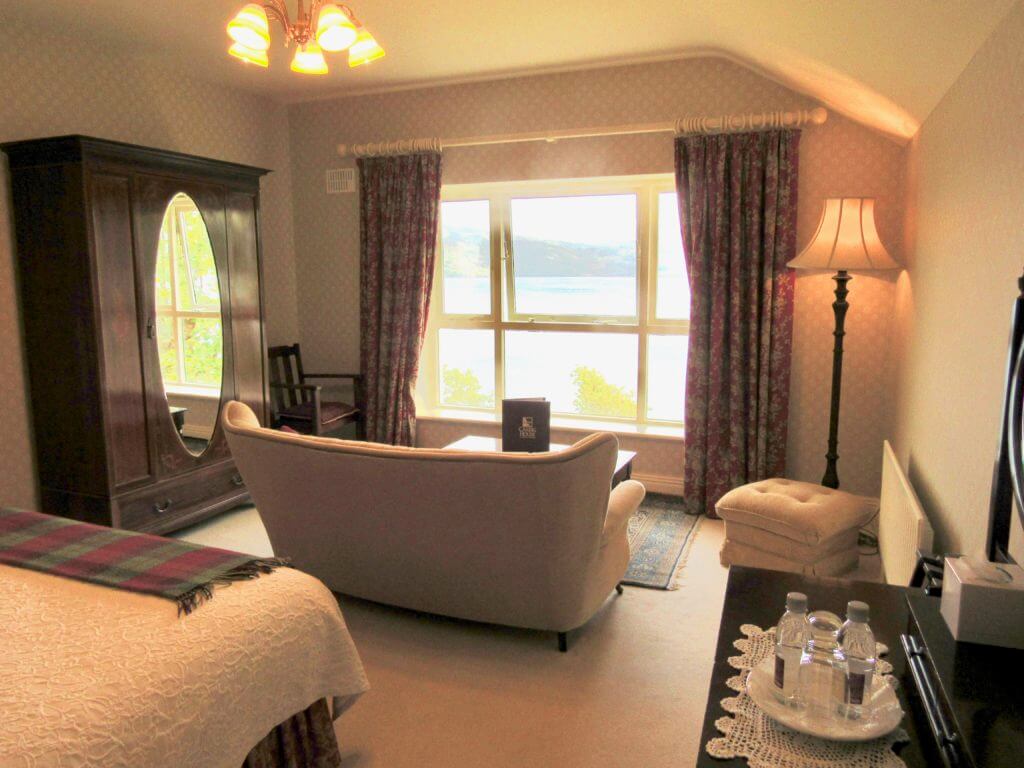 Excuse the poor quality photo but it's the only one I have of our huge room…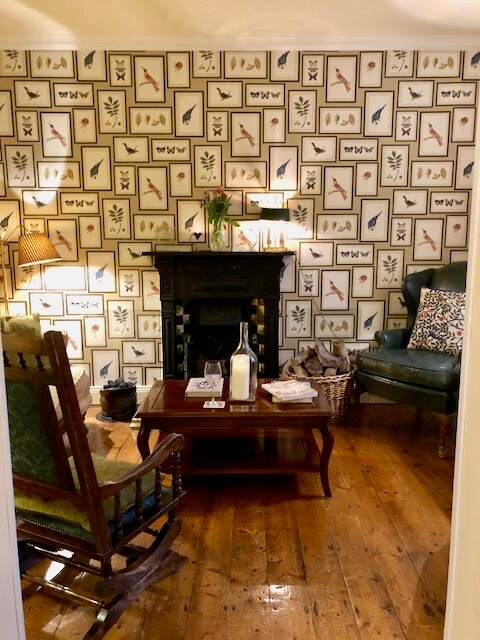 How fun is this wallpaper in the welcome room?!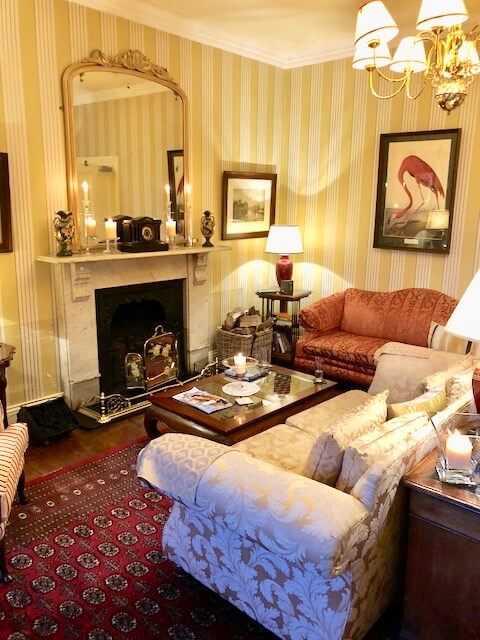 The library where we had our pre-dinner drinks…
All stays At Carrig House include the full Irish breakfast (spoiler alert: it's delicious); however, dining on the property is optional. Given that there isn't much else around, we opted for dinner there which turned out to be such a treat! The Lakeside Restaurant was one of the best meals we had in all of Ireland. For starters, the dinner routine they have created is spectacular. Our dinner reservation was for 8:00pm, so we were told to head to the library a few minutes prior, where a host would meet us. She took our order for an aperitif (accompanied by a pallet cleanser) and then presented to us the menu for the evening. We had various options to choose from for starters and entrees, along with an extensive wine list for dinner service. This pre-dinner event really amplified the whole dining experience – there was a wood burning fireplace, classical music playing and beautiful lake front views. We spent about 30 minutes enjoying this very unique and upscale experience. Once we were led into the dining room, we were seated directly in from of a bay window overlooking the back lawn and the lake. Since they have you pre-order your dinner, there are no menus on the table. We sat down and were immediately brought our pre-selected bottle of wine, along with some homemade soda bread (which was the best we had our entire trip!). We loved how they really took their time with dinner service – each course was appropriately spaced out so that there was no feeling of being rushed. We thoroughly enjoyed mussels, clams, oysters, seafood chowder, our entrees (trout for me, lamb for him) and our delicious bottle of Bordeaux. As I mentioned above, the server suggested that we take 10-15 minutes to walk around and enjoy the gardens in between courses. It was such a lovely, delicious evening.

My seafood chowder appetizer – came highly recommended & was so delicious!

The tastiest fish of the day with shrimp & pickled vegetables…
Overall Experience
Frank and Mary have owned and operated the Carrig House for over 15 years and it's no wonder that they are continuously receiving accolades for their beautifully run inn. From the moment we stepped out of the car (and had an immediate "ahh" moment), we were treated like royalty. The service, the dining, the rooms, the property – everything is better than we ever could have expected. The entire staff were incredibly knowledgeable and friendly. Their daughter, Clare, helped us map out our next day so that we could maximize our time and hit some local favorites – she was immensely helpful. I truly cannot recommend this place enough. In fact, our only regret is that we couldn't stay one more day!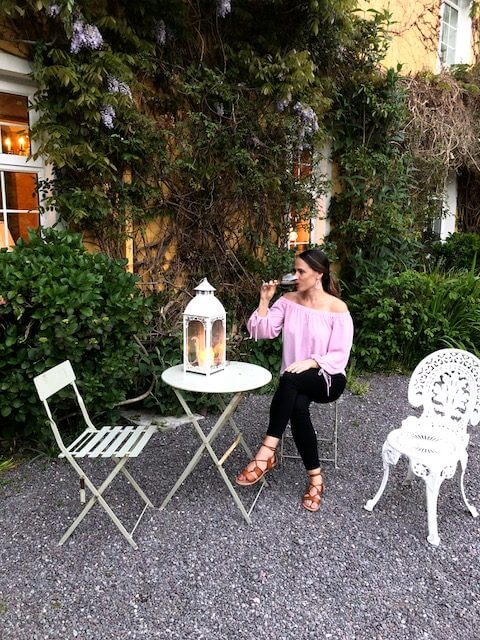 Thank you to the Carrig Country House for sponsoring this post. While our accommodations and meals were complimentary, opinions remain my own.